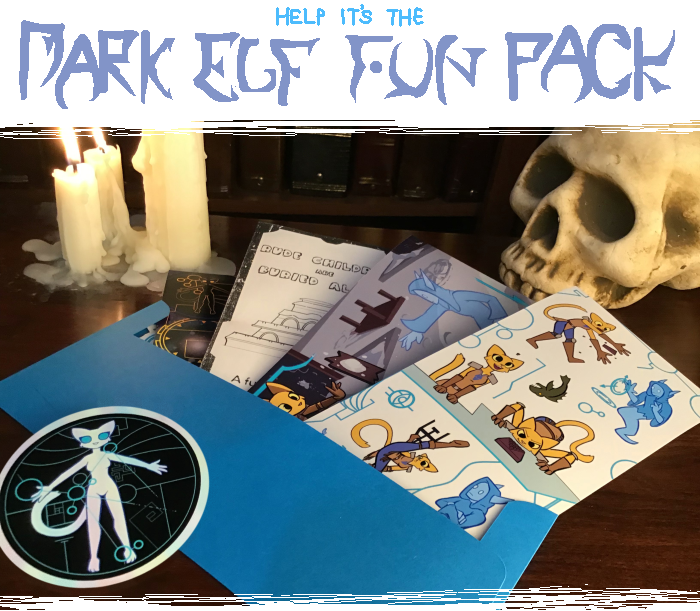 You know those little comics, stickers, and other extras that usually come with Prequel merchandise? What would you do if there was a pack available containing nothing but those sort of extras?
Hopefully the answer is "buy it", because I just made the DARK ELF FUN PACK. Themed around Prequel's only relevant dark elf, this easy-to-mail envelope contains a 4″x9″ sheet of stickers, a special holographic sticker, and a transparent sticker of Katia's magic blue line thing. All of the stickers are printed on high-quality vinyl, making them suitable for cars, wallets, and even college laptops (I've seen how you guys treat those).
On top of that, the pack also comes with a two-sided artwork print, a booklet full of fun dark-elf-themed activities, and a bookmark so you don't get lost in the booklet's twelve pages. Also, an old piece of fanart I had edited to be dark-elf-related because I needed to make the package sturdier and couldn't find cardboard inserts in the right size.


But in all seriousness, this pack came about because
a friend of mine was Kickstarting a game
and had one week left to clear the last 25%. I told him if he drew some Aggy stickers, I'd pledge any money they made before the end of the Kickstarter. That spiraled into us frantically making a whole pack of goodies, so pick one up if your belongings need more cats and ghosts on them.