 hostergaard wrote:
Katia, train hard, train well. You did great last time you had someone to teach/help you learn. Maybe that is the secret to unlocking your potential? To have someone train you?
Gavinfoxx wrote:
Remember, with a mace or a club — don't aim at the shield. Aim at the head and the arms (or equivalent striking limbs, to lower their effectiveness)!
– and remember: guide with your arm, force with your body. Push off against the ground more!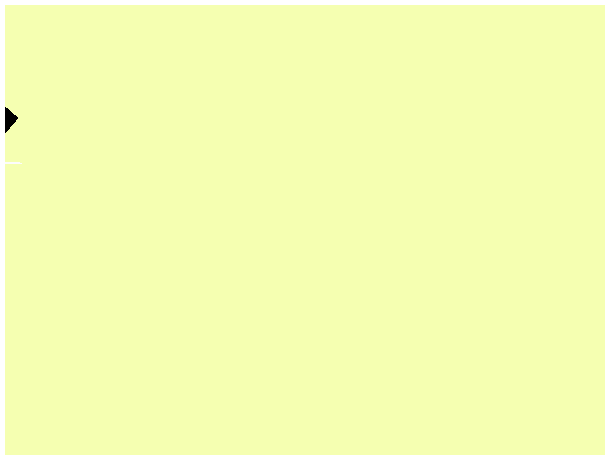 That's right –
Practical_Thoughts wrote:
Katia, focus. You are getting better with a club, but you've mostly been standing still. Remember to move and swing with control.
Gavinfoxx wrote:
Yes, you need to focus on moving in, dealing damage, and dancing away from retaliation. Otherwise you are leaving yourself open.
– and lead right into the next swing, don't stop and wait. Vary your lines of attack!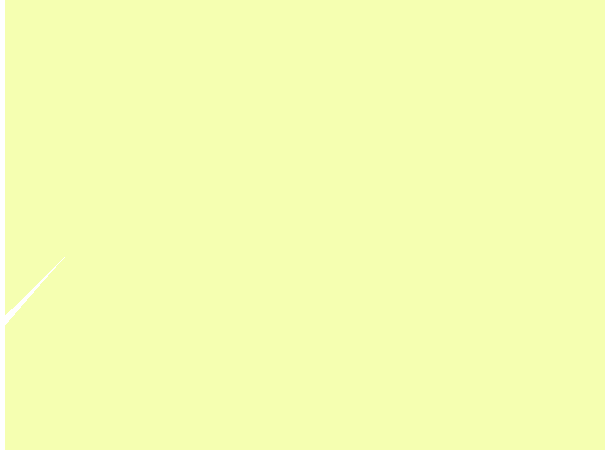 Keep moving! –
LtBartram wrote:
Try holding it with both hands when you swing. Like your about to obliterate a big rock with a sledgehammer!
Norkkom wrote:
I wanna see you smash that shield cat, put some oomph into it
– if you're coming in two handed, spread your hands out more, right, like that –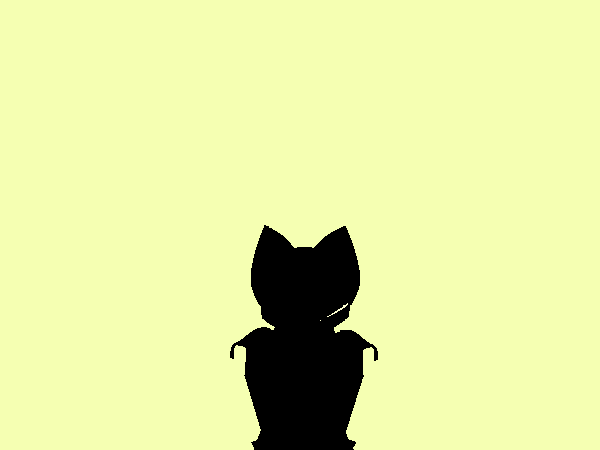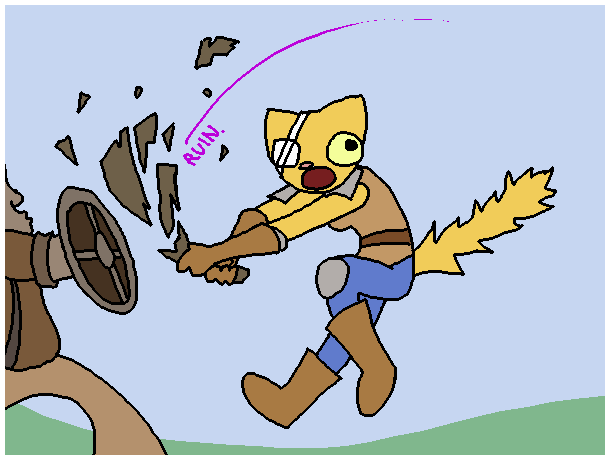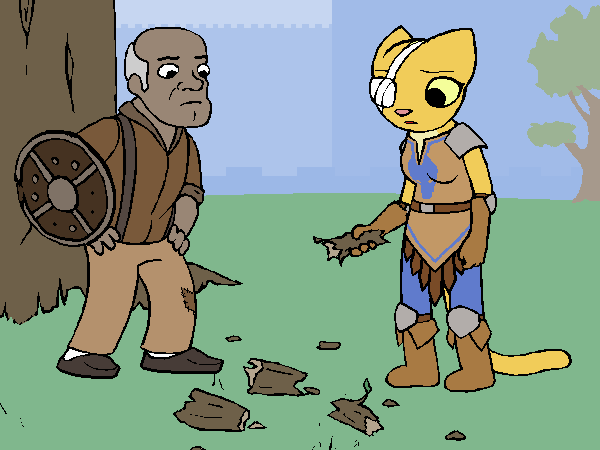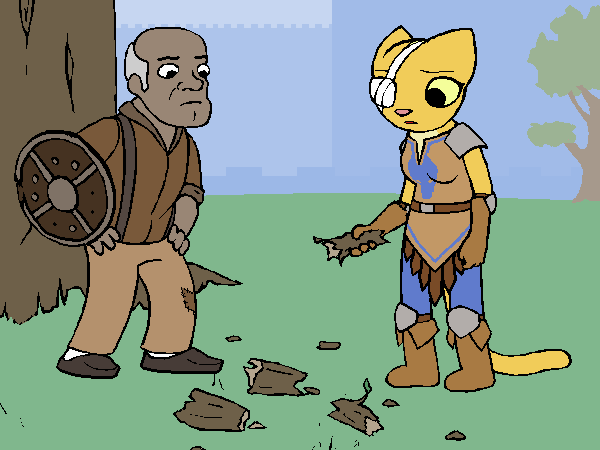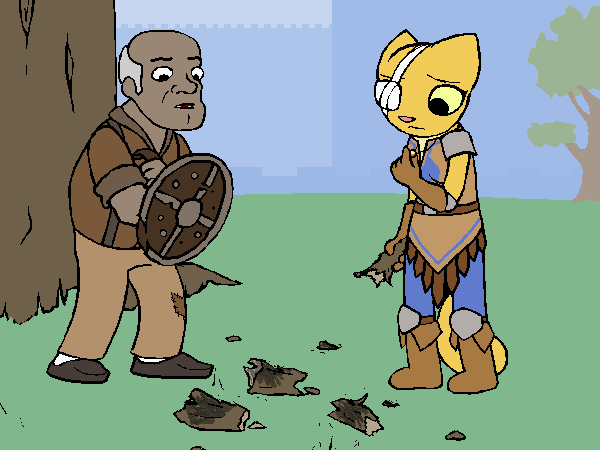 Welp, Ilden continues, he reckons that's probably enough for one day. Frankly, he's surprised that twig lasted as long as it did, being something that fell out of a tree.
You were hoping to get a bit more practice in, but yeah, you tell him you probably have some other stuff you should be concerning yourself with.
That felt good, though! Like, learning to do something and being able to let off a little steam in the process. Just knowing that you can kind of do something you couldn't before, there's something really… confidence…ing about that.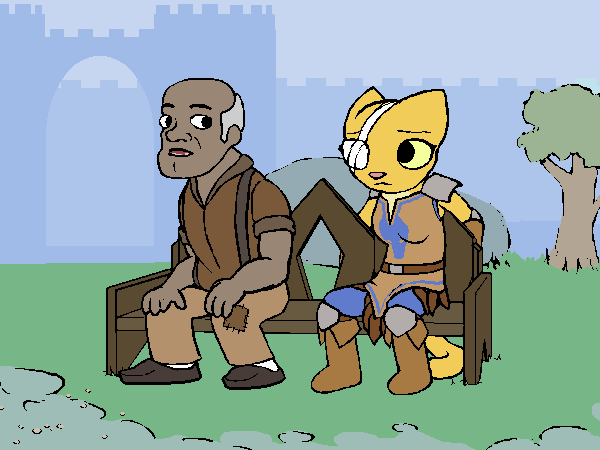 He tells you not to let it go to your head. Having a passably decent swing is important, but there's a lot more to proper combat. Blocking, responding to attacks, moving around, breaking through defenses… not to mention keeping your armor in shape, keeping your weapons sharp and whatnot.
You nod and tell him you understand.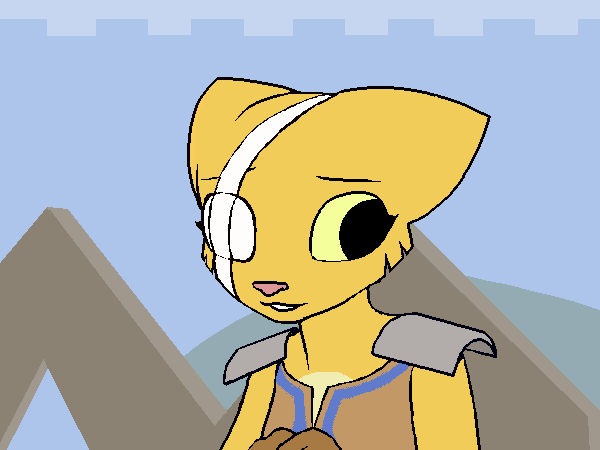 After a bit of hesitation you half-chuckle and confess that while you're no fighter, you actually tried your hand at armor repair once, years ago.
You read about it in this book and thought, like, maybe it was something you could handle. So you saved up a week's worth of stolen silverware and got one of those little hammers for pounding dents out of metal. Figured you'd repair some things, get some practice, maybe get really good at it someday. Eventually you even managed to find some knight who wanted his armor fixed up while he went barhopping.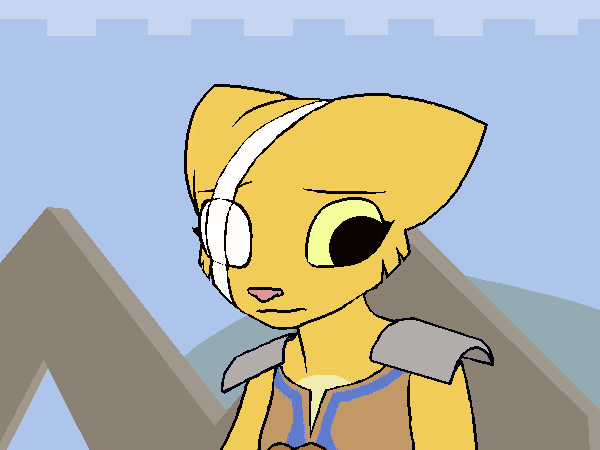 You were all excited about it, and then as soon as you try to pound one of the fasteners back into shape your little hammer snapped in half. You spent like two hours freaking out and trying to fix it before the knight came back, got mad that nothing was done, took his armor and stormed out. So, yeah, armorer wasn't for you.
'Course, it wasn't a total loss. You did manage to pocket a gauntlet before he left, which found its way to a pawn shop and, soon, was converted into a couple rounds of ale.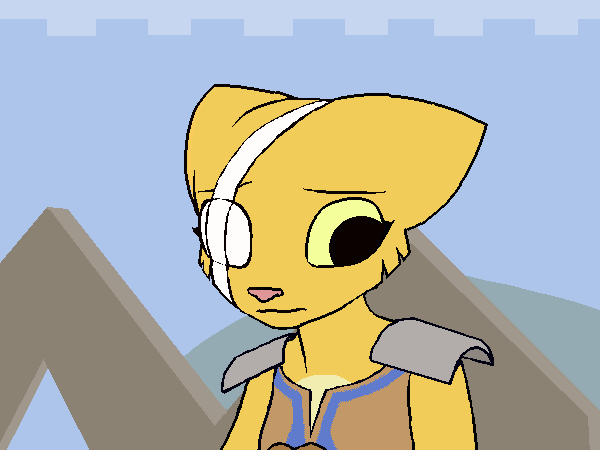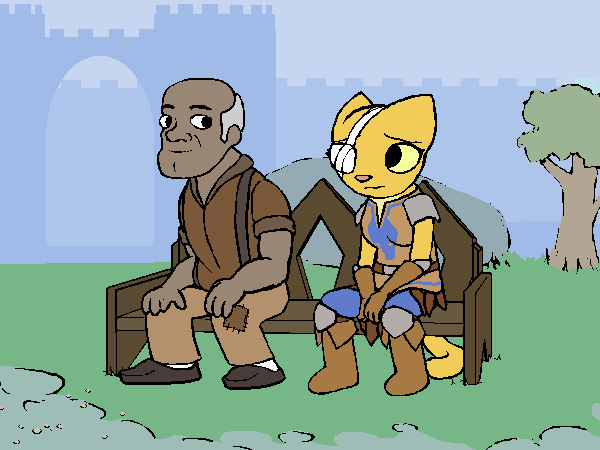 But really… thanks. You know, for treating me like an actual human being. Er, not human, I mean… two-legged… thing. I think I need that every once in a while.
Ilden says it was his pleasure. Just try to take what he taught you and use it to not get eaten by monsters. You tell him you'll try, but can't make any promises.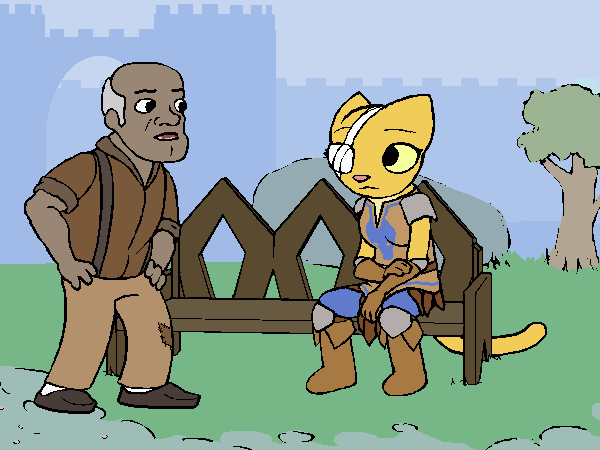 Anyhow, it's gettin' late. Old people late. He oughta head off. Good seeing you, Desert-Cat.
Likewise, you say.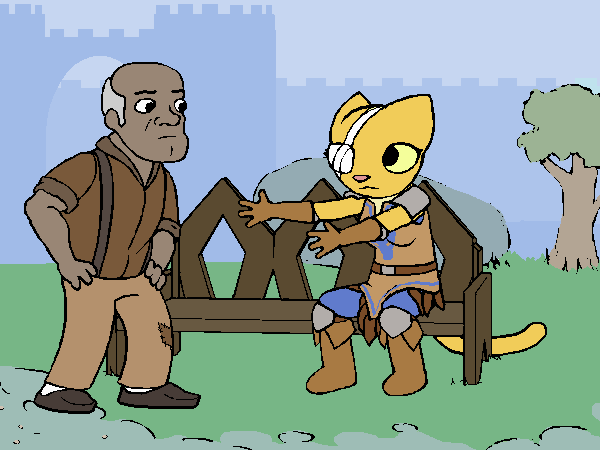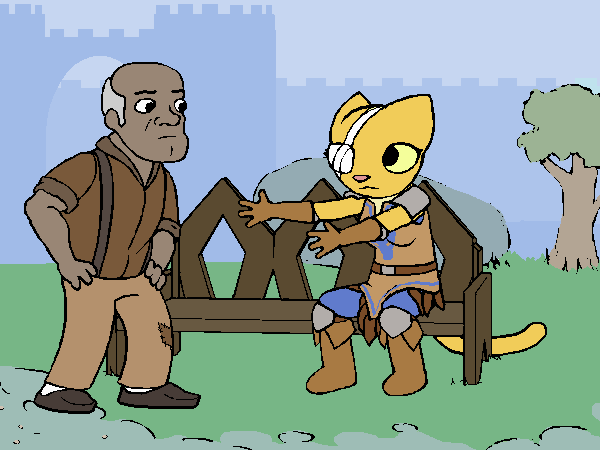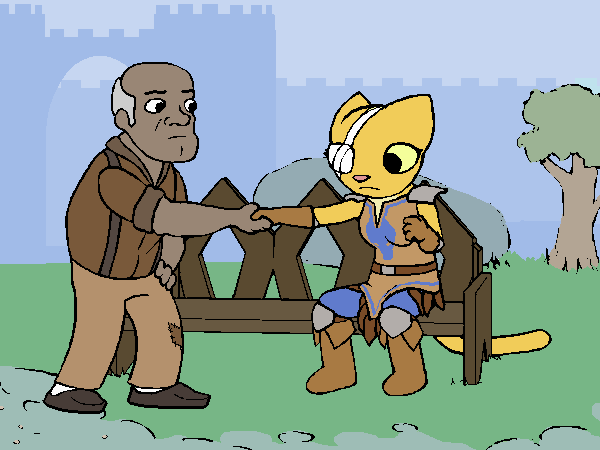 Right.
See you.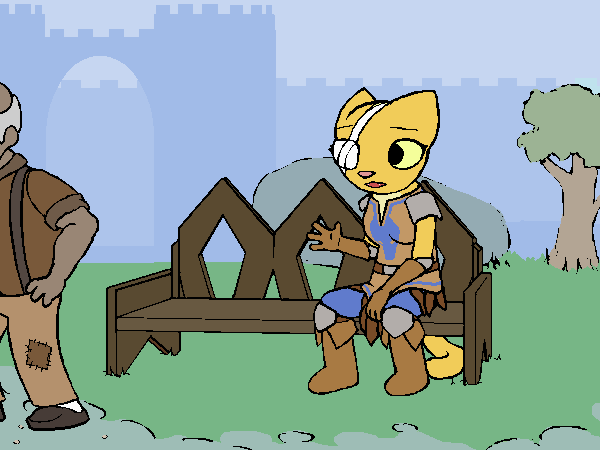 And, ah, "Desert-Cat", you ask?
Just seemed fitting, he says. Got a tinge of old Alik'r in your voice.
Oh, you say. You hadn't really heard that before, and aren't sure what it means, but you guess it sounds cool.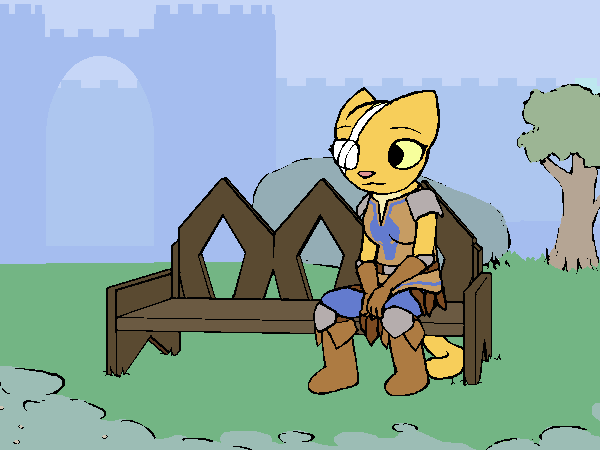 HeadSix wrote:
Katia: If you're thinking about killing Stephan, you should start thinking about how you're going to dispose of the body.
StormyDragon wrote:
> Don't do what you're thinking of doing to Stephan. He's not actually done anything to you; does he deserve to pay for Sigrid's crimes, especially when he may be under duress as well? You said you wanted to be a better person. Murderer is not an improvement.
Alright, back down to business.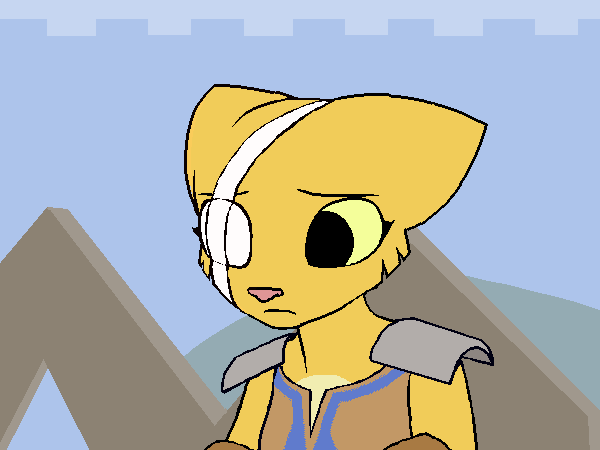 You are not planning to kill anyone. But you're thinking this through and it is likely you might have to defend yourself. If you are trying to circumvent Sigrid's evil machinations and get that package back, you risk causing her some big problems. And, not gonna lie, you probably come across as pretty killable already. You can't imagine that will get much better once you start giving someone an incentive to get rid of you.
You're committed to this, though. It probably sounds like a bad idea, but Quill-Weave is still counting on you to finish this job and it would be a good idea to show her you can. So, technically, this plan is more like a good idea with some rough edges. Extremely rough edges, that involve being murdered. But you're sure you can figure out some way around those.
Draegur wrote:
1. Find clothes (COMPLETE!)
2. Retrieve Quill-Weave's Package
3. Learn about Unusual Dream
Even what you're doing now needn't go in the quest log; it's just a side quest or even a stepping-stone for Entry #2.
Do NOT forget to learn about that dream!
Yeah, the dreams aren't something you easily forget about.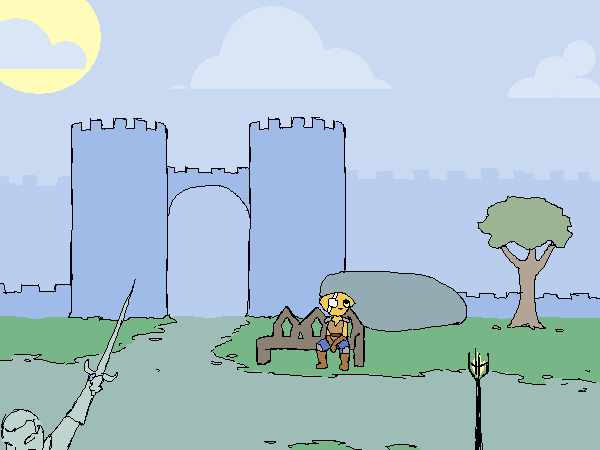 It's probably about 3:16, and you don't really have any direct leads on Stephane right now. You could check for him at the chapel, but you didn't see him there this morning and you'd rather catch him when he's alone, if you can.
For the time being, you feel like your biggest priority should be finding someone to analyze these dreams, finding some references on alchemy so you can maybe counteract whatever Sigrid has in store, or finding out what's up with your amulet so you can… not burn to death when you least expect it, you guess.
You're not sure what it says about you that these three things are roughly of equal importance in your mind.
> ==>