This page is outdated! Currently, all the cool kids are voting for Round 2!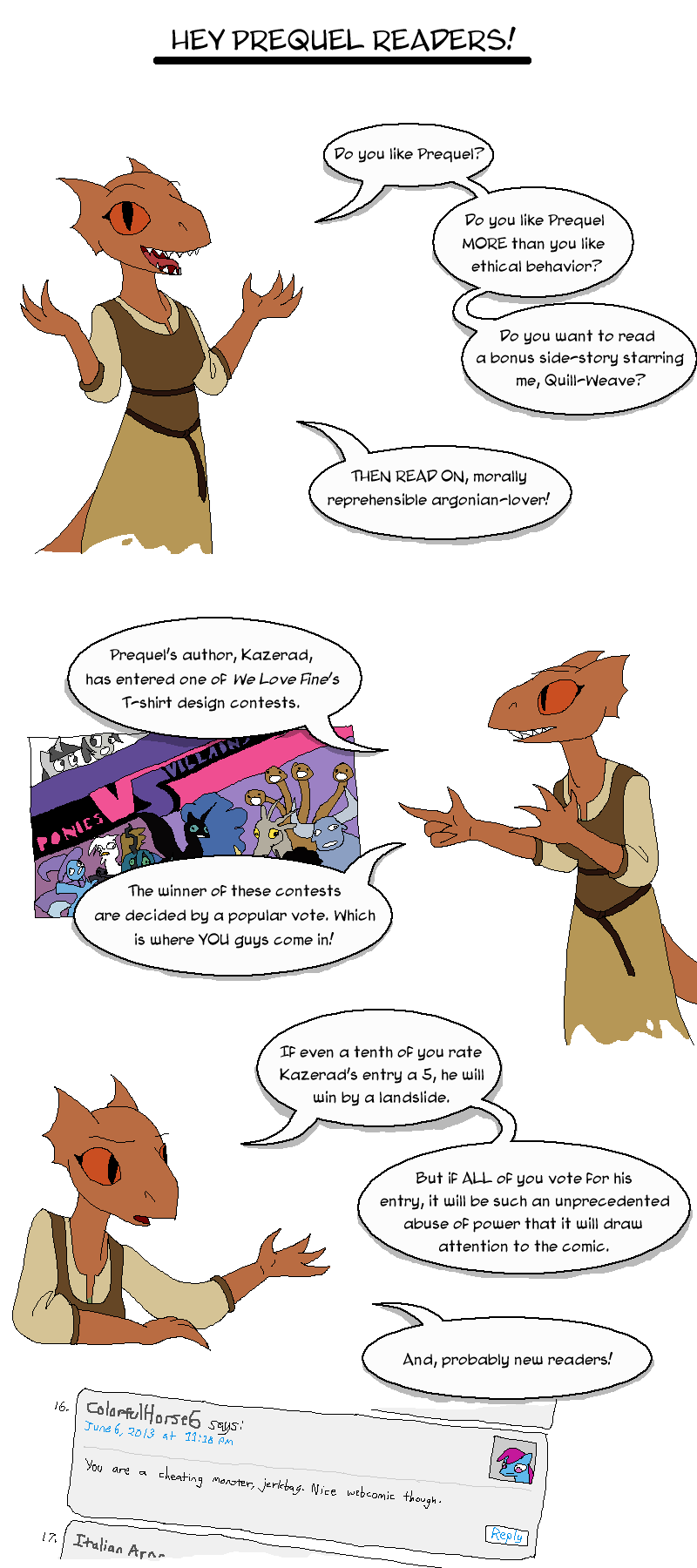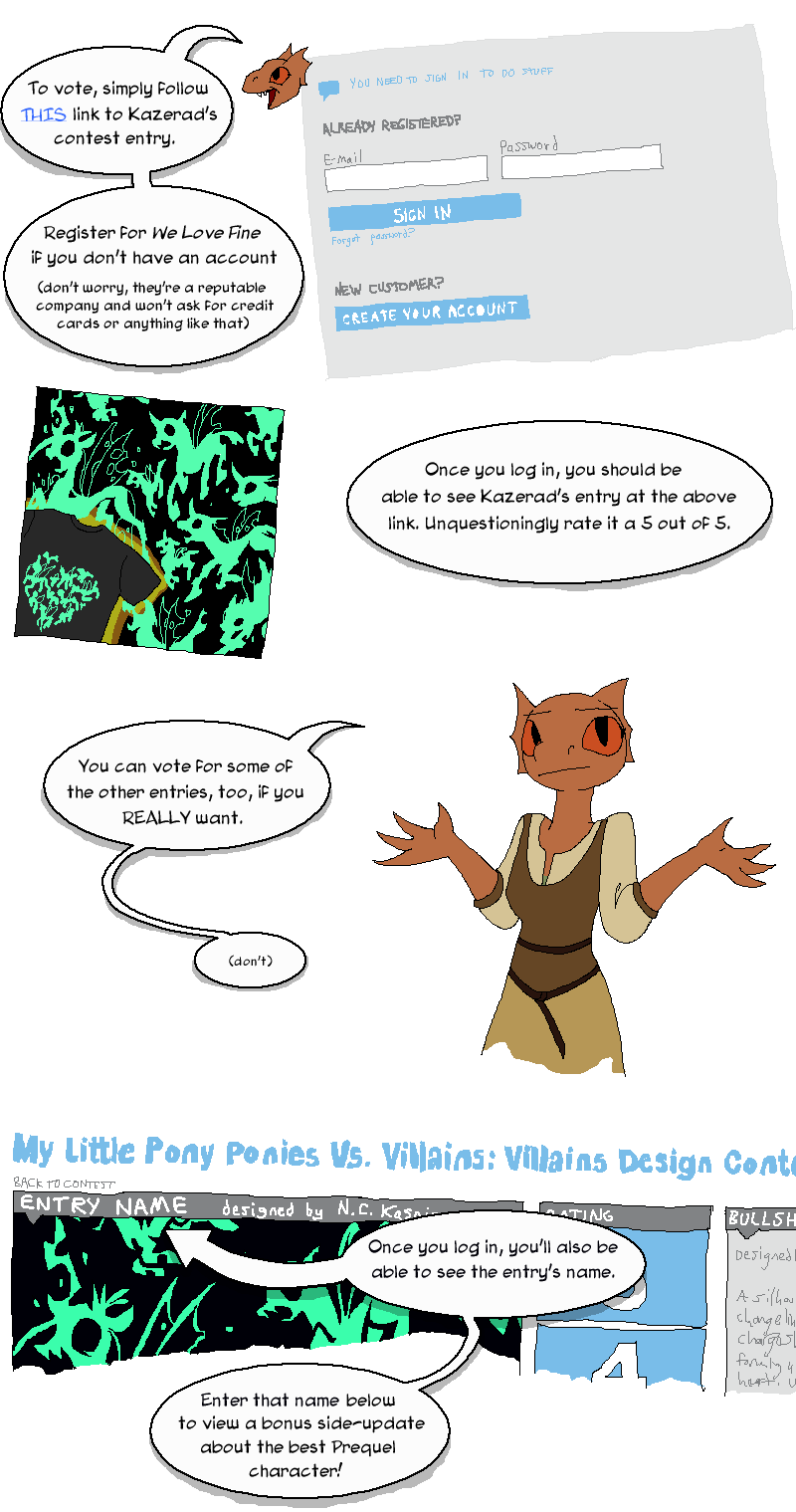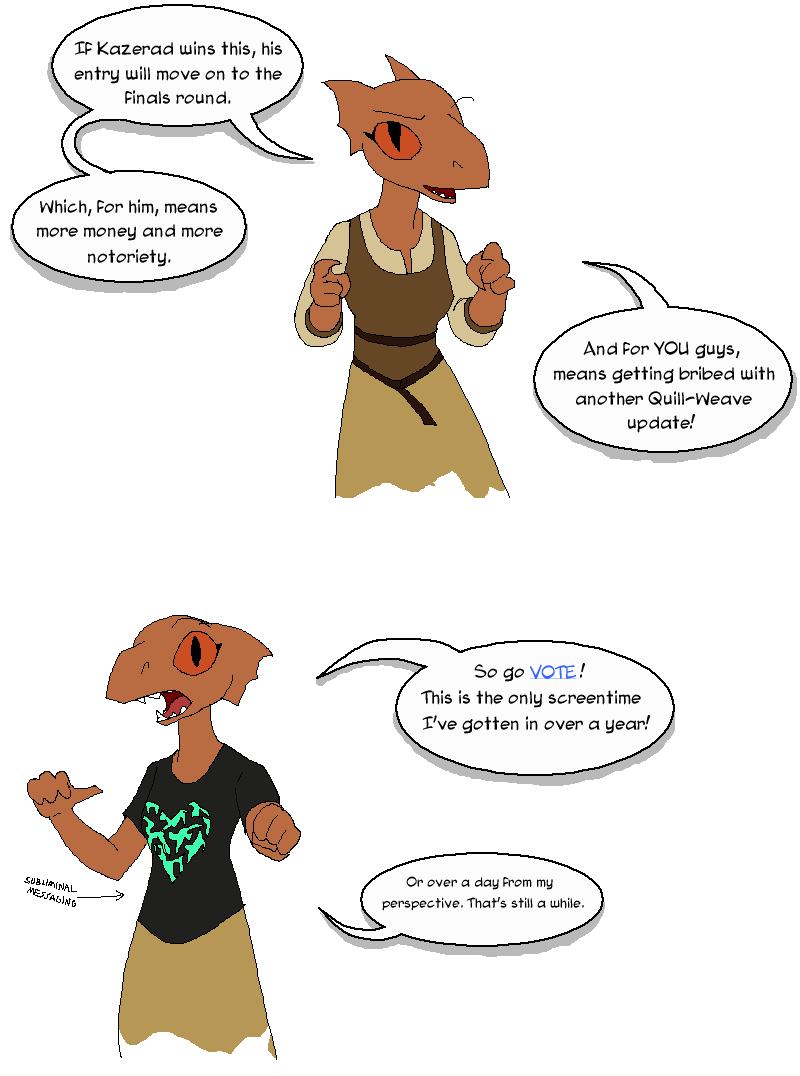 Q&A (by Kazerad)
Q: So what exactly is the goal here? Like, if you want 500 dollars, we'll just GIVE it to you.
A: This isn't really about the money. My goal is to try and win this contest by the most preposterous, overwhelming, and absolutely excessive margin imaginable and strike fear in the hearts of my opponents. And possibly draw attention to Prequel when people try to figure out how/why I did it.
Q: Isn't this against the contest rules?
A: No, actually! Asking for votes is perfectly within the contest guidelines, and even encouraged (I asked).
I've never been a fan of winners being decided by popular vote, since it always tends to favor the person with the largest following – a position I've never been in until now. I'm thinking if we can utterly steamroll this contest and its followup, we might inspire WLF to change their rules regarding this. Or if not, I'll get a fuckton of money and become everything I ever hated. I'm okay with either outcome really.
Q: Isn't this against the spirit of the contest?
A: This is a contest about Villains! I am the only one who is abiding by the spirit.
But seriously, I'm trying to be thematic about this. I didn't enter the Protagonists portion of the contest, and for my Villains entry I intentionally chose a villain who has a large, organized army. If I make it to the Protagonists-Vs-Villains portion of the contest, I'll do some villainous monologues about how the heroes don't stand a chance against my unfathomable numbers.
That is like my childhood dream.
Q: But this is pony! What if I don't want to support something pony?
A: Then think of it this way: by helping me win by a landslide, you are ruining the point of the contest and depriving the prize to someone else who probably needs it more than I do.
Q: What will YOU do with the prize money?
A: Have a celebratory dinner at my favorite Mexican place, drink like two margaritas, and put the remaining 460 dollars in my bank account to be ignored.
Q: Someone already gave me the password and I've already seen the Quill-Weave update! Should I still vote?
A: Yes please! The QW update was fun and only took about a day and a half to make. If I win this contest, I'm going to make another QW update to draw votes for the next round. I'll even make a deal: if my entry somehow gets over 1000 votes, I'll show Katia and QW's first meeting.
Q: I love you and I'm going to go vote for your contest entry now and tell all my friends to vote.
A: I know, because I am the one writing both sides of this. I love you too, Kazerad.