Crowdfunding Receipt Comic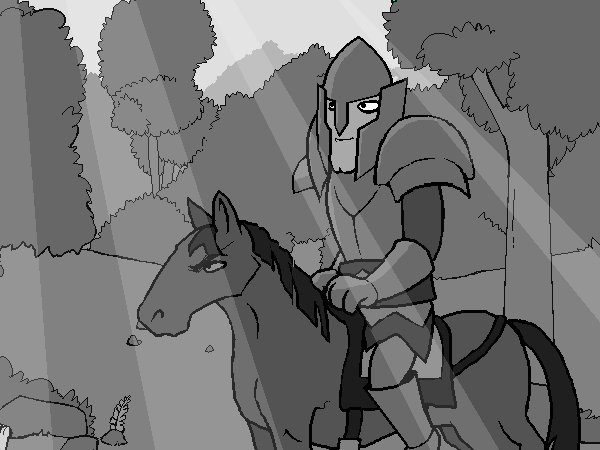 he sun above gleams like a shining jewel, but even its brightness is nothing compared to the resplendence of the Empire. Every citizen of This Great Land performs his or her duty to keep the Empire as glorious as it is, and your elected duty is that of the Noble Soldier, defending the Innocent Countryfolk from the forces of Those Who Would Do Harm.
Servants of Justice like yourself must be ever-vigilant in your mission to maintain order in This Distinguished Nation. The forces of wrongdoing are ever-present: vile bandits, careless jaywalkers, or misinformed wild animals who wrongly choose to accost citizens and criminals alike. Sometimes, it can be hard to tell friend from foe, but at such times one can always count on the indisputable trustworthiness of an Imperial Legionnaire.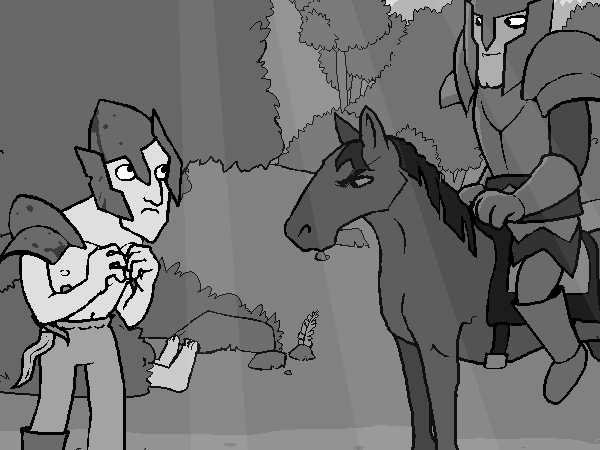 Such as this charming fellow right here.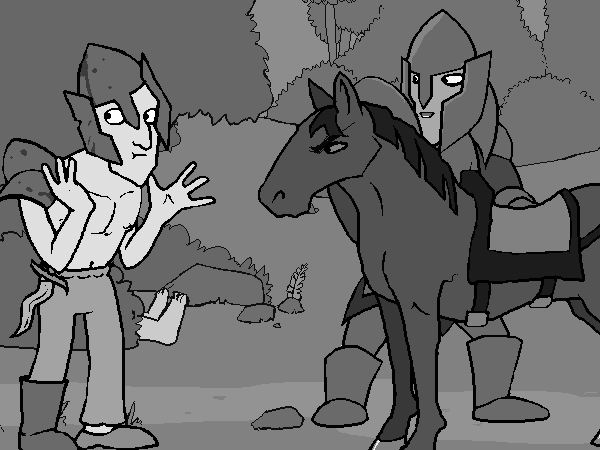 You salute the Not-At-All Suspicious Superior-Ranking Officer of the Imperial Legion and inquire how his patrol has been going. Has he apprehended any Criminals? Aided any Citizens In Need?
To your alarm, he tells you that his patrol has not been going well! Yesterday he was passing through a town when it was attacked by, uh… bandits! Yes, a town attacked by bandits. He valiantly fended them off as best he could, hence completely explaining the blood on this armor. However, before he could rout them completely, they damaged many of the town's buildings and supplies.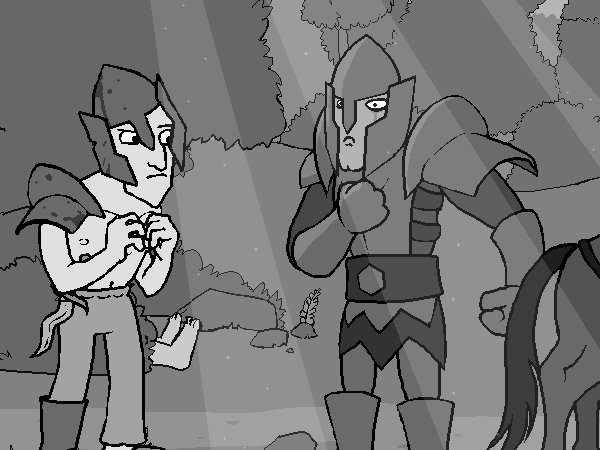 He says some other things as well, but the words stream past as you shed a tear for Justice. Your superior, tearless as he is, must have already cried himself dry. You tell him of the voiding gape this atrocity leaves in your heart, and ask if there is anything you can do to aid the Poor, Defenseless Citizens of this Wrongfully-Ravaged Township.
Your superior opens his mouth to speak, but instead glances you over and appraises your formidable Imperial Strength. You look like a fine, strapping gentleman, he says. He wagers you would make an excellent sacrifice to dark gods, hypothetically speaking.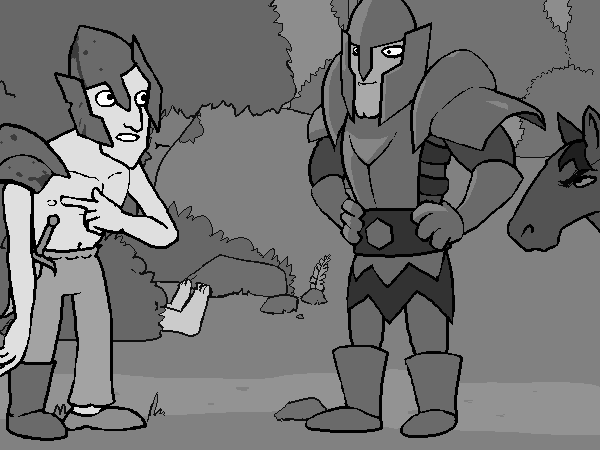 You beam at your superior's esoteric compliment.
He tells you that he has several, uh, crucial supplies that need to be taken to the ravaged town, which is most definitely the town due west from here. It would be a great service if you could deliver them and let the townsfolk know you are there to aid with the ritual. Which is what they are calling the bandit attack, that just happened there.
With a prideful nod you inform your superior that you will gladly deliver these Items of Tactical Importance to the Innocent Citizens of this Heckled Hamlet. Your superior takes several items off the stripped body behind the bushes, bundles them up in a burlap sack, and hands them to you. Remember, he says. Go to the west, and let them know you are there for the ritual.
You salute once again, shedding another tear for Justice. You won't let him down.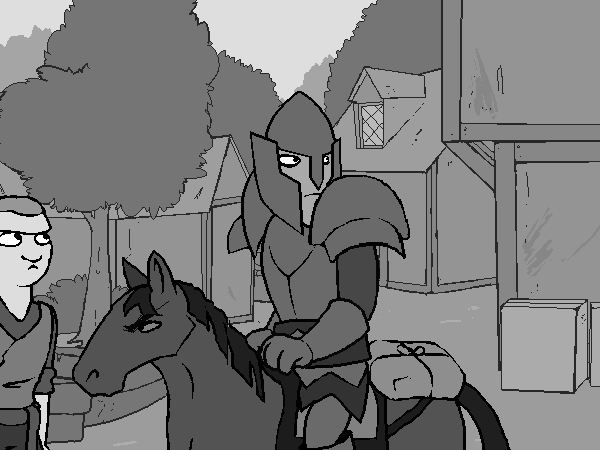 When you first arrive in the Bandit-Battered Town, you notice that the bandits have stolen even the cheer from these Fine, Law-Abiding Citizens' lives. Gentle townsfolk mull around their dilapidated shacks with angry scowls and dragging limbs. One of them approaches you and mentions their general dislike of strangers. You tell him that you understand and sympathize with his distrust, since Strangers razed this town of its Joy and Innocence not even a day ago. Hold on a moment-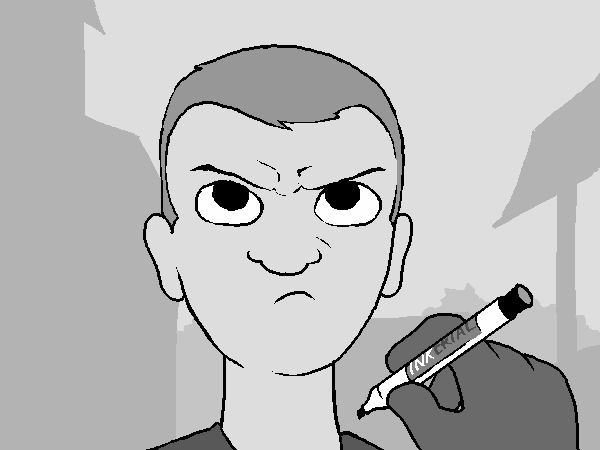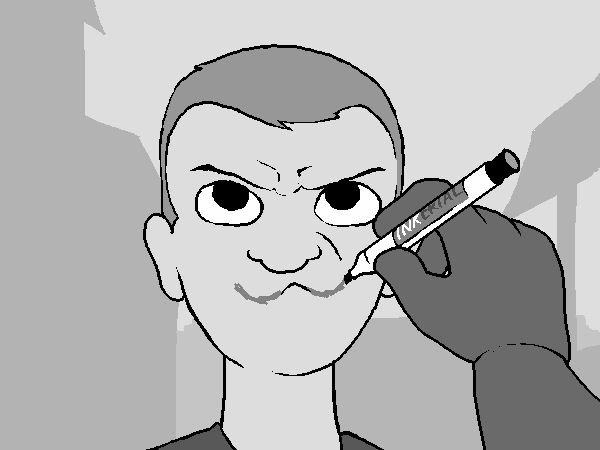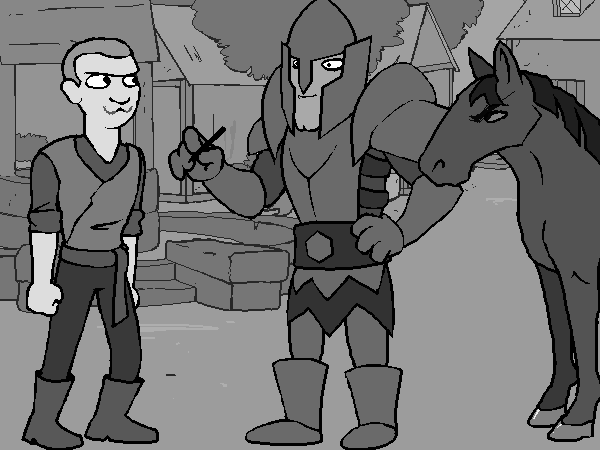 Your pride swells at having brought some semblance of normalcy and order back to this unfortunate, suffering town. You explain that you are here to offer the Unparalleled Aid of the Imperial Legion, and have several Packages of Tactical Importance to deliver. The honest citizen seems apprehensive or even angry until you mention you are here to help with the ritual. Your superior sent you here, after noting you would make an excellent sacrifice to dark gods.
The citizen brightens at the news. In that case, you should go see the shopkeeper, he says. She'll know what to do.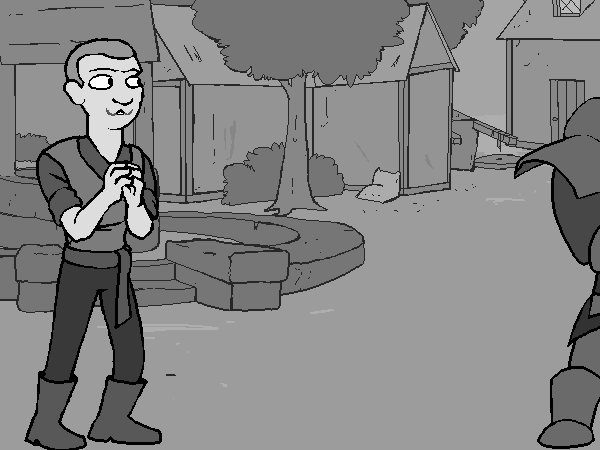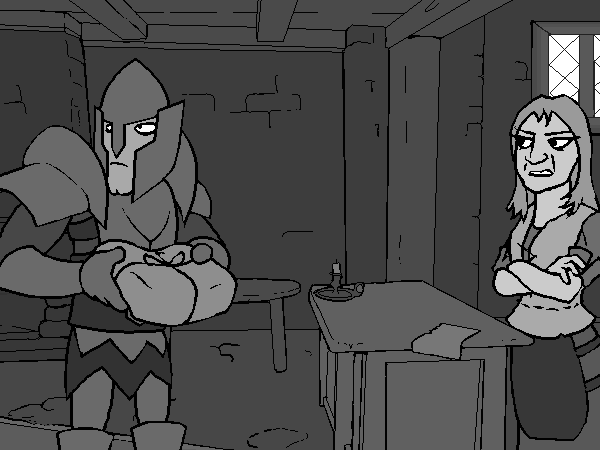 As you enter the humble shop, the first thing you notice is the lack of humble wares. You express your sympathies for the law-abiding shopkeeper's absence of goods, the lawless bandits apparently having left her with almost nothing to her name.
Bandits, she asks.
Bandits, you say. But you can understand her choice to repress such painful memories and wish her no harm by bringing it up. You are merely a servant of the Imperial Legion, you explain, here to deliver Important Resources to aid in her recuperation.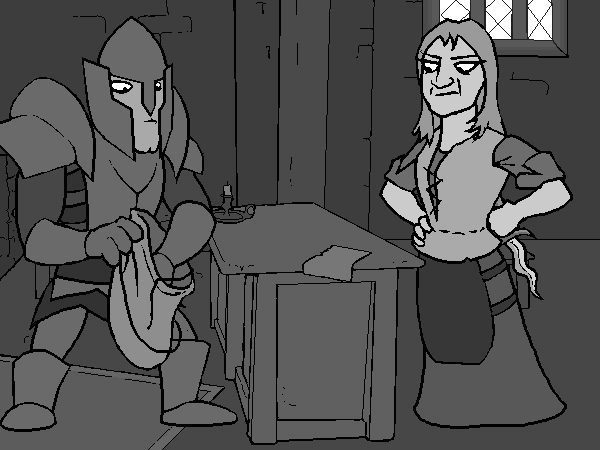 The shopkeeper, obviously still disoriented from her trauma, seems confused and angry. So, you take the initiative and search through your packages, looking for one that seems suited for a respectable general goods store. You pull several garments out and gently place them on the countertop.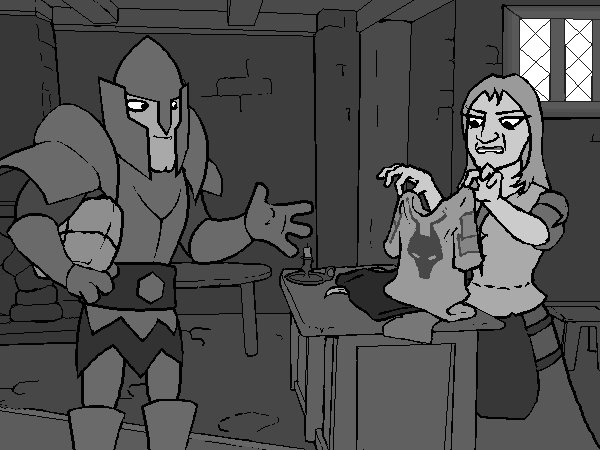 The shopkeeper loudly inquires what in The Depths this piece of shit is supposed to be. You inform the kind citizen that it is a cotton tunic, made to resemble the armor of a southern gladiatorial combatant. Though, you heard they redid the arena recently to host dance-offs instead.
Clearly grateful that you've told her this, she tells you that of course she can fucking see that. But what sort of idiot would want a piece of cloth that only resembles armor?
You explain that it is likely a way for Imaginative Citizenry to experience the thrill of adventure within the Legion-Guarded Safety of their own home. By encouraging you to simply imagine dangerous and life-threatening journeys rather than actually embarking on them, your clever superiors in the Legion have clearly taken a proactive approach to protection.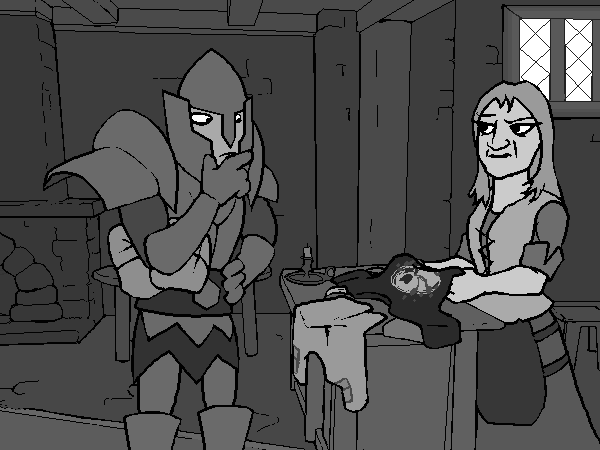 Or this. Why would anyone take an already-useless scrap of a shirt and meticulously dye a cat onto it?
You admit the notion confuses you as well, but if your superiors in the Legion saw fit to send it here, you are confident they must've had good reason. An Imperial Tailor clearly worked very hard to get this shirt's sleeves to stop halfway down their natural length, and its design is in-line with the Strange and Slightly Effeminate fashion statements popular in elven lands. Perhaps they felt a bright and colorful article of clothing would help restore morale to the townsfolk's poor, recently-impoverished lives.
She flatly notes that the so-called "colorful article" is mostly black. You remind her that black is just the entire rainbow mixed together, and also with black.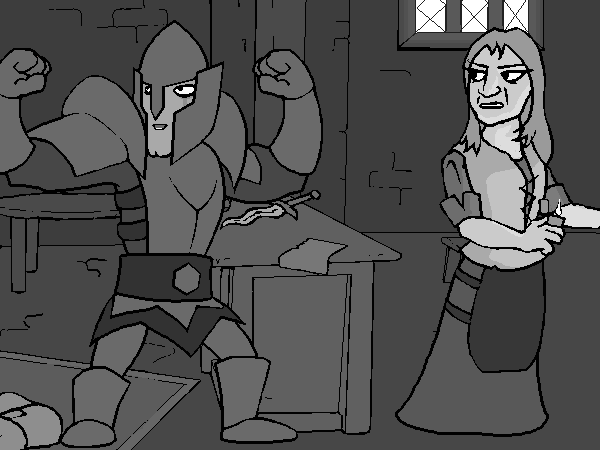 Look, she says. She doesn't want to waste your time, or more importantly her own. Why are the two of you speaking, why are you here with these things, and how can she get rid of you?
You explain that you are simply here to deliver helpful supplies, as commanded by a superior-ranking officer you encountered on the road. He also told you to emphasize that you were here to aid with the ritual. Apparently, that is what the local citizenry have taken to calling the recent bandit attack.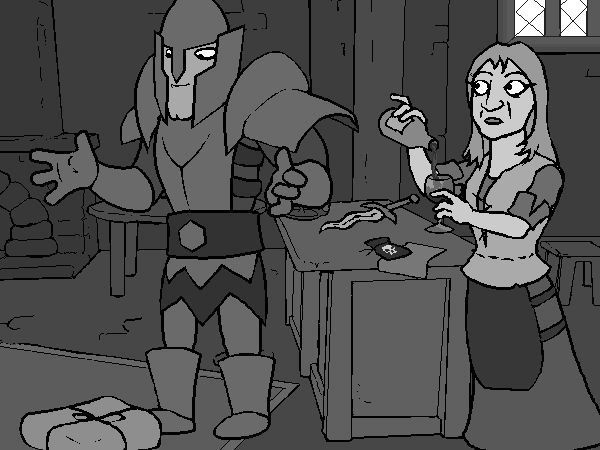 Recognition flashes across the shopkeeper's face. Of course, she says! You must be the one that the town needs in order to be restored to greatness. You gesture at your remaining Goods of Tactical Importance and agree that the Emperor continues to provide all that is necessary to keep this town safe and righteous.
She agrees, hastily, offering you a glass of wine that she quickly spices with what you assume to be a local herbal blend. While appreciative of her kindness, you note that there is no liquor license on display, and accepting such a gift on store hours would be pushing her into a fineable violation of the law. Although, you would like to know what other venues in town may be in need of your Imperial Aid.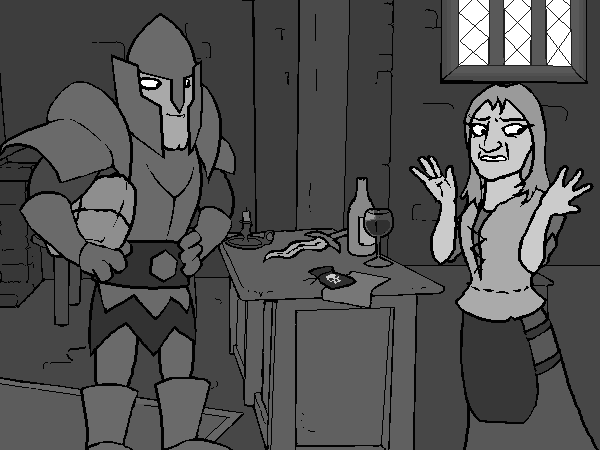 Right, she says. Well, there's Enny's house at the end of the road. He'd definitely be happy to "get" "some" "supplies". Just head over there with whatever, and make sure to mention you are there for the ritual. Like, say that first this time.
You nod and thank the Citizen for her time and help. May the Empire's Glory shine upon her.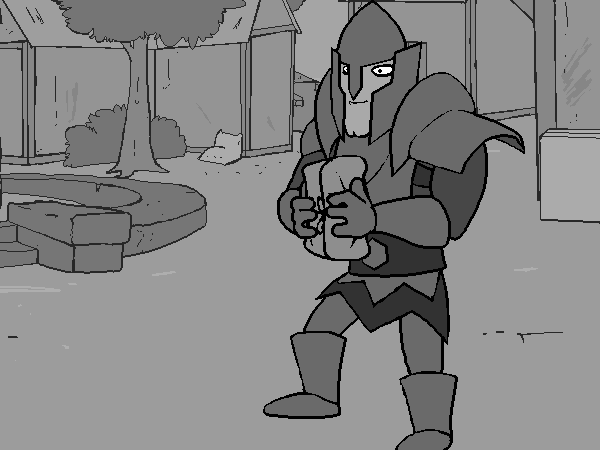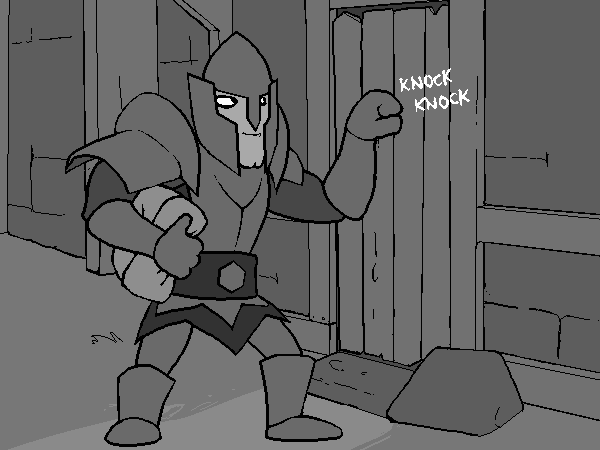 Following the directions you were given, you soon arrive at what appears to be a Citizen's Modest Private Domicile. You knock on the door, and are swiftly answered with a demand for you to leave. Your announcement that you are merely a Justice-Upholding Soldier of the Imperial Legion is answered with an even swifter demand for you to leave.
This poor citizen has been so traumatized by the recent Lawless Bandit attacks that he can no longer discern Those Who Would Do Harm from Those Who Uphold Imperial Justice. You explain through the doorway that the citizen should have no fear, as you are here to uphold the Emperor's Law, and that—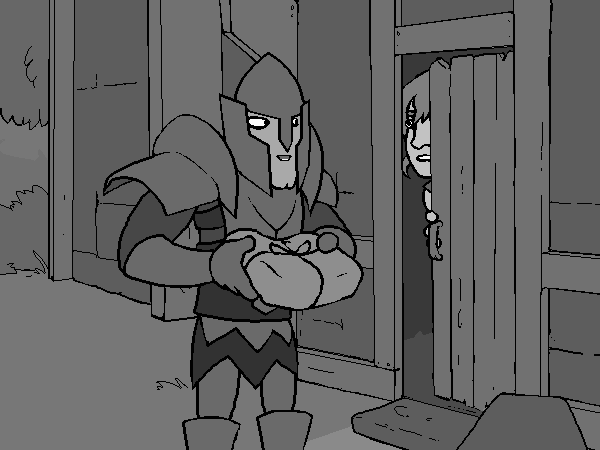 By the Deep Ones, if I let you in so you can look around, will you shut up and leave?
You tell this Irrationally Frightened Citizen that your only task here is to deliver a Package of Tactical Importance. He scoffs, opens his door, and tells you to come inside so you can get on with matters.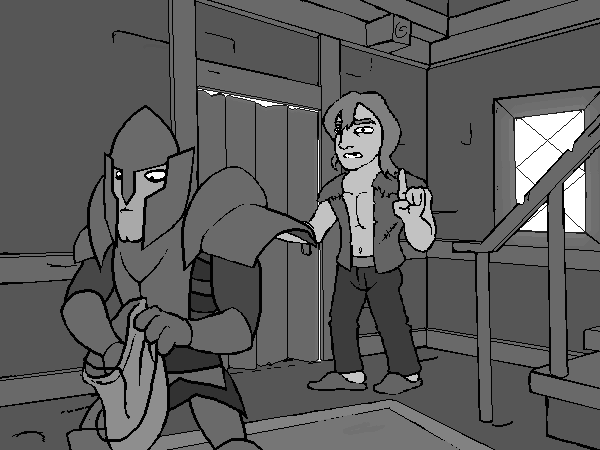 While the citizen brags about how he has committed no crimes and that there is nothing to see here, you search your bag for an appropriate article of Imperial Aid. Your Superior-Ranking Officer gave you little information on these items or how they were meant to help the Citizens of this Bedraggled Burg, but after a moment you figure out his intent and proudly present several folded pieces of fabric.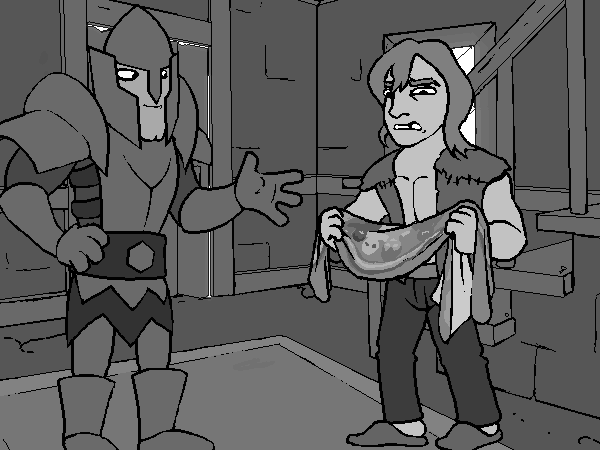 The Irrationally Frightened Citizen unfurls one of the sheets, momentarily disregarding his irrational fear and becoming an art critic instead. Gazing aghast at the colorful cloth, he tells you this is the worst painting he's ever seen. It's nothing but a mess of gaudy colors, plastic-skinned nudity, and embarrassingly poor figures.
You admit that the bright and colorful Tactically Important Painting is possibly overdone. But you feel that its message is an important one. The Legion no doubt wishes this be displayed to remind the Disheartened Inhabitants of this town that most Law Abiding Citizens of This Great Nation live together in beautiful harmony, not Lawless Plundering.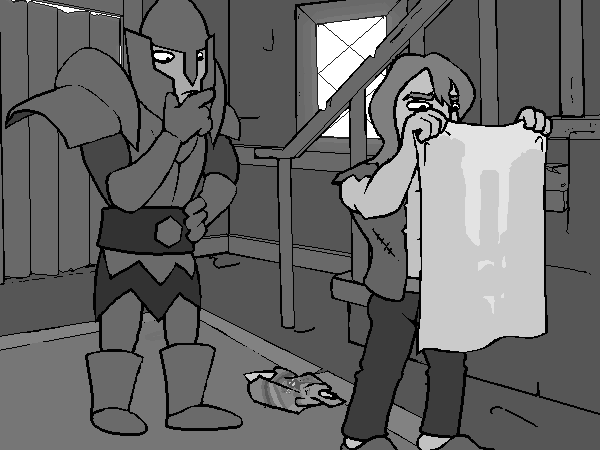 Or this. What's this supposed to be?
You explain that it is clearly a diagram of the Empire's finest metropolis, so the local townsfolk can build a copy of it to replace the ruined and raider-ravaged remains of their township.
For a few seconds, the citizen remains silent with appreciation. Then he attempts to turn down the gift, saying that they can't just take a picture and build a city. That's ridiculous. You assure him that it is fine, and the Empire's glory is meant to be spread, not hoarded. He just needs to put these somewhere the local city-builders can see them.
He forces the paintings back into your hand and tells you that you know exactly where you can put them. You agree wholeheartedly.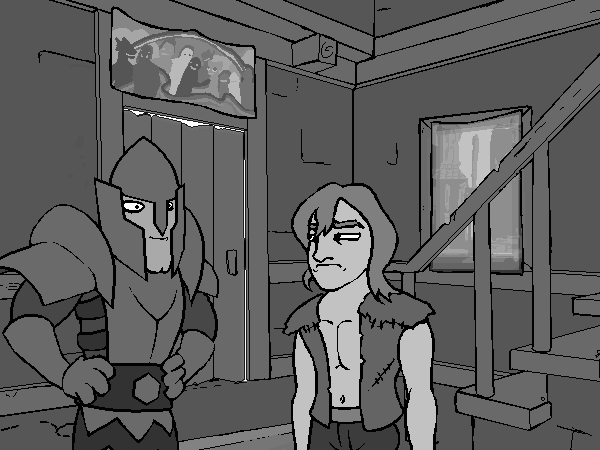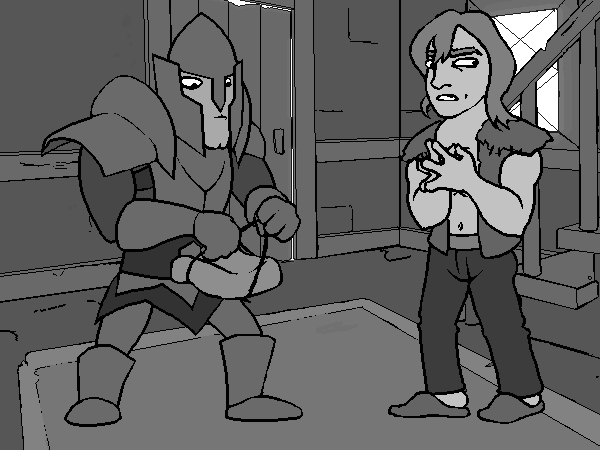 The citizen asks if there's any other banal tasks you need to do, or if you're quite done here. You tell him not to worry, you still have more to deliver, though you should probably make sure it reaches the other townsfolk as well. No doubt every citizen in this place is facing hardship after the ritual.
The Irrationally Frightened Citizen's irrational fear returns and he frantically asks what you know about the ritual.
Not as much as the local townsfolk, you admit. You were told to deliver some Important Resources here so that you could help with the ritual and restore this town to its former glory. Now that you think about it, you were told to mention that part first.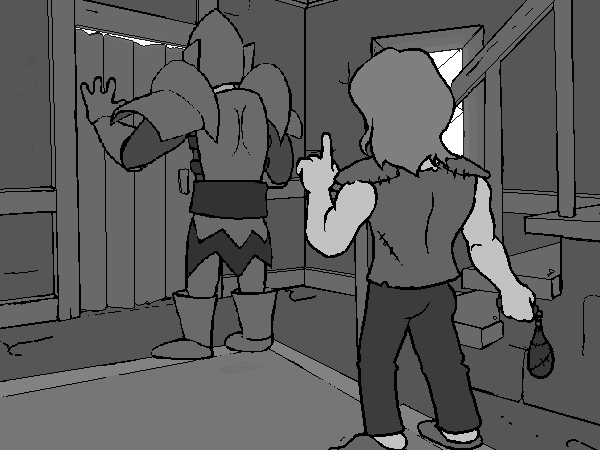 A look of surprise and awareness spreads across the good citizen's face as he realizes the Legion truly does understand his plight. You bid him a good day and turn to leave.
The Law-Abiding Citizen suddenly tells you to wait, and says that he has something he needs to give you.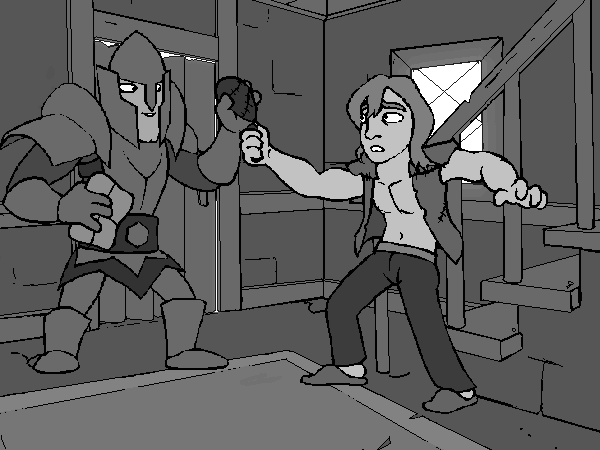 You turn back around just in time for the citizen to place an Unnecessary and Heavy Bag of Payment into your hand.
While you're flattered he values your service, you explain that you are merely doing your duty as a Soldier of the Imperial Legion. The citizen is already paying you every time he files his taxes and he needn't give you any more. If anything, you should be paying him in order to compensate for your failure to protect him.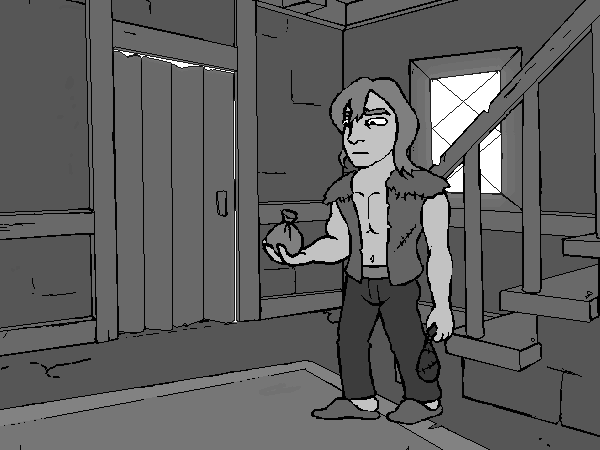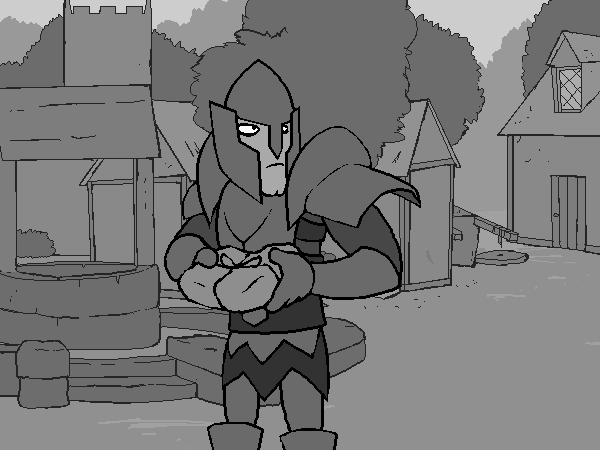 The streets, perplexingly, look even more abandoned than when you arrived. You knock on several doors and introduce yourself as a Soldier of the Emperor, but there are no replies.
You still have Goods of Tactical Importance to deliver, however, so you persist, knocking on doors and introducing yourself. Finally, after several minutes of effort, you find an unlocked building: the town inn.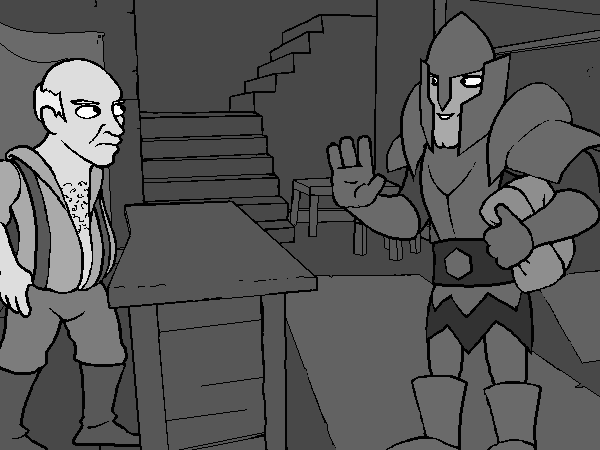 Upon entering the fine establishment, you are met with another angry glare. It breaks your heart that the Vile Banditry have done so much damage to the Noble Citizenry's morale, but you steel your nerves and bravely press on. With a sympathetic smile, you say hello to the innkeeper.
Like the other townsfolk, the innkeeper tells you he's not fond of strangers and the trouble they bring. His grandfather prided himself on having rebuilt this inn from the ground up after they burned it down. You tell the innkeeper you can relate; your Commanding Officer prides himself on having once burned an inn full of murderous cultists to the ground. Anyway, you are here on official business as a Soldier of the Imperial Legion, delivering a Package of Tactical Importance as decreed by a superior officer.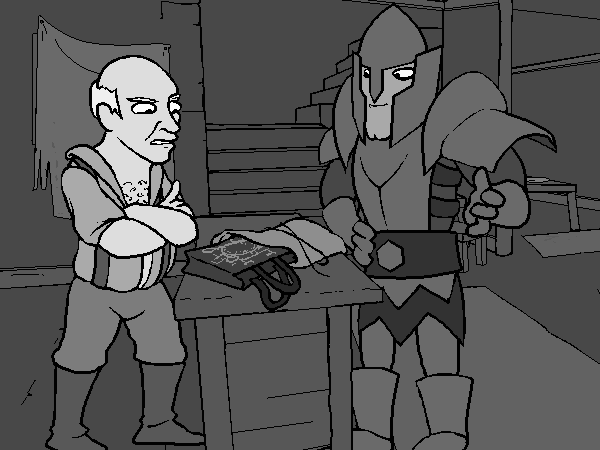 You pass the innkeeper a bag. Looking through it, he ponders aloud why someone would send a sack inside another sack. You suggest that it may be to ensure he is the first one to use it, but he says that it would still be a bit more meaningful if the sack actually had something inside it.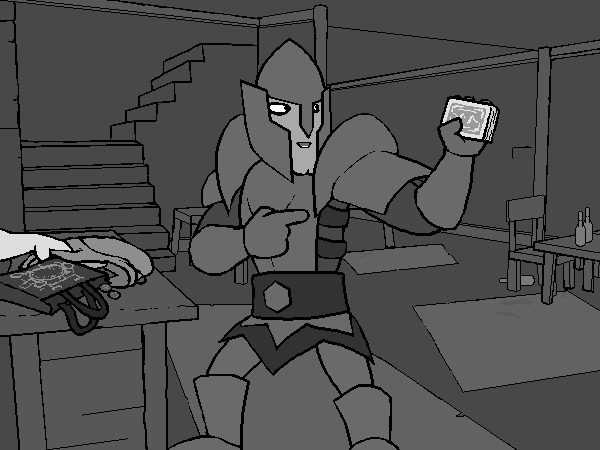 The inner bag may be empty, but you point out that the outer bag contains a deck of playing cards. Your superiors in the Legion probably knew this inn would be hurting for business after the bandit attack, and felt a few more venues of entertainment might liven it up.
The innkeeper insists that the inn is currently at its perfect level of livelihood. Also, bandit attack?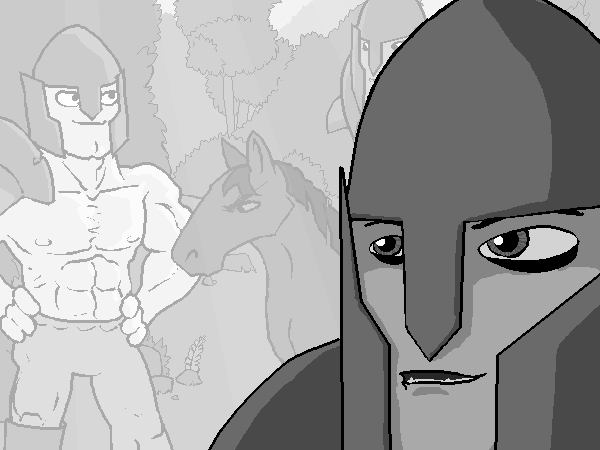 You nod. You heard about it while patrolling the Black Road. A superior-ranking officer told you to bring these goods to the town to aid with the ritual, which is apparently the locals' name for the recent bandit attack. He also mentioned you'd make an excellent sacrifice to dark gods, strangely enough.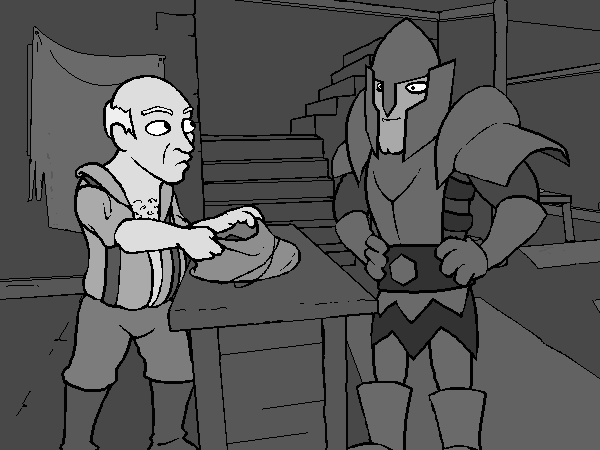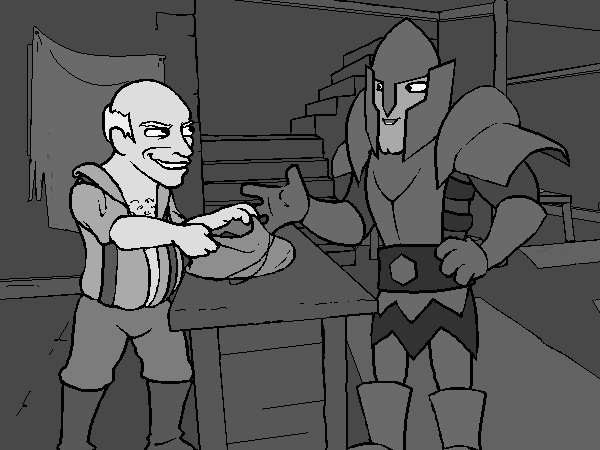 The innkeeper is silent for a long moment. Then, his joy and happiness begin to return. He tells you that this is perfect. This is just what they needed. In fact, you know who could really use the rest of this… stuff? Their leader. Their leader, silent and hidden for so long, deep down in the Tunnels. Bring this stuff to their leader, and he has no doubts the town will be restored to greatness.
You agree immediately. This leader must be quite something if they can restore the town's Glory and Dignity with nothing but some small pictures of cats. You look forward to meeting him. Or her?
Neither, really, the innkeeper says. But he is certain they would…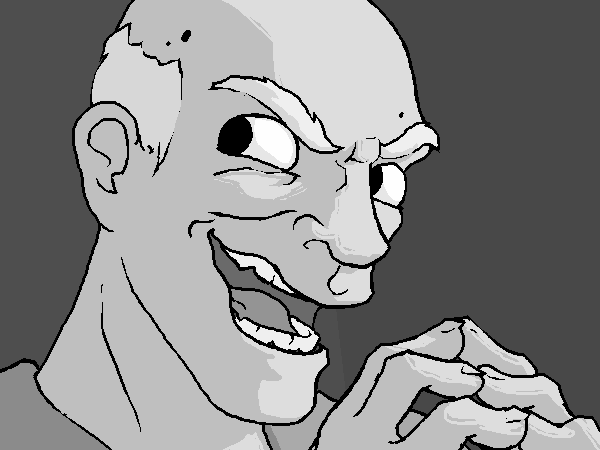 Kill for the chance to meet someone like you.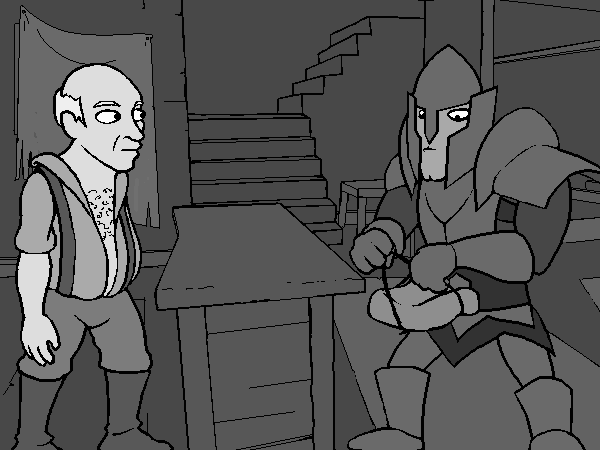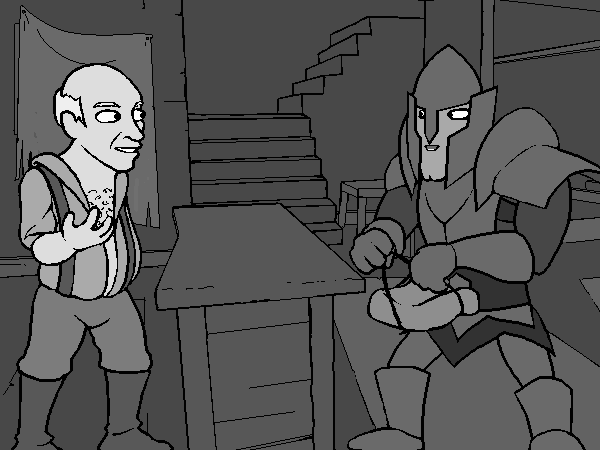 He suspects you are probably dying to meet them.
You admit you are very excited.
Huh, the innkeeper says. This almost feels unethical.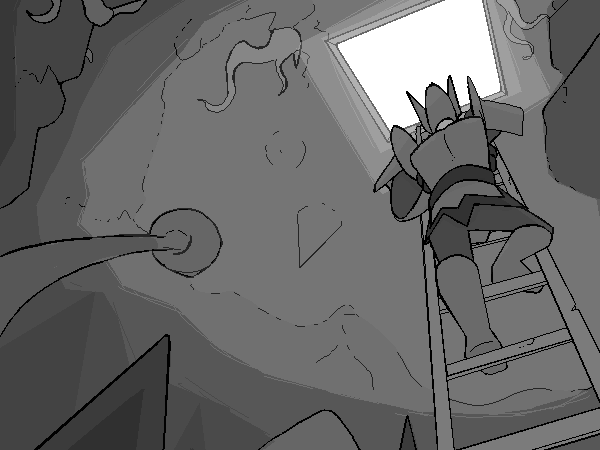 After packing the remaining supplies back into the bag, the innkeeper unlocks the nearby Leadership Hatch and you descend into the caverns. He thanks you again for your sacrifice that will restore this town to glory and asks if you'd like a torch. You tell him no; the Light of Justice will guide you on the proper path through these dark places. A Legionnaire's torches are just to help citizens find him in the dark.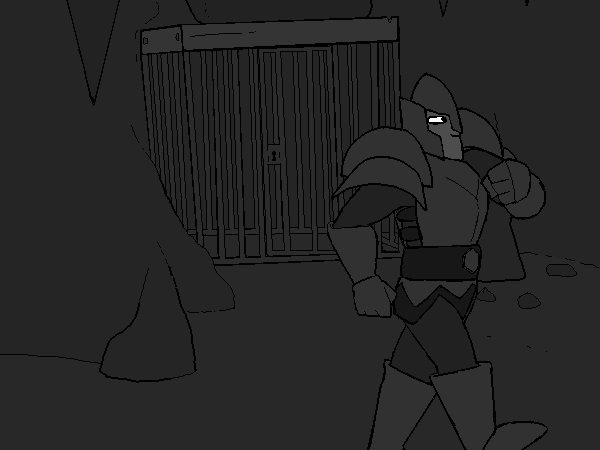 As usual, the path Justice plots for you involves a lot of walls, but you nonetheless find yourself making good progress into the dark, wet depths of the caverns. Your respect for the town's leader skyrockets at the realization that they must live in these caves in order to leave more houses for the citizenry.
But even so, you worry that their leader may be in danger, living so far beneath the earth. Danger and Villainy could be hiding around every corner, and you fear it may be difficult for the Legion to protect citizens this far below the surface.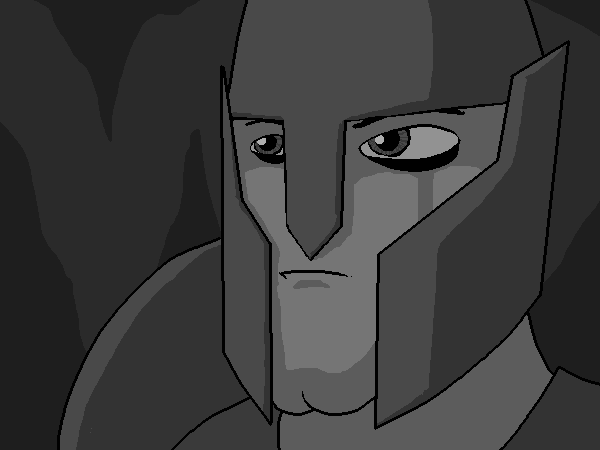 You shed a tear at the realization of how many citizens must live their lives in perpetual fear outside the eyeshot of the Imperial Legion and other Justice-Minded Individuals. Perhaps, someday, Imperial Science will find a way for the Legion to watch and protect all citizens at all times.
Covering the landscape with mirrors could easily increase the Sight of Justice, but you aren't sure there are enough mirrors in even This Great Country to accomplish such a task. Chrome paint, on the other hand, could be a viable alternative. An entire landscape, chromed and polished, would leave no corner the Eyes of the Law could not see around.
Of course, injustices could still easily occur in closed buildings. A better solution may be to paint every wall, tree, and structure in the land transparent. The citizens at the Mages Guild, perhaps, could find a way to-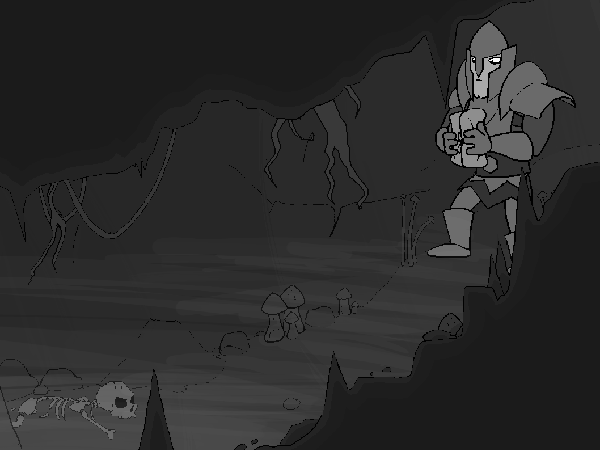 You hear a noise ahead, booting you out of your Imperial Reverie. Perhaps this is the town's leader, or a Law-Abiding Citizen in need?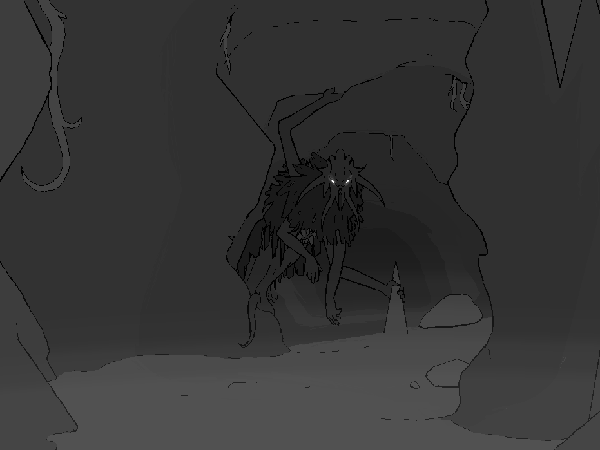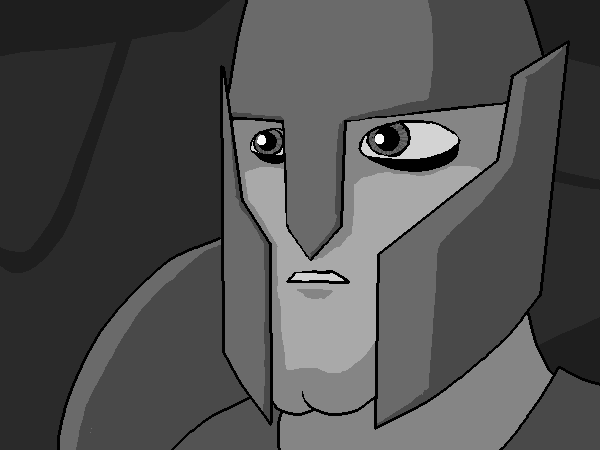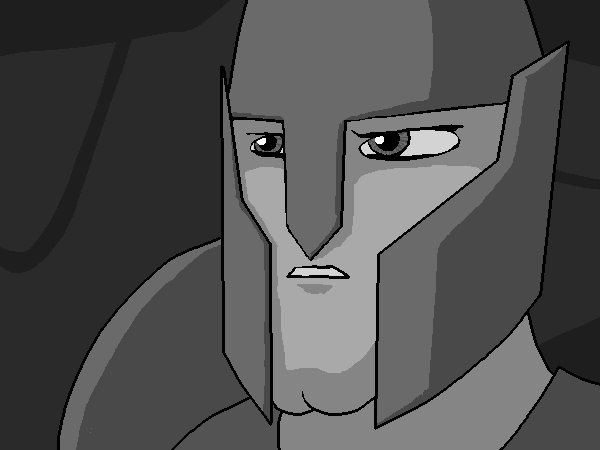 You are not sure if this is a citizen or monster.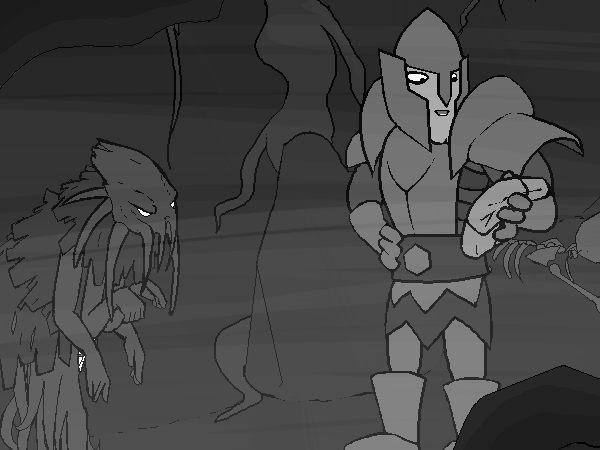 You introduce yourself as Soldier of the Imperial Legion who would make an excellent sacrifice to dark gods, here to deliver a Package of Tactical Importance containing some small pictures of cats. You were told these caverns were the leader-residence for the Bandit-Butchered Borough above, and you are here to help with the ritual and restore this town to its former glory.
The creature elicits an unearthly shriek, a hungry look in its lightless eyes. You tell it you do not speak Breton, but you can likely find a translator in town if necessary.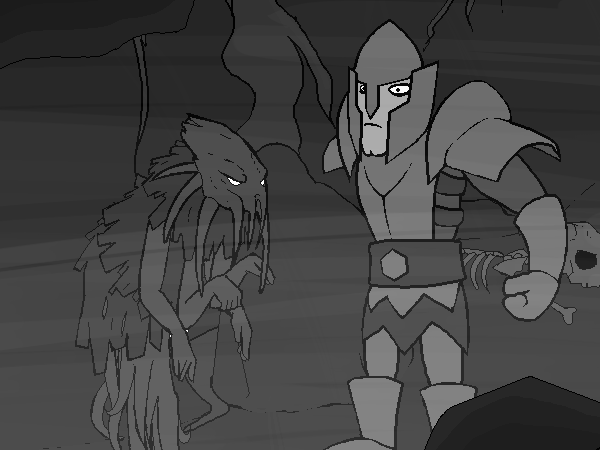 It creeps forward, looming in a way you have never seen a Good Citizen loom before—a loom that can only weave the Vestments of Malevolence. Your Justice Instincts activate, and you command it to stop, in the name of the Emperor.
The creature roars and continues walking forward, much to the disgrace of the Law. You escalate according to protocol, and impose a fine for its lawless, threatening manner—under penalty of jail time if it refuses. The creature continues, opening its abdominal maw to reveal several rows of glistening teeth. You can feel the Emperor himself guiding your mettle as your boots dig into rock-hewn floor of the tunnel.
With no further recourse, you prepare to apprehend this creature in the name of Imperial Law. Certainly, this creature is as treacherous as it is massive, but you won't hold its size against it. True Justice does not discriminate.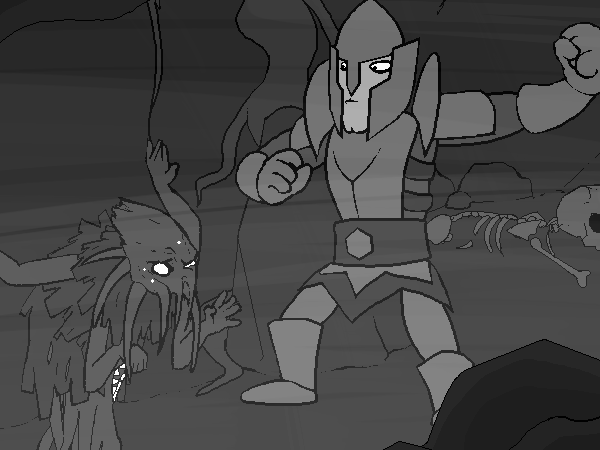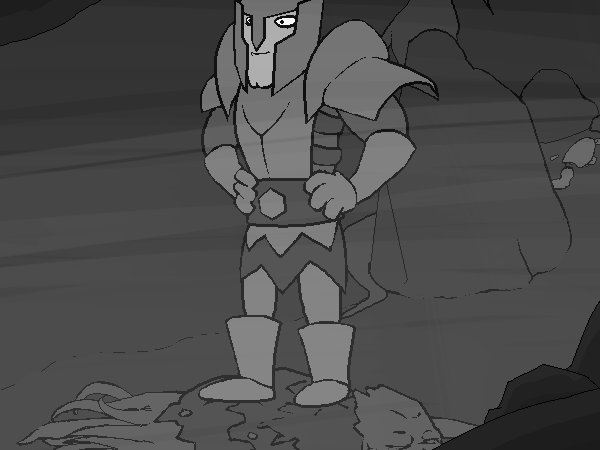 When the final blow is dealt, you once again stand victorious over the forces of Evil and Those Who Would Do Harm. You continue on your original quest, but after a thorough search of the caves, you cannot find the town's leader.
Then, the obvious strikes you. The Large, Imposing Creature who had no regard for Imperial Law must have held similar contempt for Imperial Town Leadership.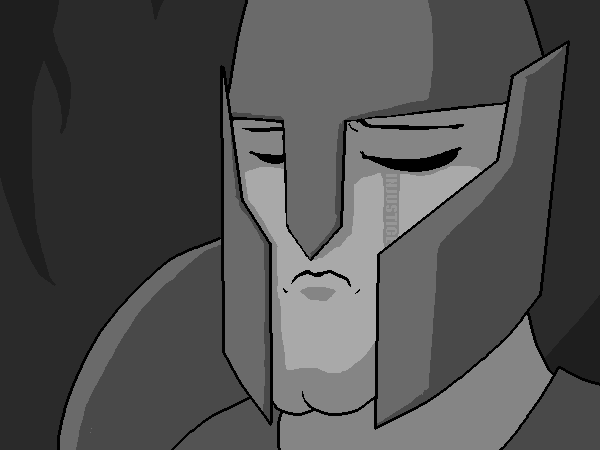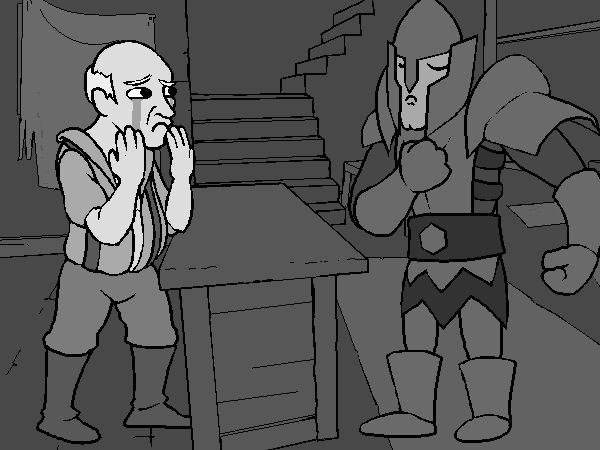 Up in the inn, you solemnly inform the innkeeper that their Great Leader is dead, but there is no cause for
worry—you have dispensed Imperial Justice. You can't help but notice that Tears of Gratitude are forming in the corners of his eyes, but you remind him that no thanks are necessary. It is truly all in the day's work for a Soldier of the Imperial Legion.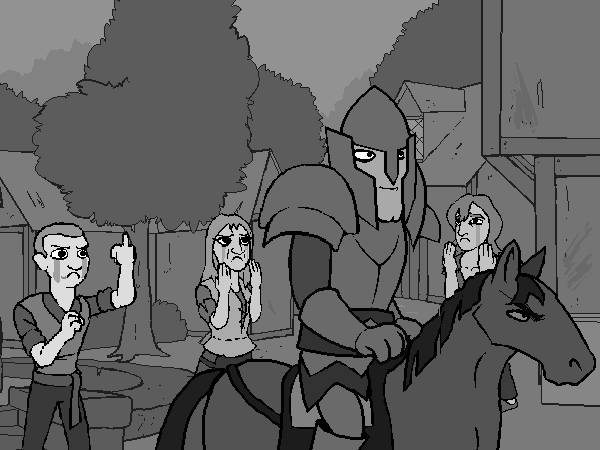 But of course, you have your scheduled patrols to return to. The sun's light is fading as a warm afternoon sets over the forest, but it will never truly be dark as long as the Empire watches over This Great Land. Its admittedly limited line of sight is augmented by dutiful, Noble Soldiers such as yourself—an honor that you hold in the highest of places in your heart.
Your duty to that Dusty Domicile is complete, for now. All that remains is to file your report on the matter with the local authorities.