Armok wrote:
> Take a deep breath and quickly ramble out the entire curent situation in one long runon sentance.
Healy wrote:
>Katia, ask about etiquette. You are a fairly new arrival to this country and there may be dinner customs that you are unaware of.!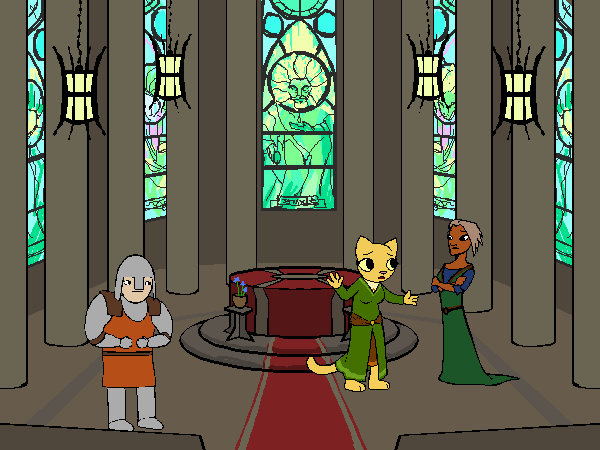 You explain that about an hour ago you were invited to a dinner party and you're supposed to be there in a few minutes but you didn't know it was actually a dinner party with a countess and you have an irrational fear of countesses and you don't know why and you still want to go because you promised your friend you would go but you're worried you are going to chicken out and…
… inhale …
…do something embarrassing and ruin everything so you want to know if there's anything Trevaia can do to help you treat a phobia really fast. Please.
Trevaia checks that you're just looking for something to make you braver for a couple hours. You say yes.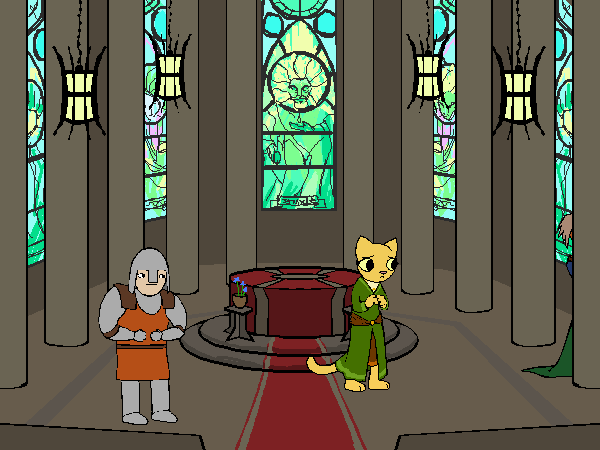 She tells you to wait here a minute. She has just the thing.
This is a Potion of Bravery. It's magic. All you have to do is drink it and you'll have the courage to face the rest of the night. She'll give it to you free of charge.
You thank her, but say you're pretty sure that's actually just a bottle of water she's giving you so you'll trick yourself into facing your fear, only so afterwards she can reveal that it wasn't a magic potion and the courage was within you all along.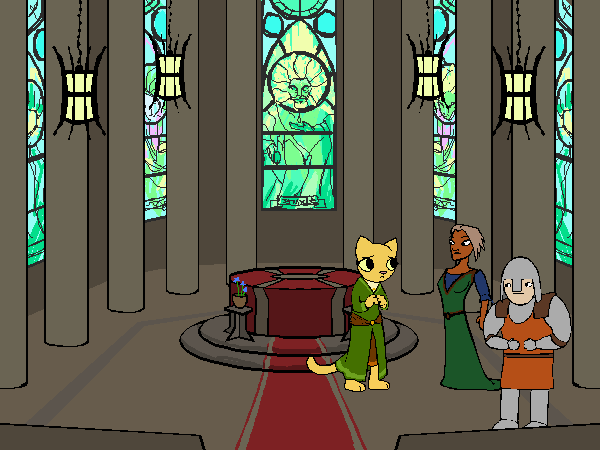 Well yeah, she says, they can't just hand out expensive potions like they are Tales and Tallows candy.
But really, you probably don't need magic or anything. You seem like you have no problem facing your fears once you take that initial step. Just grit your teeth and dive in. She promises you that it won't backfire disastrously.
You appreciate the encouragement. She's probably right; you can do this. You admit that even beyond the phobia, though, you're more than a little nervous about this. You've never been to a formal dinner – let alone one in Cyrodiil – and aren't sure you know the proper etiquette. You ask her and the nearby town guard if they have any fast advice for what you should and shouldn't do.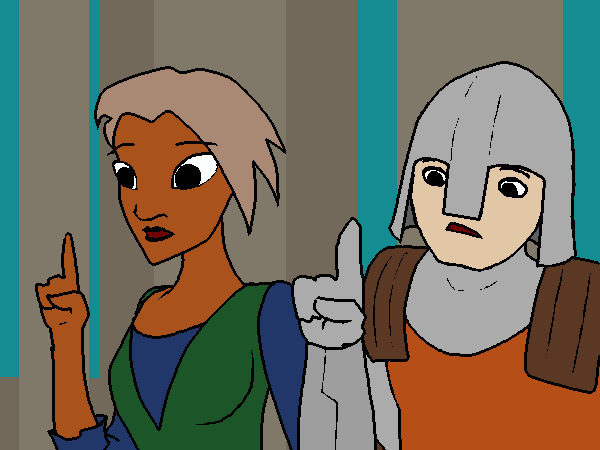 Trevaia says she didn't know this was your first formal dinner. It turns out she and the guard have plenty of tips.
Keep your elbows off the table! Remember that the salad fork is the short one; Countess Umbranox hates it when people use the wrong fork. Don't forget your thank-yous! Always compliment the chef if he enters the room. Assuming you've tasted the food already, that is.
As far as taboo conversation topics, Trevaia says to never bring up the Countess' husband. The guard adds that you shouldn't talk about the Imperial Legion either; she's been having trouble with one of the soldiers. They both agree that if Archmage Traven is attending the dinner, DO NOT talk about Kvatch.
The guard says to also not bring up the pineapple thing.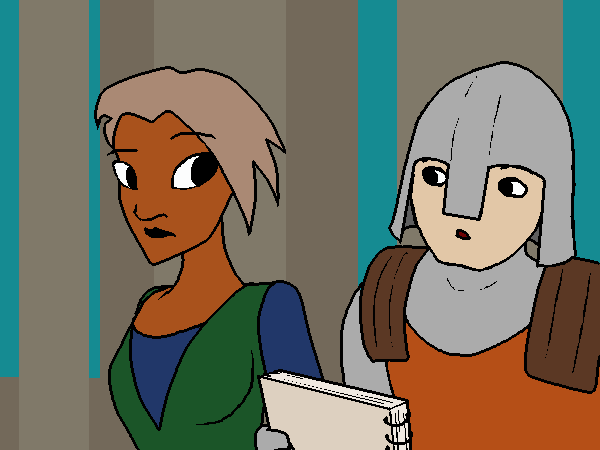 Wait, pineapple thing? Trevaia says she overheard some mention of it…
The guard tells her it's really hard to describe with words. But really impressive. But he can draw it, if she's curious.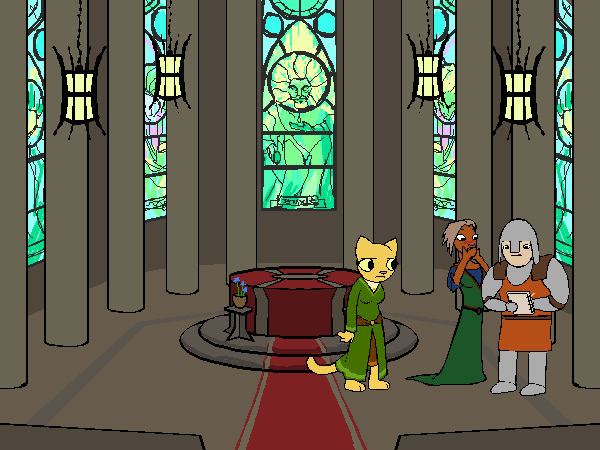 Oh. Oh wow, you say. Thanks for the help you two. I've got to get to the castle so I'll just… leave you guys to that, then.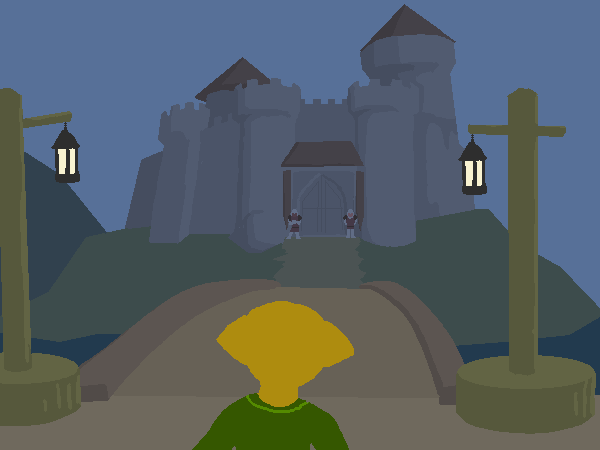 You ask another guard for directions and find your way to the castle easily enough. Luckily, it's a pretty short walk from the chapel.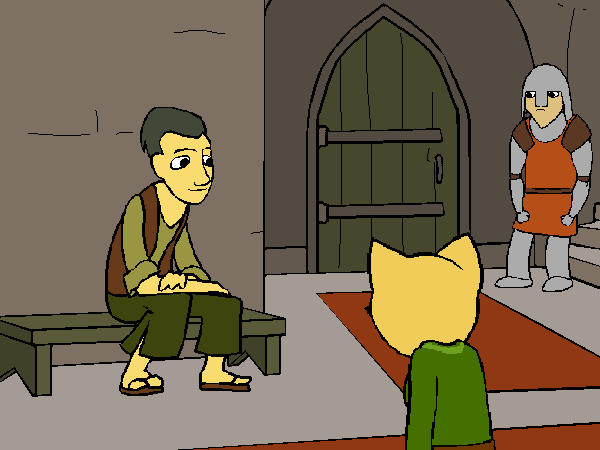 It's been a long time since you've been in a castle. They are just as large and maze-like as you remember. You quickly look around the main room but don't see Quill-Weave anywhere.
Looks like some castle workers over here though.
> ==>