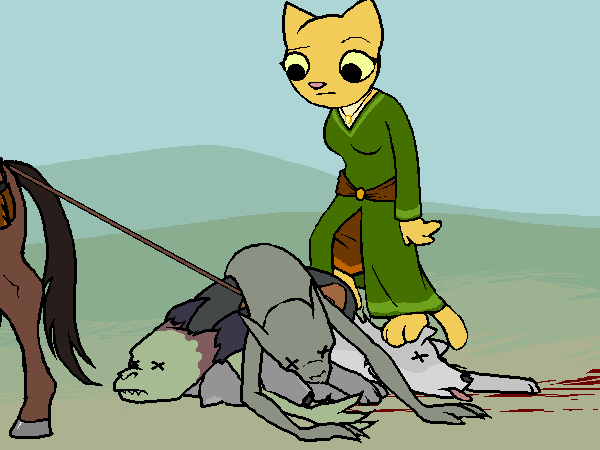 Neon-Blue-27 wrote:
> Katia: You're not actually contemplating gutting those creatures, are you? Aside from the mess, I doubt body parts are very valuable. Although, if that top corpse weren't in your way, the fellow under it seems to have some clothes and a bag…
d2r123 wrote:
1. Take all the wolf's teeth now.
2. Take only the armor parts of the clothing. Use your claws to separate them from thread.
Avi wrote:
Check their necks and pockets for jewelry
Okay, now that makes a lot more sense!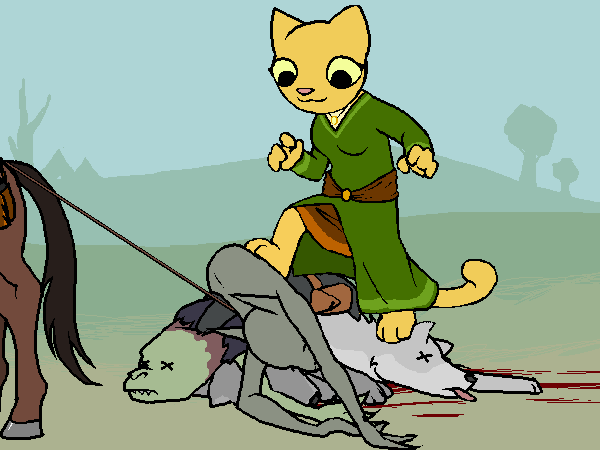 You proceed to rummage around their filthy corpses.
TheFinalWraith wrote:
Regarding your health, isn't your laughably low alcohol tolerance somewhat worrisome? Like if you've been drinking for at least five years, and heavily so at that, so shouldn't your body have gotten used to it by now?
Pajaul wrote:
Have we ever had any recollections of what we've done while drunk? and if not, does that sound normal?
Look, you seriously don't want to think about booze, drinking habits, or anything like that right now. That's always when things start going downhill for you. Quill-Weave is counting on you to stay sober and finish this job, and you have no intentions of even tempting fate this time.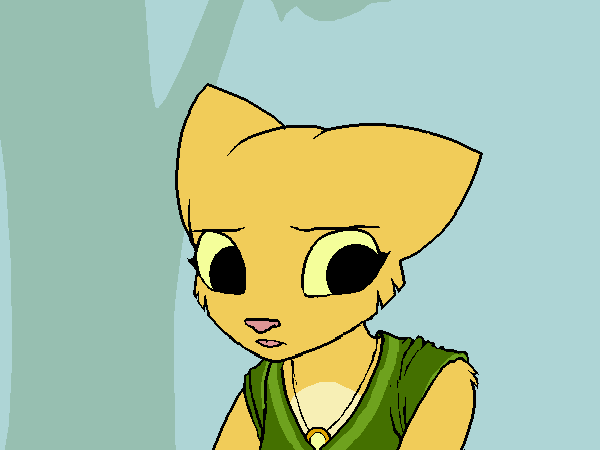 But if it answers your questions: yes, you realize your low tolerance is unusual. It's been that way since you first started drinking and – for whatever reason – hasn't changed much since. And no, you don't black out every time you're drunk. Sometimes in the morning you can remember every one of the dumb things you said or did, and it usually makes you feel a thousand times worse about yourself.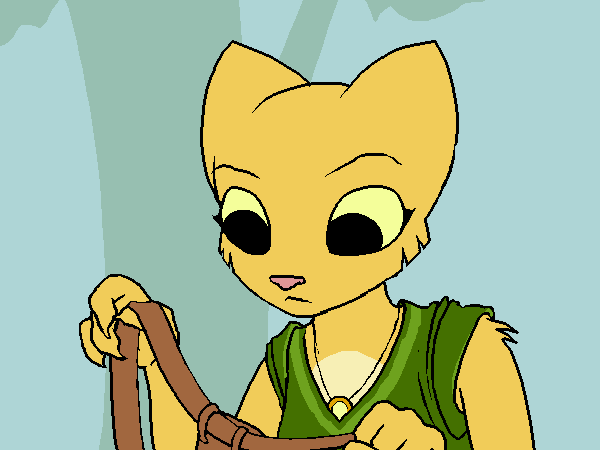 But whatever, it doesn't matter anymore. You've drank for the last time ever and you're leaving those days behind you. You're well on your way to becoming a constructive, respectable member of Imperial society. You're going to forget all these old problems, get a job, make some friends, join a guild, buy a house… normal people things. You're Katia Managan now. People are going to look at you and see more than a worthless Khajiit slut who screwed up every opportunity she was ever given and ruined every friendship she ever had.
You've hit some bumps, yeah, and you've started to accept that this isn't going to be easy. But you can do it. Katia Managan can do it. She's brave, and doesn't have to hide her face in a tankard every time something goes wrong. She's strong, and when things get tough she can just shrug it off and keep moving forward. Failures happen, you guess, but hey…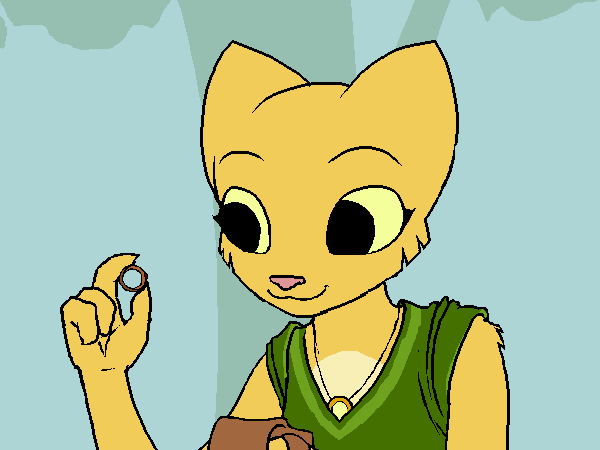 Maybe things are starting to look up.
ViniVidiVici wrote:
Katia, I just remembered this: you can use the wolves' manes/fur to make some cloak of sorts or even other sorts of clothing – maybe you can sell those for an average price. Plus, you'd increase your leather-working/tailoring skills! 😉 *wink*
Maybe even merge the gray haired goblin's piece of clothing with the fur to create some kind of ultra stilish outfit that every traveler would like to wear. That would be a hit!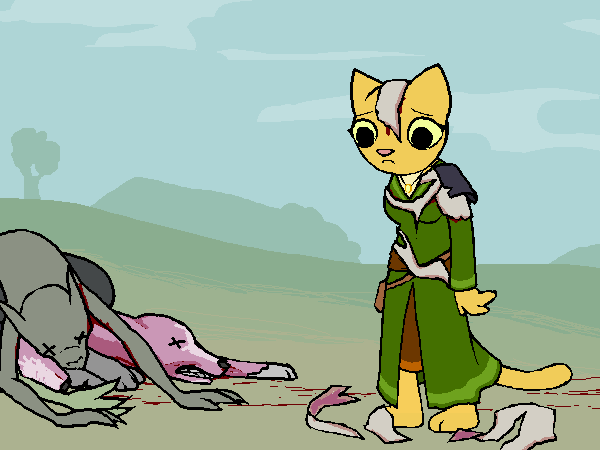 Well, okay, your badass wolf-skin armor doesn't turn out so great. But other things are still looking up!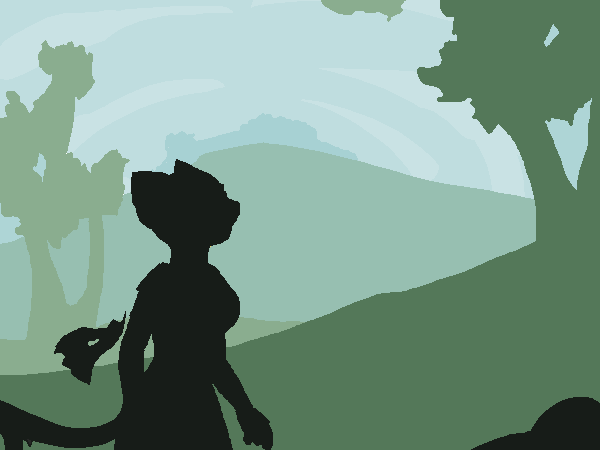 Across the road you spy the vague form of a mountaintop city. Kvatch! You're almost there! And it's about time, too. For this entire trip you've been kind of worried that something horrible would happen when you least expected it, completely negating any progress you made. But no, you're totally going to make it to Kvatch and deliver Quill-Weave's letter and earn some money and find some friends and eeeeeee oh my gods you can do anything.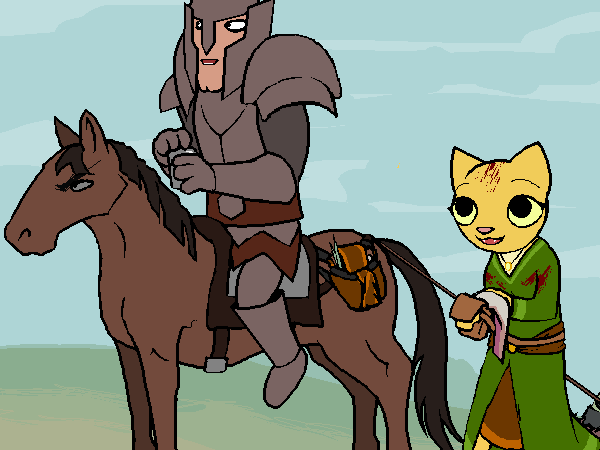 You excitedly catch up with Asotil and make sure that this is indeed Kvatch, and not some kind of horrible, hope-dashing mirage. He confirms that it is Kvatch, and says you'll arrive within the hour. Hopefully you've found your journey along this Fine Imperial Road to be adequately Safe, Just, and Lawful?
You tell him that the trip was nice, but you're glad it's almost over. Your inventory bar is getting really full by now. Asotil declines to comment on this.