Right! You will be the very paragon of presentability!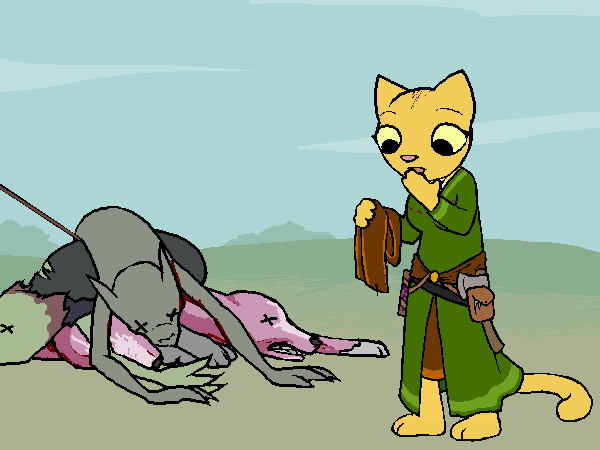 You rub the blood out of your fur and clothes as best you can, move your inventory into its new carrying case, and throw your now-empty hood back over your shoulders. You make sure your alchemy ingredients are safely stored for later sale and wrap the wolf pelts up so they don't get blood on anything else. And also, just to be safe, you double- and triple- and quadruple-check that you still have Quill-Weave's letter.
Knowing that you might actually have a chance to do something right is a little nervewracking. You're not taking any chances here.
DeadlyHamSandwich wrote:
Katia: Inspect ring. Put on ring. Is the ring made out of some valuable metal? Maybe it is a magical! Does it make you feel magical?
Pidmon wrote:
be a Ring of Light, and thus utterly useless to Katia's eye-bleeding racial power.
Hey, even if a magical light ring would be useless to you, it would probably fetch a good price among humans, elves, or anyone else who can't see in the dark.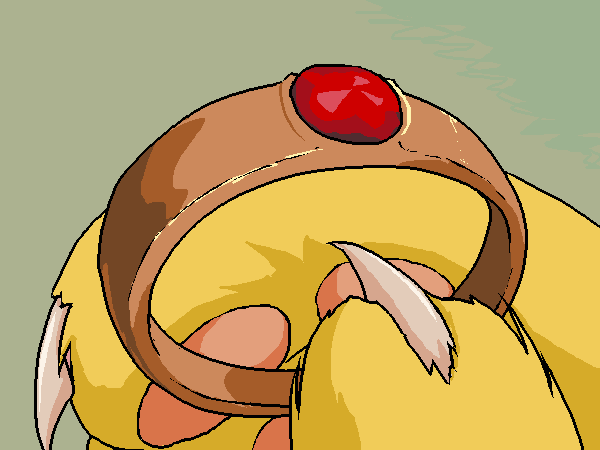 But no, this looks like it's just a fairly ordinary copper ring. You know, the kind of thing people who have money wear to look prettier. You shove the ring onto one of your hideous, catlike fingers and confirm that it has no apparent magical properties.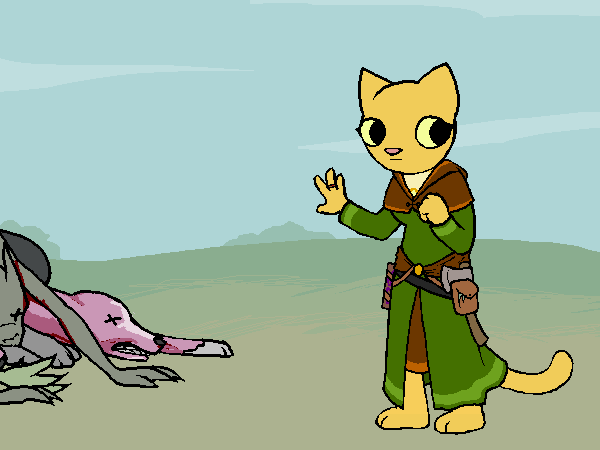 You guess it does make you feel a little prettier, though.
DeadlyHamSandwich wrote:
What does Asotil have in his hand in the last panel? Is that a flask? A flask containing alcohol?
Katia: Ask Asotil what is in his hands. If it is booze, ask for a sip. Just a sip.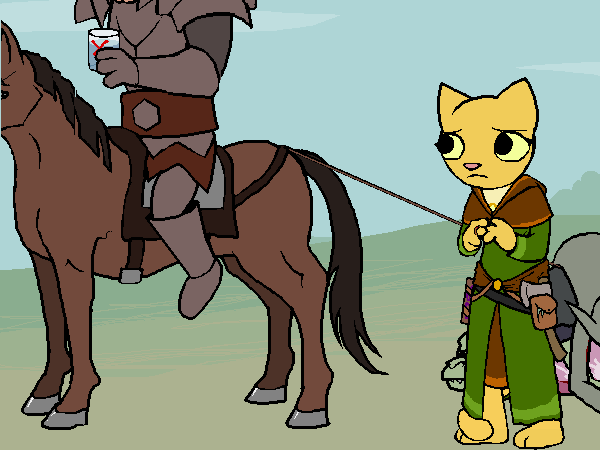 W.. what booze? That's just his GLASS OF WATER.
A glass of… special poisoned water that only Legion Patrolmen can safely drink. Yeah. No reason to pay any attention to it, or to believe that maybe he'd offer you a swig of it.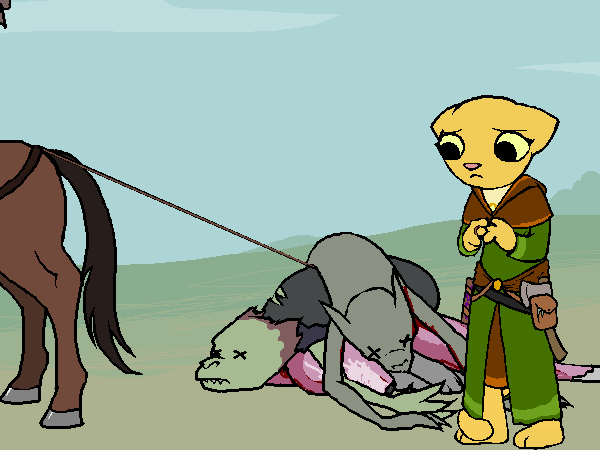 You decide to hang back a bit and pretend you're picking more plants while Asotil finishes drinking his WATER.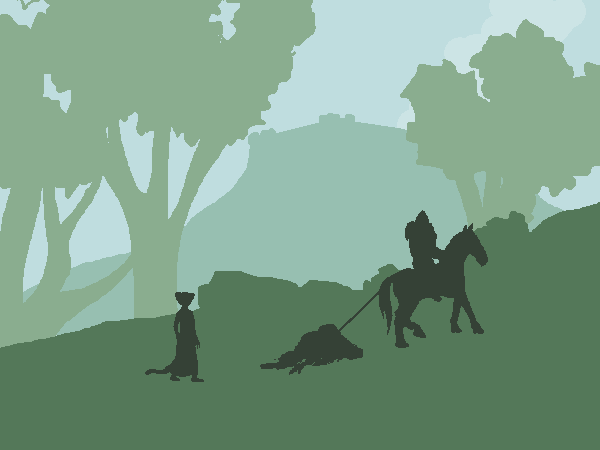 Your leg is feeling much better by now, so walking without the staff isn't much trouble. Anyway, You're almost to Kvatch so it's probably good to stretch your legs a little. An inviting column of smoke rises from the front of the city; someone must have made a campfire nearby, perhaps to cook some delicious food. You think you can make out the scent of bacon, but that might be from one of the taverns you passed.
Just ahead, the road forks into two paths. At Asotil's command, the horse stops.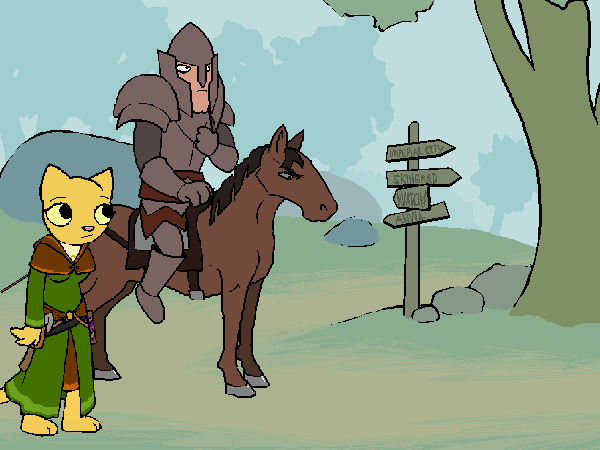 Alas Fair Khajiit Maiden, Asotil begins, I am afraid this is where we must part ways. While I wish I could individually protect every single Citizen of Cyrodiil at all hours, I have Duties to which I must attend. The path to your left will lead you up to Kvatch, and I hope the remainder of your trip goes smoothly even without the Unparalleled Protection of the Imperial Legion.
You tell him it's fine, you understand. The city's only like a quarter of a mile away and you can probably just yell for the Kvatch guards if anything comes up. I thought you had to drop the dead bodies off with the Count, though?
Asotil explains that Count Goldwine has apparently been very busy lately, as he has requested that all his justice Reports be forwarded to Countess Umbranox until further notice. Anyway, there is a more Pressing Matter that the Legion must attend to as soon as possible. You mentioned you had evidence of a robbery?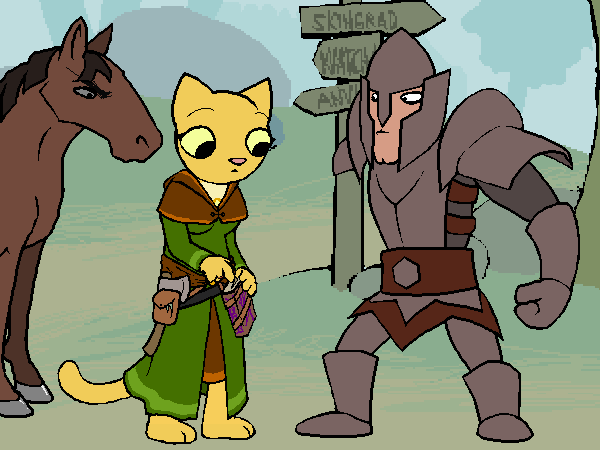 Oh, right, Gharug's receipt! You forgot to even list it in your inventory. You hand Asotil the small slip of paper and thank him for taking the crime so seriously.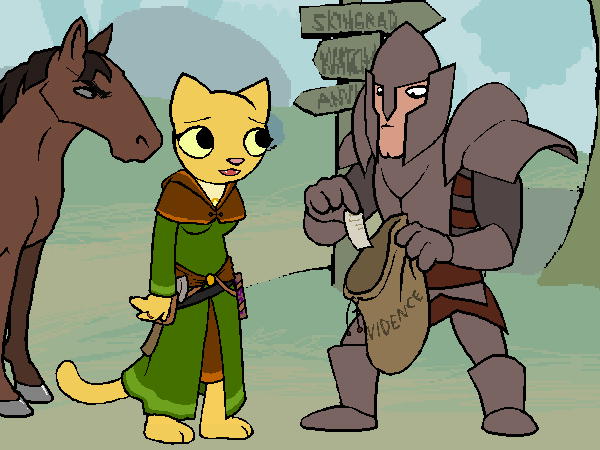 He says that it's the Legion's job to take every single crime incredibly seriously no matter what. And a highwayman using the Legion's very own patrol schedule to endanger the lives of Innocent Civilians? A travesty like that must be reported to his commanding officer in the Imperial City at once. Hopefully this single receipt will be enough to get the patrol schedule shifted and additional reinforcements deployed. Whatever his superiors decide, he promises that this Green Scourge will be apprehended as swiftly as possible. The song of Justice cannot be extinguished and the glorious light of the Empire will never silence.
If you have any further questions before he sets off, he says, he'll be happy to answer them.
Supaaku wrote:
>Katia: Though the trip to Kvatch may have gone swimmingly, recall that you'll still have to make the return trip to Anvil. Ask Asotil when he'll be heading back to Anvil.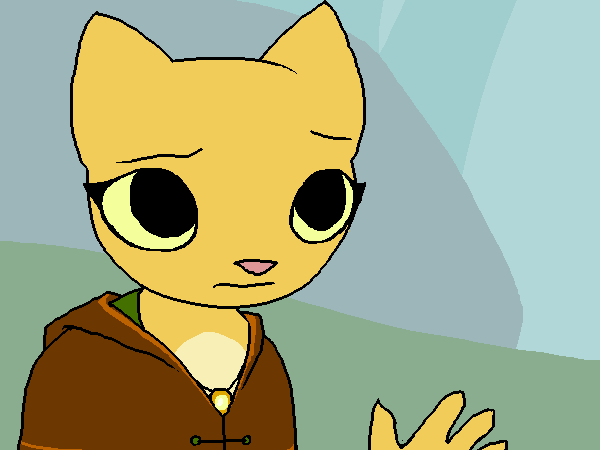 You tell Asotil that you are a bit concerned about the return trip when it comes time for you to leave Kvatch. You told your best friend you'd be back within four days, and if you stay any longer she might get worried and send out a search party or something. At least you're pretty sure that's something she would do for you. Anyway, will there be a patrol or something in the next couple days you could travel back with?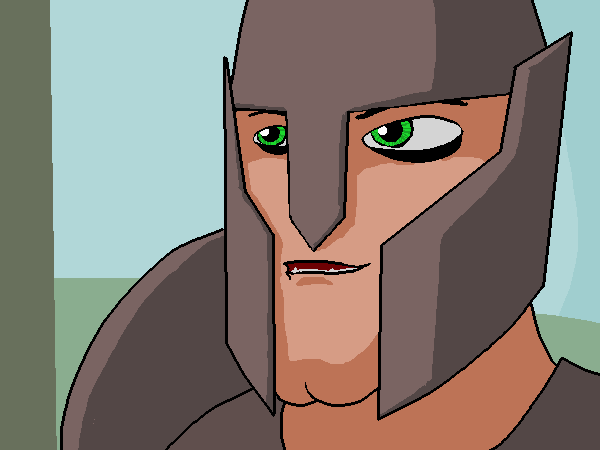 Asotil says not to worry about it. If his trip to the Imperial City goes swiftly, the Kvatch Guard will receive a copy of his new schedule and can tell you when to meet him. If he's not back by the time you leave… well, this road is usually quite safe, and after an especially busy Justice Day like today it can take a while for new Criminal Scum to move in. The road should be safe enough to travel on your own as long as you leave sometime within the next three days.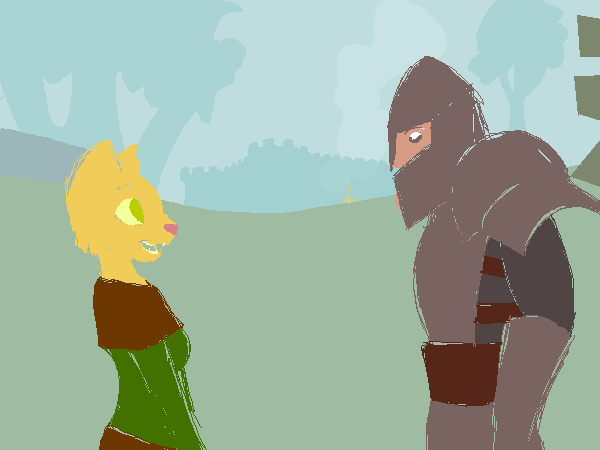 That shouldn't be a problem, you say. You can't think of anything that would hold you in Kvatch for more than three days.
He adds that his patrol schedule currently has him leaving Kvatch at 5 PM. You may want to do so as well, in case the Green Scourge has not been Apprehended by the time you leave. You agree that this is probably a good idea; better safe than sorry.