Also, is that a fire?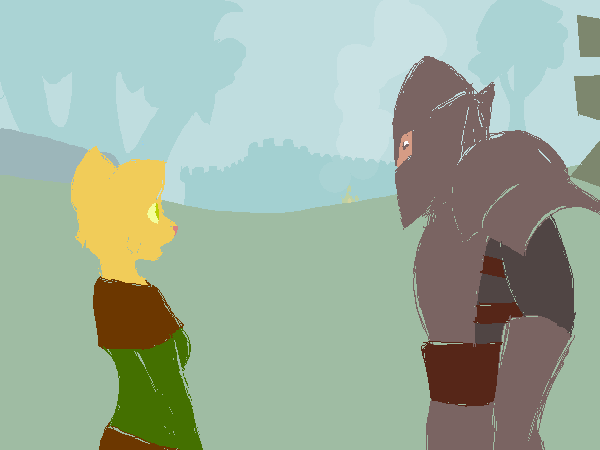 Asotil squints at the distant flames and says it's probably nothing to worry about. That citizen in a red robe looks to have the fire properly controlled.
Oh, whew, you say. For a minute you were getting this feeling that something really bad was going to happen.
Professorzobot wrote:
Guys guys guys… we ought to keep it short for right now.
Katia: Give Asotil a hug.
ViniVidiVici wrote:
OH, also thank Asotil for being such a good company. And most of all: FOR BELIEVING IN YOU. ;D
Well then. You guess this is it…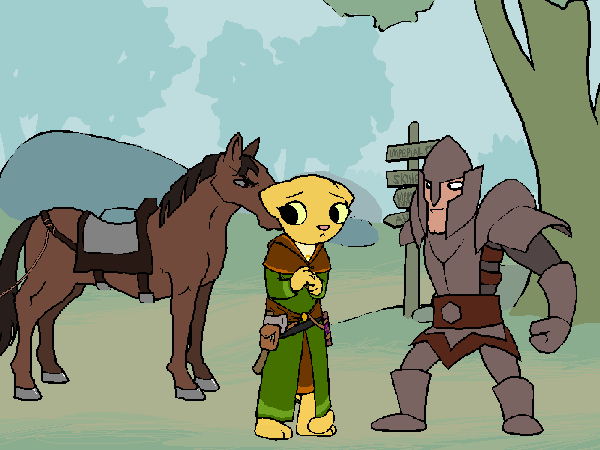 You thank Asotil for all his help. You probably couldn't have made it here without him, you explain, and it really means a lot to you.
And, well, it probably sounds sappy and stupid, but most of all you kind of want to thank him for believing in you. For taking you seriously, and not just treating you like some loser Khajiit with a magic fantasy. For making it seem like you could do anything (legal) if you put your mind to it. Most people don't treat you like that.
He tells you he was merely doing his Just and Honorable Duty by helping an Innocent Citizen in need. With any luck, his actions have made your life – and all of Cyrodiil – a Safer Place. He wishes you safe travels on the short remainder of your trip and hopes your business in Kvatch goes well.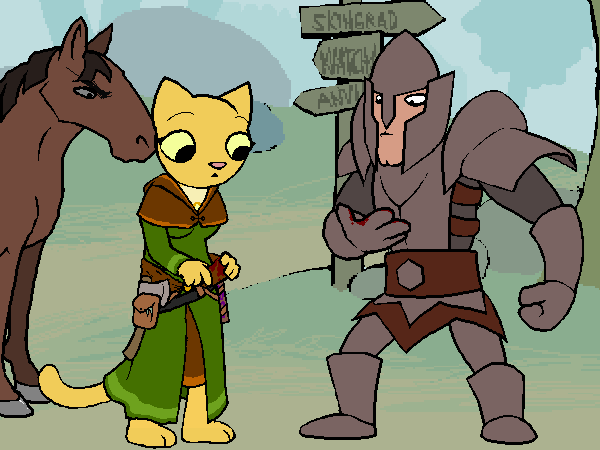 Asotil notes that you still have some Criminal blood on the back of your belt.
Oh, thanks, you say. It's probably soaked in by now, but you can just turn it inside out.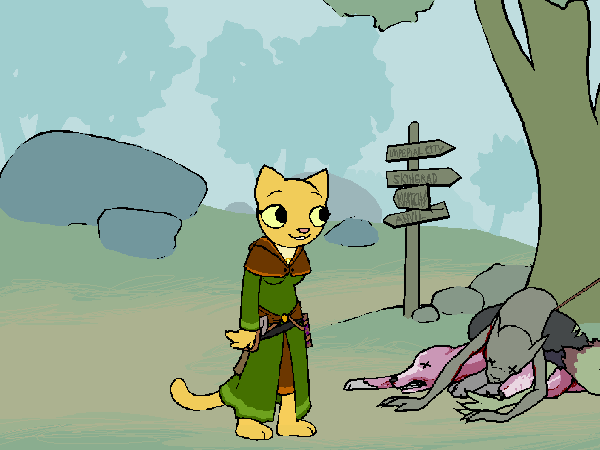 Without further delay, Asotil mounts his steed and sets off for the Imperial City. You call after him, thanking him once again for everything he's done and wishing him good luck on his own journey. He throws you a quick nod in response. Stay safe, Citizen. Stay alert.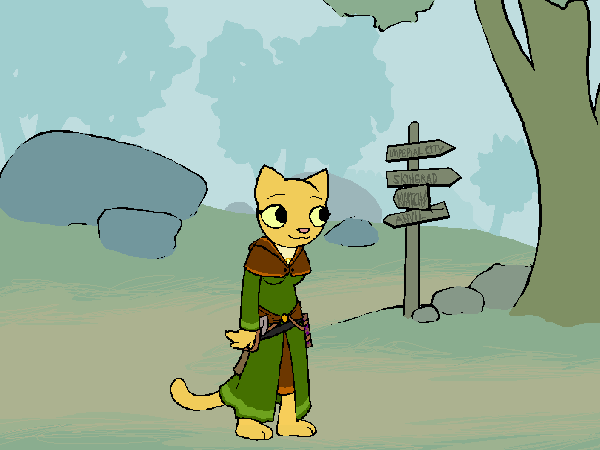 GreyAcumen wrote:
Right now katia is at the proverbial 10 yard line (not that I expect her to understand what that is) With the type of luck she gets, this is EXACTLY the point where she's going to get hit the hardest, because her luck always seems to turn the worst right after she's started to feel good about her situation, and right before she actually manages to accomplish anything. You don't have to believe in fate to recognize patterns.
Wow that is a super depressing way to look at everything that just happened. Ugh.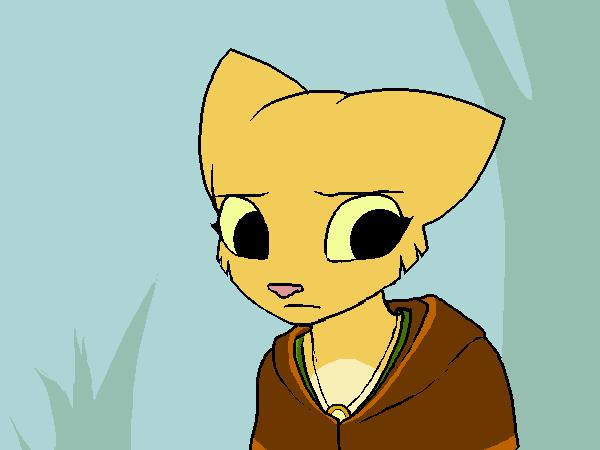 Yes, you recognize you've had this kind of pattern where, just as things are looking up, everything tends to come crashing down.
But back home in Hammerfell, you had a pattern as well. Every day, you disappointed yourself. Every night, you drank the disappointment away. There was no silver lining, no hope that maybe tomorrow would be better. You lived your life knowing you were worth nothing and that that would never change. It was the same, inescapable pattern every day.
But you escaped anyway. Or maybe Katia Managan did.
And sure, things haven't been going completely perfect for her. Yeah, there's that troubling pattern you described where things that are going well end up backfiring horrifically. But you just have to keep reminding yourself: it's still better. Even if you can only be happy for a fleeting moment before it's taken away from you, that's more than you had before. At least you finally have hopes to dash.
And hey, if you were able to break a pattern once, maybe it'll happen again. Everything bad that's happened since you arrived, maybe that's all in the past now. Maybe it was all just the short, painful prequel to something really great. Something that, over these last two days, has been just beginning.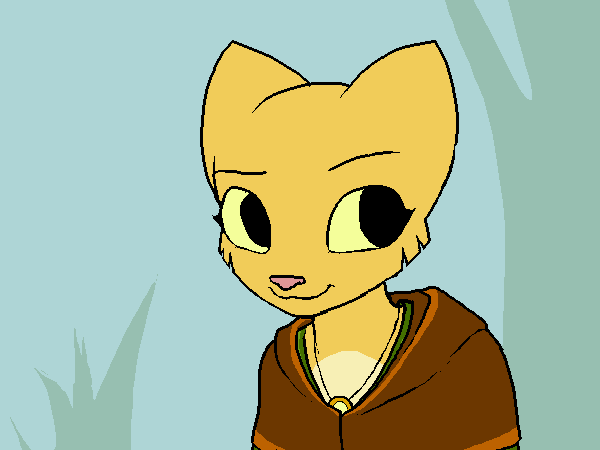 So yeah, who gives a flying fuck about patterns? From here on out, things are gonna work. You're gonna deliver Quill-Weave's letter, get her a new book, find a job, make all the friends, and become the Katia Managan you believed in when you first stepped off that ship. Things are gonna be different this time, and you don't care what luck, destiny, pattern recognition, narrative foreshadowing or whatever else has to say about it.
Entropy wrote:
get moving at a fast, but not hurried, pace; no need to injure yourself accidentally. And please, keep a good eye on your surroundings. Paranoia, in healthy doses, is a very good thing.
justme wrote:
Katia, you really want to check out what's making that fire, don't you? Admit it: the curiosity is just eating you up inside. But you must be careful! Cautiously approach, making sure that who/whatever has made that fire doesn't see you before you see it. Perhaps use your excellent Kajiit climbing skills to hide in a tree and spy for a while?
You promptly disregard all this perfectly reasonable advice and excitedly scramble up the winding mountain path as quickly as you can.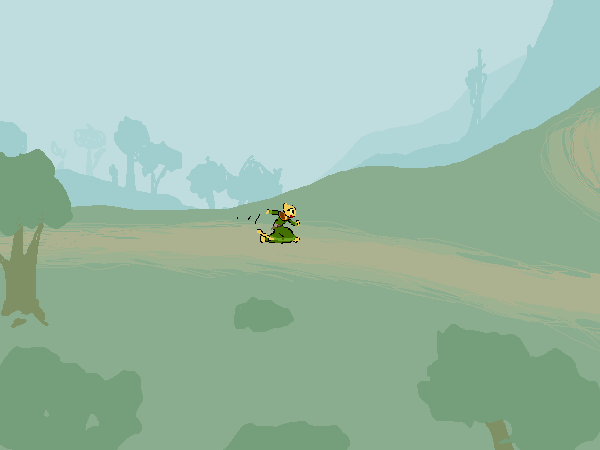 This is going to be so great!
> ==>