zimmianZisk wrote:
Katia: Think of how disappointed Quill Weave will be. Insist that you keep what you are getting for her. You stood up to this lady multiple times already, you can do it again for this very good reason.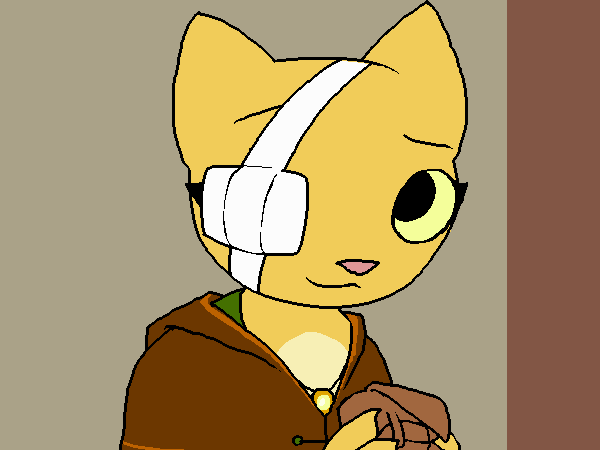 Don't be silly! Sigrid wouldn't ask you to do something that would sabotage your friendship with Quill-Weave. Sigrid is way too nice to do something like that. If anything, Quill-Weave is going to be thrilled to hear all about how you helped the Mages Guild. And how amazing Sigrid is.
Sure, asking for all your belongings might seem a little weird, but Sigrid made a pretty good case for it. You are confident she knows what she is doing.
BADEND wrote:
Sigrid asked for all her stuff. I presume this includes the amulet.
Oh! Right! You almost forgot you even had the amulet on.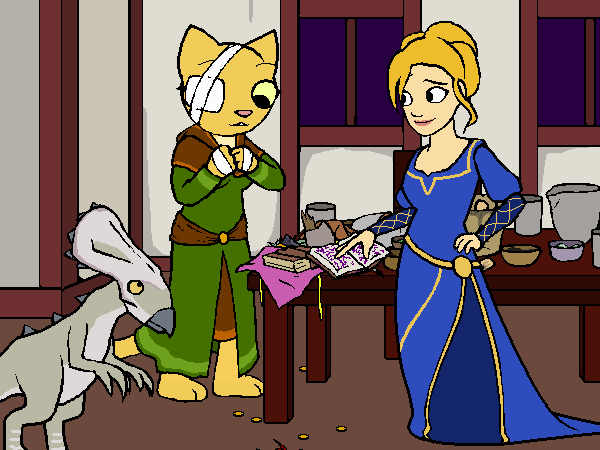 You tell Sigrid to hold on, you have something else that she might be interes-
LZGanon wrote:
she did ask for the whole kitten kaboodle and it would be a catastrophe if you didn't follow Sigrid's requests pawsitively purrfectly
Kofiman wrote:
Katia, you aren't a mage. You are a good for nothing furred Khajiit, standing around like a luck-bringing ornament. You aren't a conjurer. You are nothing but a nekomancer.
Galeus708 wrote:
Now, furst of all, you can't donate all of that money! It'll reflect pawly on you if you don't pay back Quill-weave on your first courier job. Can you imagine having to tell the tail to Quill-weave?
Jakerose wrote:
Nobody tries to scam Chairman Meow . You are not a kitten. Its time to unleash the purr-fect fire spell.
FURious CATastrophe Ignite !
immortius wrote:
Purhaps your amulet? Don't paws, rush over and gift it to her – lace it straight onto her neck, then step back to admire the the flame of her beauty! She'll be the cat's whiskers wearing it.
Of course, your depth purception is not so great at the moment with your injured eye (your hand-eye coordination must simply be pawful), so you may well drop the amulet down her shirt, or get the cord tangled up. But a wonderous person like Sigrid will surely forgive you.
soleio wrote:
You just gave Sigrid your amulet, that may have not been the best idea. This totally wont end in a CATastrophe.
Xeivous wrote:
you useless weak-minded kitten. Fur all you've done, you're on a path to mewling out of the night in a puddle of your own and someone else's bodily fluids. Again. You're hardly a mage, you've got two spells, one that is pawsitively unusable and the other is hardly capable of killing mudcrabs, fucking mudcrabs. Not to mention you were too much of a scaredy cat to kill one of those chitinous shit-heads with your axe, my grandmother is less of a pussy than you and she's gotten several painful diseases! I used to be proud of you, despite your meek and kitten like ability to do anything. You were going somewhere you useless ball of fur, but now I see that you've gone upon the path of least resistance right into Sigrid's trap. You're going to die as a whore with her throat slashed in the gutter or as an ogre's wife.
ShadowoftheLotus wrote:
Even if you aren't FELINE fine here, you really need to CLAW your way to safety.
Crazy-8 wrote:
>Katia: I hope you don't think that by catering to her whims, she'll become furendly, you've gotta do better than that! Purrhaps if you try telling her a heartwarming tail she might be more inclined to befriend you. After all, it would be just pawful if she didn't become your friend.
KathiWithAnI wrote:
> Katia: Well, isn't this just purr-fect. We told you, didn't we, Katia? We told you something was off, didn't we? But noooo, you didn't listen you were so desperate to get in good with the Mage's Guild, ignoring all basic logic. You didn't even need to go to this particular Guild Hall. You knew it was ostracized to the point where the Arch-Mage refused to speak of it. Did you think there wasn't a reason for that, puffball? Guess those big ears of yours aren't good for listening to reason. And now look where it's gotten you, you useless lump of mewling fur. Good luck with your dreams while you've been robbed blind and left with nothing but a ball of yarn on the side of the road, you stupid furball. Shame you'll have to disappoint Quill-Weave a second time. Hope it was worth it.
Clean_Skunk wrote:
katia, give her the amulet! then go sleep is some dirty ally you stray! no claws for alarm!
Snow wrote:
>Katia: Hold on now, don't forget to give the pretty lady your fetching amulet! It would look pretty pawsome on her.
Ineverus wrote:
Katia: First let me say as your subconscious: I KNEW IT I KNEW IT I KNEW IT! I think it would be a good thing now to make sure to give her your necklace. But on a more defensive note: CONCENTRATE! CHARM SPELLS/PERFUMES CAN'T WORK IF YOU'RE TOO STRONG! YOU'RE AN ATRONACH! SLAP HER! KICK HER! SCRATCH HER WITH YOUR CLAWS! DON'T LET HER TAKE YOUR MONEY! JUST DO SOMETHING! GET ANGRY YOU FURBALL! THINK OF CAT PUNS. THAT SHOULD GET YOU ANGRY ENOUGH TO RESIST, RIGHT? Let's paws for a moment and think back on how well you were doing before you cuddled up to this con-artist. How could you fall for a purrty face? How could you let her milk all that coin out of you? Show her some cat-ittude! What, can't bring yourself to show her your claws? Cat's got your tongue? I guess you're okay with diving into purrverty again. You know, I was pretty sure cats always landed on their feet, but I guess you're just special. You're pawsibly the most weak-willed being in all of Nirn. All it took was a single dash of purrrfume to purrrsuade you to give up everything in your purrrse. You purrr thing. Is there some sort of legal clawse I can take advantage of to become some other purrrrson's subconsious? Your life is like a catarang, it always goes back to where it started – impawsverished and/or drunk. Not even the best cat nip in all of tamriel could pawsibly make this any better. Who cares if you know how to use some fire or move some useless tiny things around with telekittenesis, you're going to be broke at this rate.
Rainbowfox15 wrote:
KATIA:WHATTHEFUCKAREYOUDOINGSNAPOUTOFITNONONONONONONOSMACKTHATBITCHOHGODWHY!!!!!!! WAIT A MINUTE, GIVE HER YOUR NECKLACE YOU PUSSY.
Ineverus wrote:
Katia: ALSO IF YOU MANAGE TO GET OUT OF THIS WITH YOUR STUFF, TRY TO GRAB HER PURRFUME.
ChetBetera wrote:
Snap out of it Katia! She's wearing magical perfume! Not catnip. Though I guess for you they smell the same.
GiovanH wrote:
>Give her your necklace you selfish pussy!
OrenjiJusu wrote:
Indeed, that amulet of silence will be a purrfect addition to her outfit.
GeoMtch wrote:
Also take note of how flammable the room is. Couldn't swing a dead cat without hitting something that'd go up like tinder.
Klonoa wrote:
Katia I think what Sigrid did with that perfume is a little fishy. I'm not even squiding. Remember herring from all those people about how this place is bad? I mean for god's hake you'd think after all those warnings you'd have taken that last opertunaty to leave whale you had the chance. Perhaps it's best you stop being so koi put all your carp back in your bag and take your leave before this whole situation becomes a huge pain in the bass.
Xeivous wrote:
Telekinetic/flaming rage caused beclaws of pawsitively pawful kitty puns.
MyUsernamesMud wrote:
oh no she cat-took all of your cat-things
you're a cat
contemptibleComedian wrote:
Look at all those cats out of the bag!
It's raining gold cat's and dogs!
Can we have some catsup with our dessert?
Cat wait to see how bad our build is
Isn't her charisma just purrfect?
How much to you want to pet you can get out of this situation just fine?
Take a meow and leave.
Funderful wrote:
Sigrid really let the cat out of the bag now. She's been pussyfooting around your questions and now she has you trapped like a game of cat and mouse. In all your nine lives, you never expected this to happen, but now she's pulled out the catnip purr-fume and it's left you with the whole curiosity conundrum. So, let's give paws to the situation fur now and get adorable, CATia.
Janx wrote:
Katia: Don't be a paw guest, you need to hand over your amulet to Sigrid; It's the purrfect addition to the guild's much needed funds. Also, think about it, giving Sigrid all of your pawsessions is a furry good way of showing your appreciation for such a lovely night, beclaws it's not often you come across people as furiendly as Sigrid. You don't want to blow this, it'd be a catastrophe if you ruined this, then it's goodbye mages guild, hello Meow Mix commercial.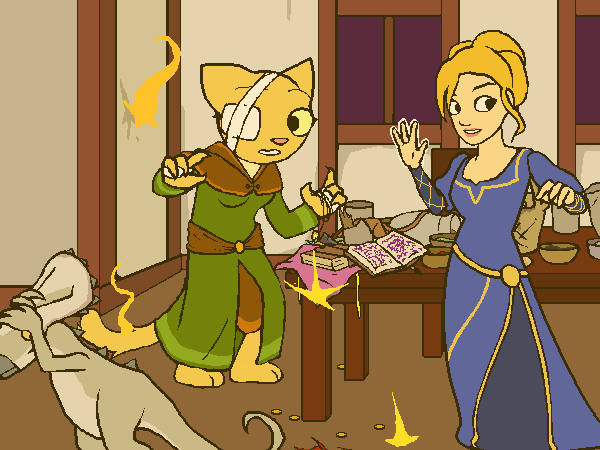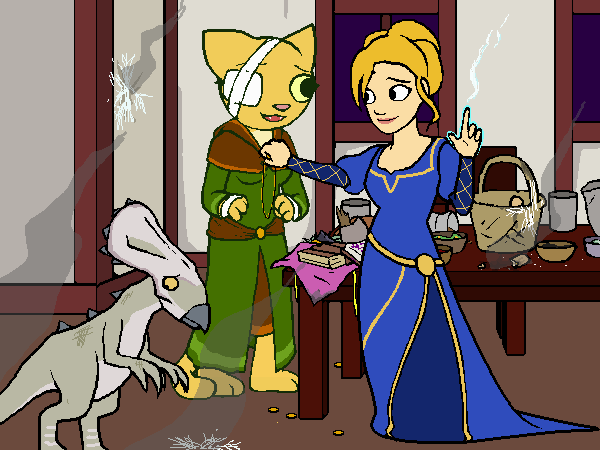 Sigrid presses the amulet against your chest and tells you it might be best if you hang onto it. You tell her she's probably right.
You apologize for the fires; you're not sure what came over you there. It's like this little voice in the back of your head is totally flipping out for some reason and trying to get you to run out of here. Sigrid says you should probably disregard that voice. Yeah, you say, she's probably right. Anyway, hopefully this donation is still sufficient, even without the amulet?
Sigrid admits it is a bit less than she was expecting, especially from someone as well-dressed as you. Your robe is lovely, by the way.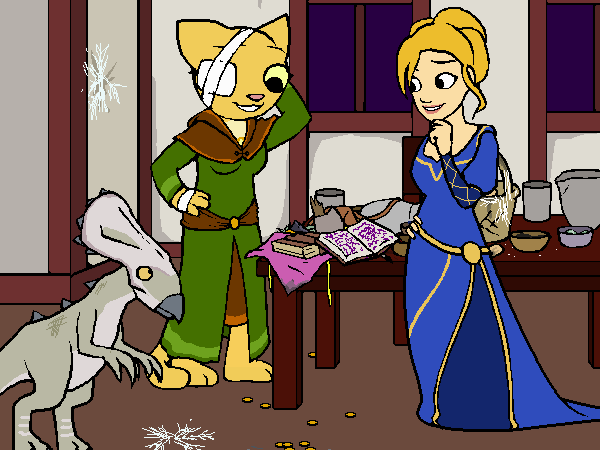 Oh! You thank Sigrid, and tell her you just got it yesterday. You like it a lot. Sigrid says she likes it too, and asks you to give it to her.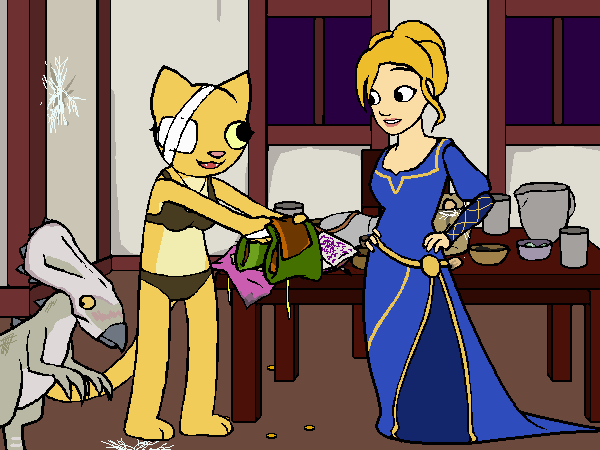 You happily oblige. She's a little shocked at how fast you managed to undress, but you explain that it's kind of a skill you have. Or more of a liability, really. Sigrid says she understands.
You love how Sigrid understands everything you say. It feels great to finally have someone who gets you.
eerr wrote:
perhaps we can get on with menial mage-guild tasks.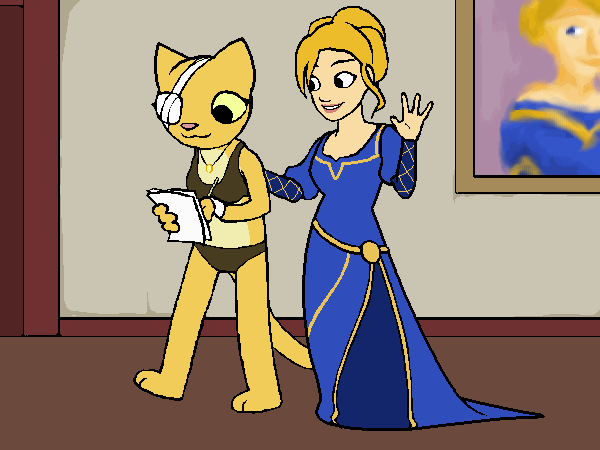 While signing some paperwork confirming that all your belongings were voluntarily donated, you ask Sigrid if there's any additional jobs the Guild needs help with. Sigrid tells you there's still plenty of materials the guildhall needs; if you ever run into anything valuable, don't be afraid to come by here and drop it off! We can't take on any new members just yet, but if you keep donating we may be able to start soon! You tell her you'll do everything you can to help.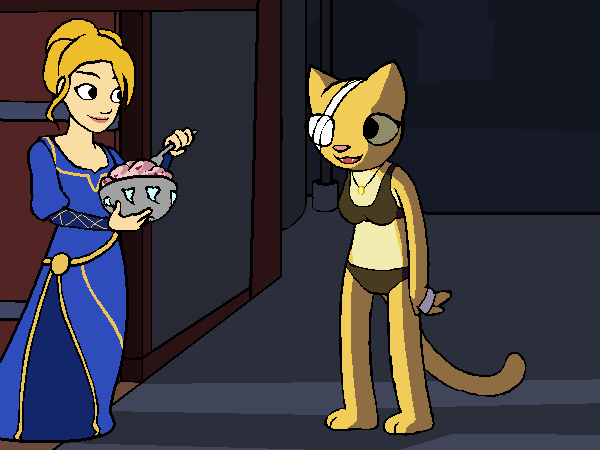 You thank Sigrid again for the meal and all the help she has given you. You now understand why everyone here likes the Kvatch Mages Guild so much. You feel like you've made a very valuable friend. Sigrid says she made a new friend tonight as well, and that friend is you. Your heart practically leaps with joy.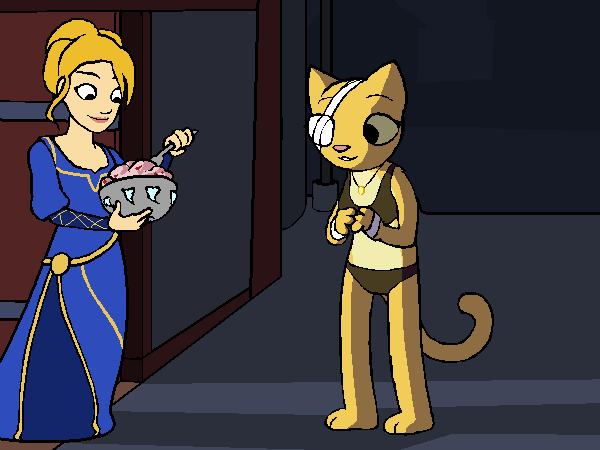 Oh! And there's that strawberry ice cream!
You ask Sigrid if you can have some. She says no. You tell her that's alright; if only one of you can have ice cream, you're glad it's her.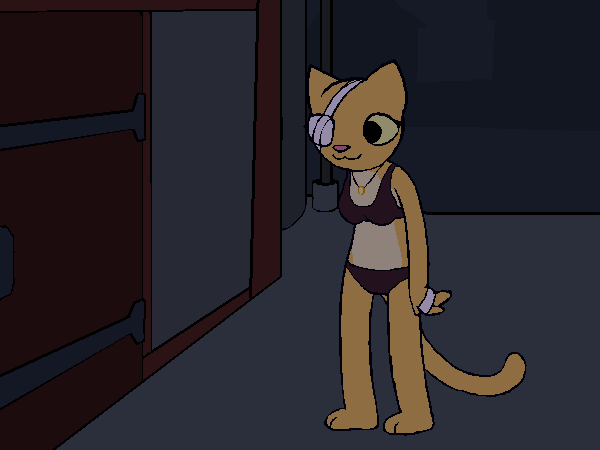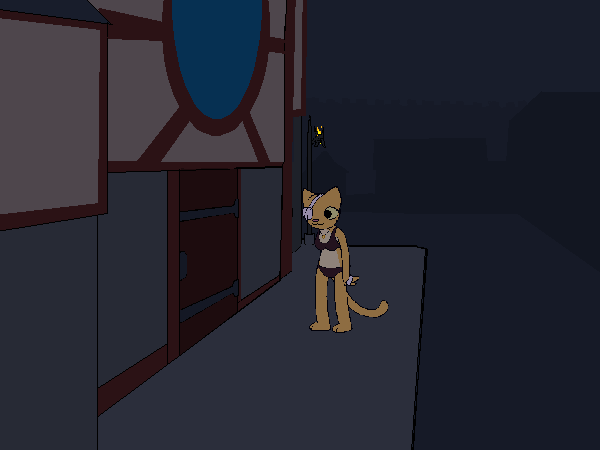 You have a really good feeling about all these decisions you just made!