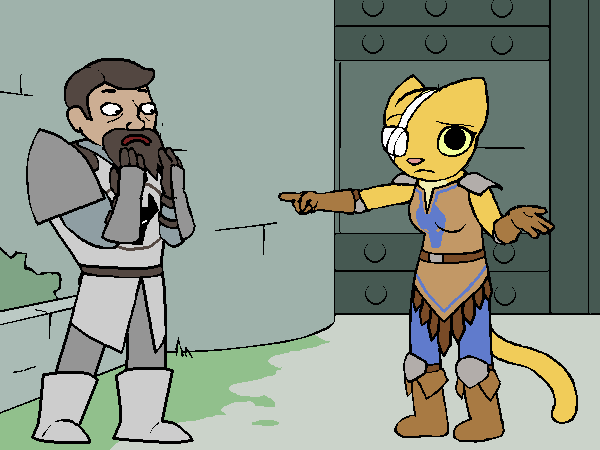 Huh? No you're not. Gaius Atrum is that guy right there. You met him up on the battlements yesterday while you were exploring the town, and he sort of freaked when he heard you used to be a cultist. He's doing it again now that you're pointing at him.
Anyway, as endearing as he was yesterday, you have more important priorities right now.
SatansBestBuddy wrote:
Katia: Ask Gaius if he's seen where the cultist went.
Rhisereld wrote:
Katia: Ask that guy if he has seen your fellow cultist that complete stranger.
Vins wrote:
Try explaining that old bloke those cultist things are past you and that his childish phobia simply sounded like a call to get poked fun from.
Also, he might know where did that elf go.
l4tul4 wrote:
>Whatever you do, don't be unfurrendly! Be warm towards him, and purrhaps he will return the favor!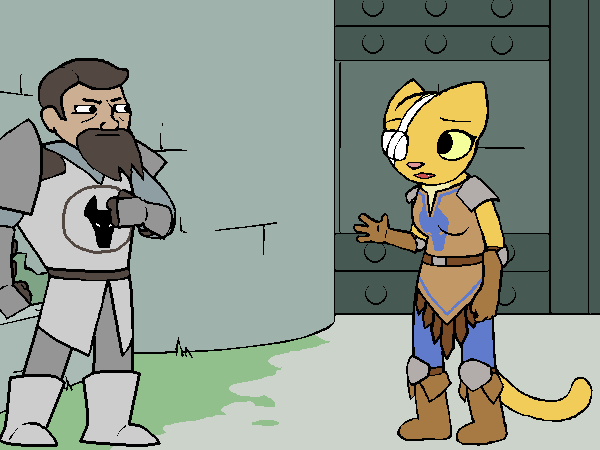 You greet Gaius as politely as you can. He regains his professional composure, stands a safe distance away from you, and rather sternly asks what you want… you cultist.
You ask him if he's seen that elf in the red robe around anywhere. You've been having some magic problems lately, and you are looking around for any mages who might kn-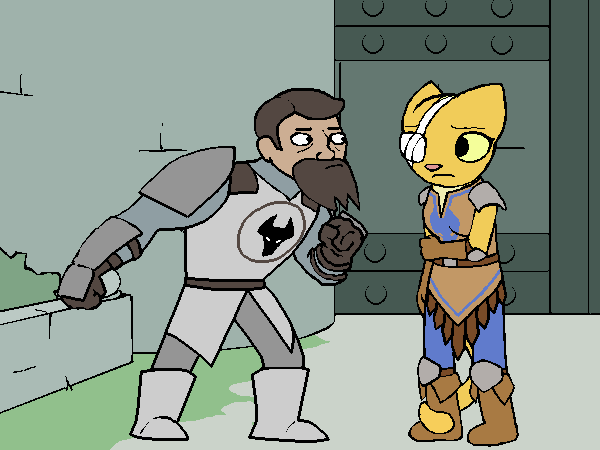 That elf in the suspiciously cultist-like attire, he asks? That same elf who has been waiting out front for his no-doubt cultist friends to show up, presumably to do bizarre and probably unruly cultist things? Things an admittedly cultist-like individual such as yourself would quite possibly be involved in? Why would you be looking for him? Are the two of you… up to something?
With an exasperated deadpan you explain that you really are just looking to get some magic help. You assure Gaius that you are no longer involved in any cults. Your cultist years were a long time ago, and they mostly just involved wild yet harmless parties – nothing to get paranoid about. No cults here. You haven't even-
He cuts you off again and tells you that's exactly the sort of thing a secret cultist would say. He is on to you and your cultist plans. And there is no chance in hell he is going to willingly help you locate your "cultfriend", as he hears the kids are calling them these days.
Right then. You ask him if he at least knows any other non-guild mages in town who you could speak with.
Even if he did, he explains, he certainly wouldn't direct a terrifying, living, breathing cultist to them.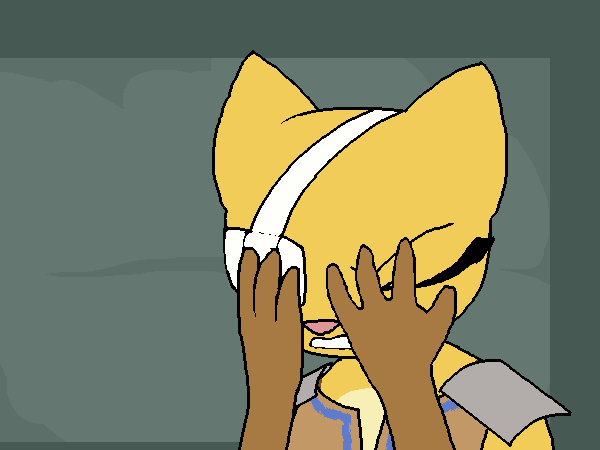 This conversation is unbelievably stupid and going nowhere.
HeadSix wrote:
Go see the phrenologist.
tronn wrote:
>Katia: Visit the elven shrink/phrenologist/trepannist, ask about your dreams
Yeah, this mage-search has been kind of a bust. And all this ragging on your cultist past is kind of starting to piss you off.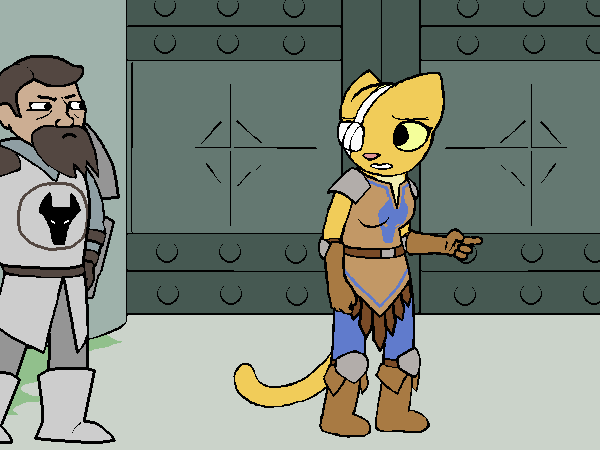 You tell Gaius that, as much as you'd love to continue this interrogation, you have important things to do. So you're just gonna head back into town and… do them.
Alright, he says. But he's got his eye on you. He'll know what sort of strange, cultist things you and your friends are up to. He'll uncover your cultist conspiracy.
You tell him one last time that he's being ridiculous. You aren't a cultist, or involved in any conspiracy. You're just gonna go try to earn some money repainting a sign, then maybe talk to that counselor guy about the recurring, monochrome nightmares you've been having since you were a child. It's nothing a guard captain has to be wor-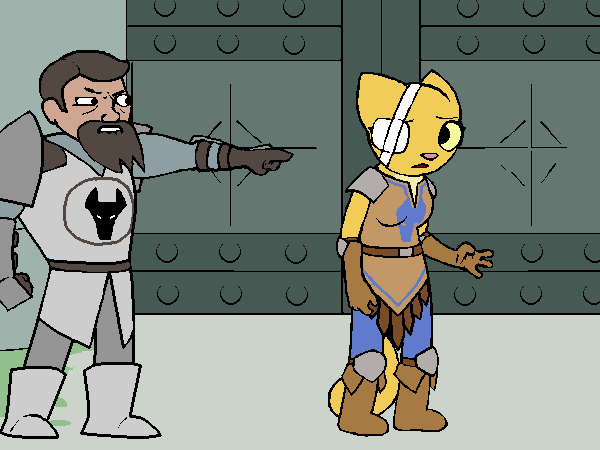 A…are you mocking me, cultist? Who have you been speaking to? Which one of your cultist spies is feeding you information?
Feeding you information? You tell him that you have no idea what he's talking about, but he's kind of starting to scare you now. You're gonna go into town and find a guard who isn't-
Don't play dumb with me, Khajiit! Y-you know what I'm talking about!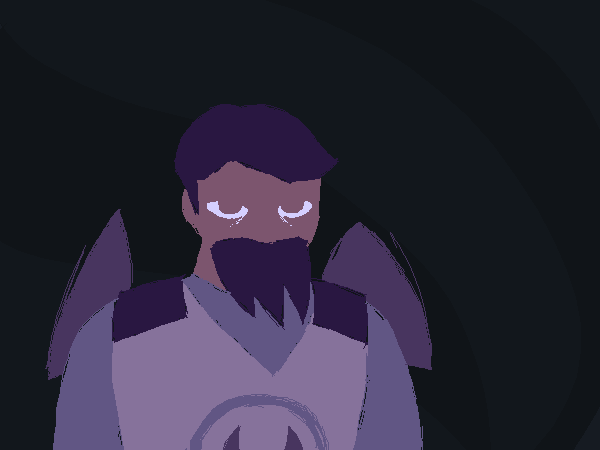 Who told you about my nightmares?
For what already feels like the millionth time, you tell the paranoid guard captain you have no idea what he's going on about. You're not involved in any kind of cultist conspiracy and you don't know anything about-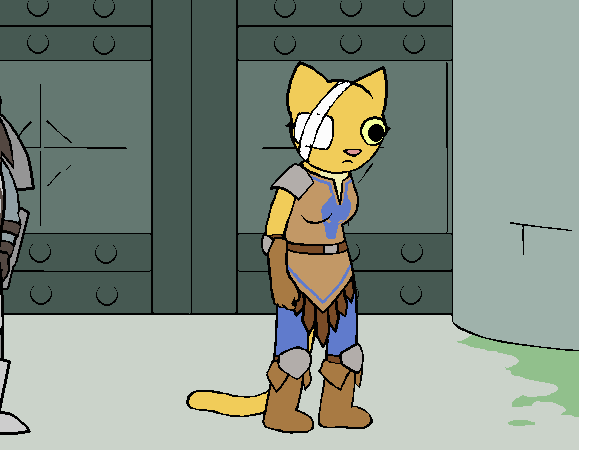 Wait, what did you say?