Eagle0600 wrote:
Don't bother with scents, you could just screw them up.
chimericWilder wrote:
Dont even think about it. We all know that you will fail horribly and be stuck with some kind of odd scent that is not suitable for any kind of formal dinner. I REPEAT, DONT EVEN THINK ABOUT IT.
Soadreqm wrote:
Yeah, don't bother with scents. Just wash yourself clean. And hope you won't need that silly painted underwear anymore.
McFrugal wrote:
Also don't put anything special in the water. Just use soap.
Squiggles wrote:
Skip on putting any scents in the bath, it's too easy to use too much. Let your smell be that of freshly cleaned fur and you'll do well enough.
greyscaleScavenger wrote:
Katia: Don't use scents. Some people are allergic to scents, or you could add too much, etc. Far too much can go wrong.
Okay yeah, maybe you shouldn't be aiming that high.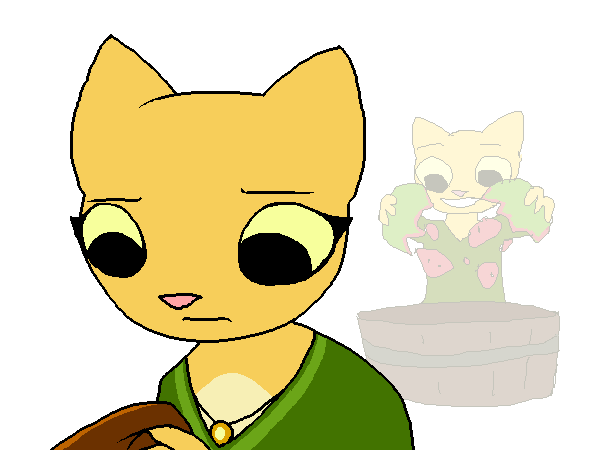 If you try to do anything fancy to this bathwater, there's pretty much a 100% chance you're going to screw something up. Better play it safe and stick to what you know.
LemGambino wrote:
> Wonder why the hell you decided to put a friggin' bathtub in front of the FRONT DOOR. Someone could just barge in on you while you're bathing! Move the tub–somehow–to another room before you get caught in your birthday suit.
Hey, it's as good as any other room! And it meant shorter trips back and forth from the well.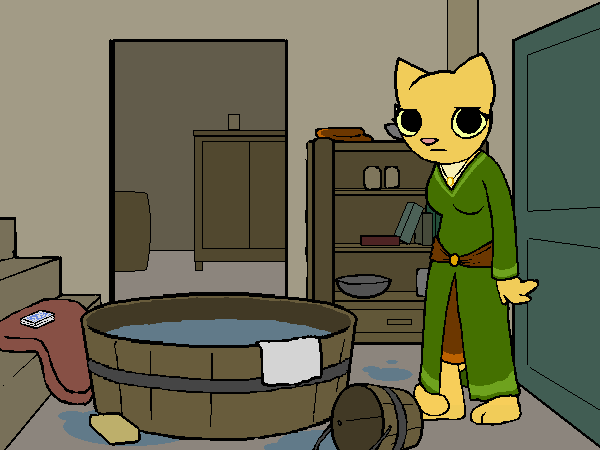 You could flip the filled bathtub up on its side and roll it into the kitchen. Or…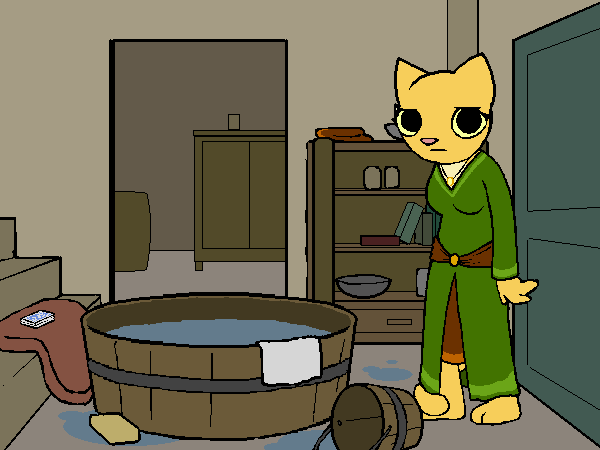 … just lock the door.
McFrugal wrote:
OH! Also it looks like you may have put too much water in the bathtub, so it'll overflow if you get into it.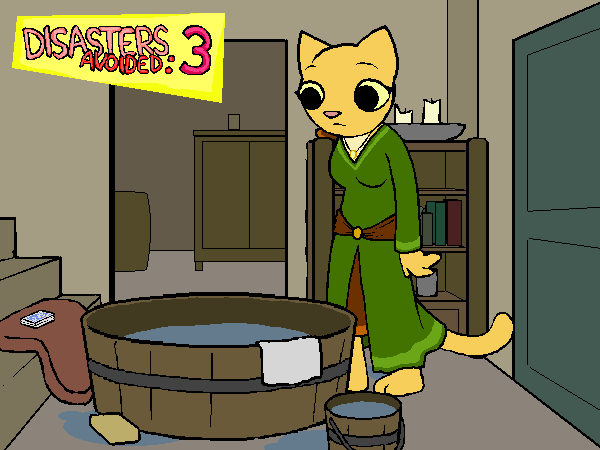 You are pretty sure it wouldn't have actually overflowed, but you give yourself a point for this anyway.
Doing simple tasks without screwing up sure is hard work!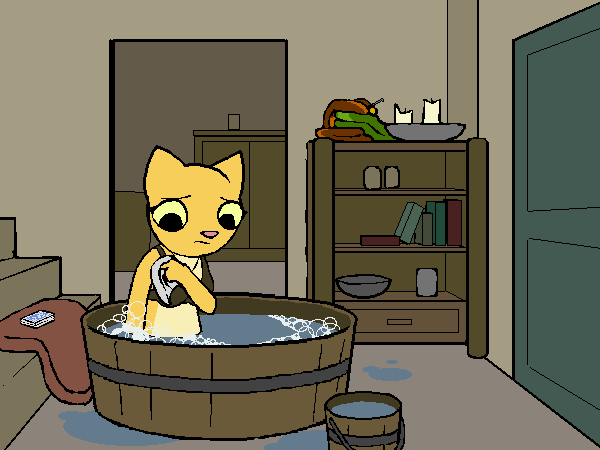 You take your long overdue bath. You try as hard as you can to get the paint off, but it's apparently not washable. You'll just have to wait for the fur to shed.
You guess this bath is still kind of relaxing, though. You don't feel as panicked as you did a few minutes ago.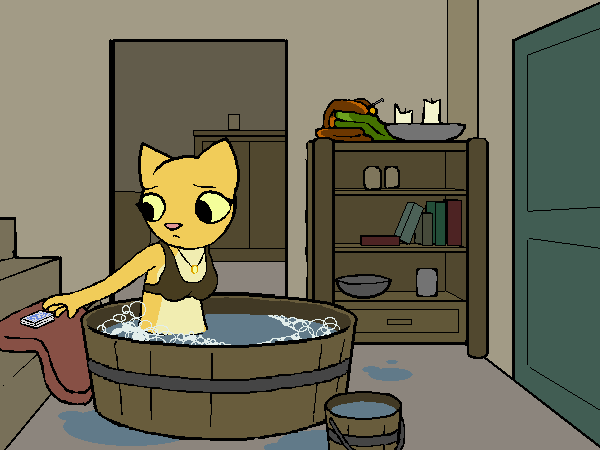 In fact, might be a good time to check out these cards.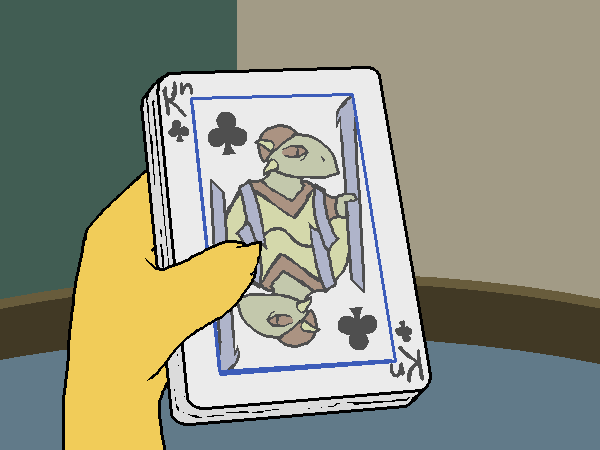 Aww, cute! It's a special Argonian deck. It feels like it's waterproofed too, which makes sense for a race of amphibious lizardmen.
What's this guy, a Knave? Not exactly a royal, as far as you know, but he looks pretty chill. You could totally carry on a conversation with this guy. Hello, Knave. I like your tiny hat! It goes nicely with your shirt.
Yeah, there's nothing hard about this. Time to go deeper…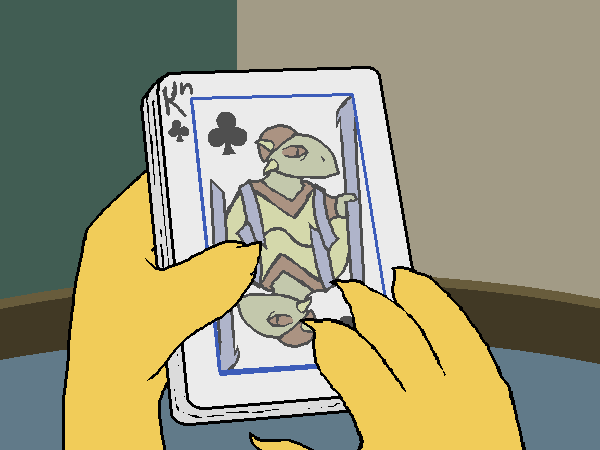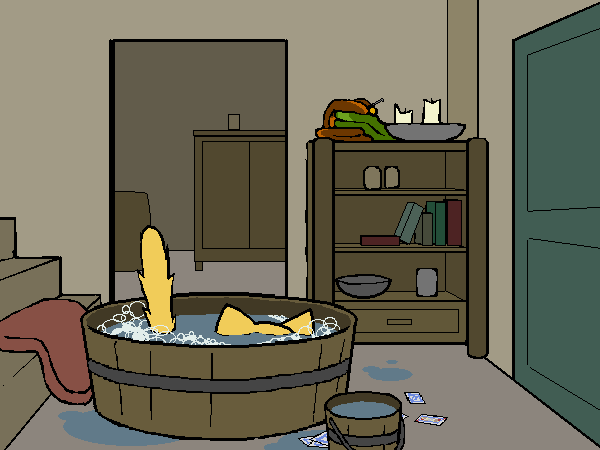 That hit a little harder than you expected. You're starting to feel like maybe this whole dinner is a terrible idea and you should just run away from this town and never come back. At least then you wouldn't embarrass yourself or have to admit to Quill-Weave how you have this ridiculous fear.
You hope that card didn't land face-up.
> ==>