(That last Flash was big! Worried you missed something? Check out the summary!)
You put the finishing touches on your map of Kvatch, jotting some notes down in the margins.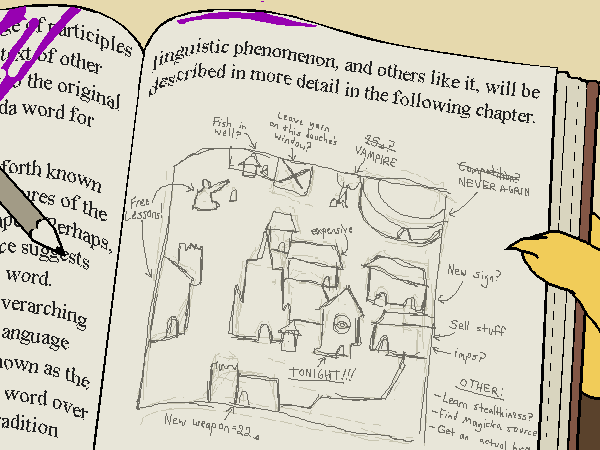 Overall, this afternoon has turned out surprisingly well. You've already identified several potential employment opportunities, met a couple people willing to give you free training, and found a few items you're quite interested in purchasing once you have some gold in your pocket.
And you're definitely planning to check out that Mages Guild as soon as it opens – not just out of curiosity, but because you still need a place to stay tonight. Buying a room at the inn is one thing, but if you can somehow get a membership with the Mages Guild… well, then you'll have free lodging, free food, and access to all the wizarding paraphernalia your heart could desire. The very thought makes you shiver with excitement.
Right now, though, you have important business to attend to!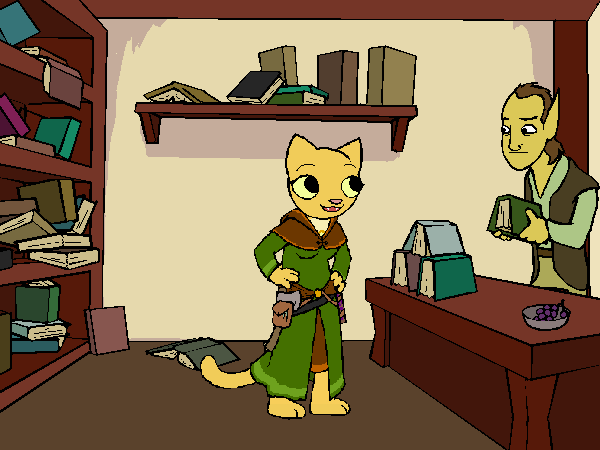 You proudly introduce yourself as Katia Managan, professional courier and wizard-in-training. You ask the gentlemanly elf his name, and ask if he is the proprietor of this fine literary establishment.
Wow, he says. He's usually just called "the bookstore guy" but he likes your rendition much better. He tells you his name is Hirtel. He buys books, puts them around on shelves, and then other people come in and buy them. So yes. Proprietor. He Propriets.
Well then, I believe I've got something for you, Mr. Proprietor.
Bibliophael wrote:
Katia, you are not certain what the contents of this letter are. If you appear enthusiastic to be delivering a letter bearing ill news or, worse, insults, it may go poorly for you.
So be dignified. Be respectful. And be prepared to apologize.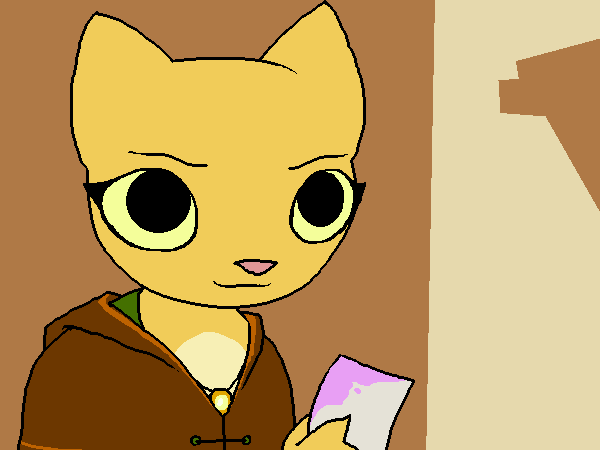 Despite the fact you are brimming with pride from your first real accomplishment, you try your best to maintain a professional composure. You hold the letter out and explain that it's from Quill-Weave, back in Anvil. She asked for it to be delivered as soon as possible.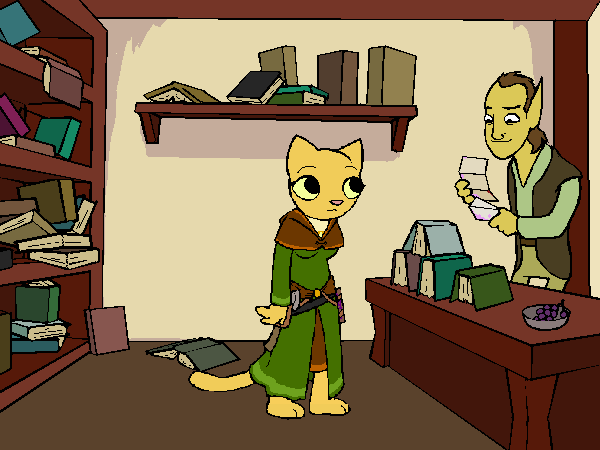 Gods' Blood, a letter from Quill-Weave! And in a beautifully wine-stained envelope, no less! Are you returning to Anvil? Can you bring a reply?
You answer yes to both.
Hirtel gleefully says that he'll have his response ready in just a second. Don't run off yet. No, don't run off. He's been awaiting this for quite some time.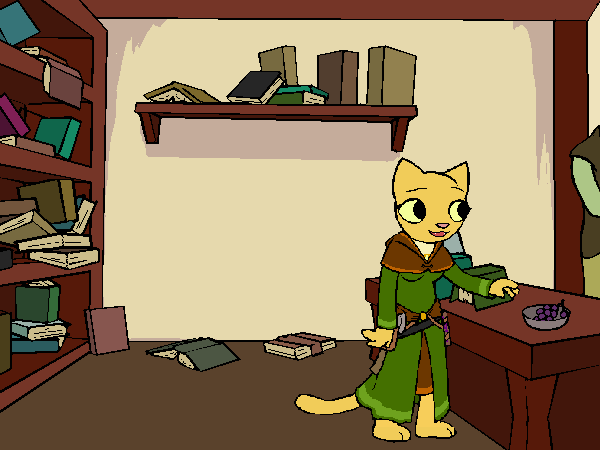 While he frantically scribbles something on a tattered piece of paper, you move on to your second order of business. You explain that there was an… accident involving a can of purple paint, and you ruined one of Quill-Weave's grammar reference books. Would there perhaps be a copy here you could purchase as a replacement?
Hirtel says something that boring wouldn't exactly be a hot seller, so just check around on the shelves. If you can find it, then the two of you can discuss a price.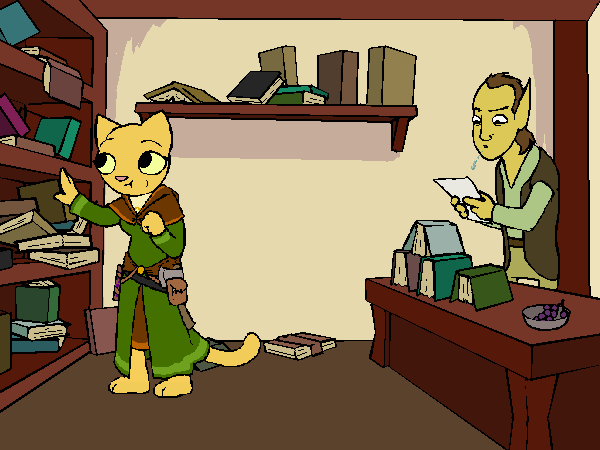 Fair enough. You scan the main bookshelf for anything that looks close. Before you can get very far, Hirtel calls after you and announces that he has finished his reply.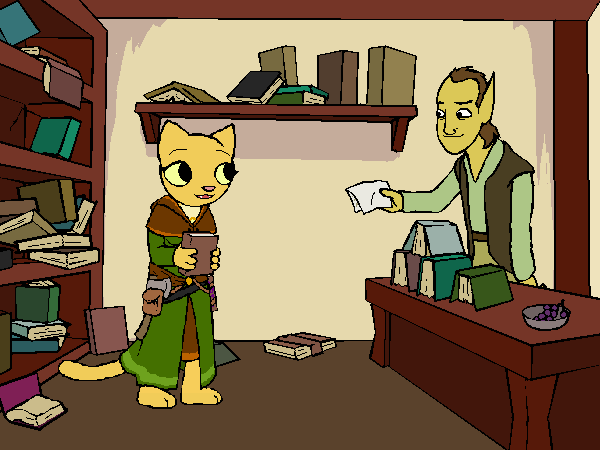 Oh! That was fast. You, ah, don't want to use an envelope or anything?
Nah, Hirtel says. The letter is much better this way.
> ==>