You remind Hirtel that even though you are a professional courier, accidents can still happen. His letter would probably be much safer in a nice, sturdy envelope.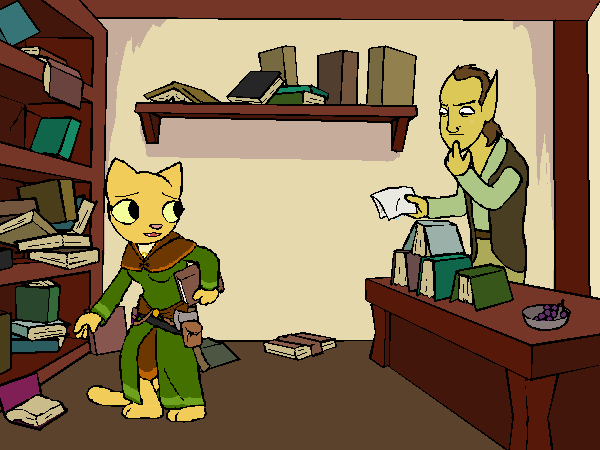 He strokes his chin thoughtfully, pondering your request. An envelope would be functional, sure… but he doesn't know if it would be insulting enough.
Unless…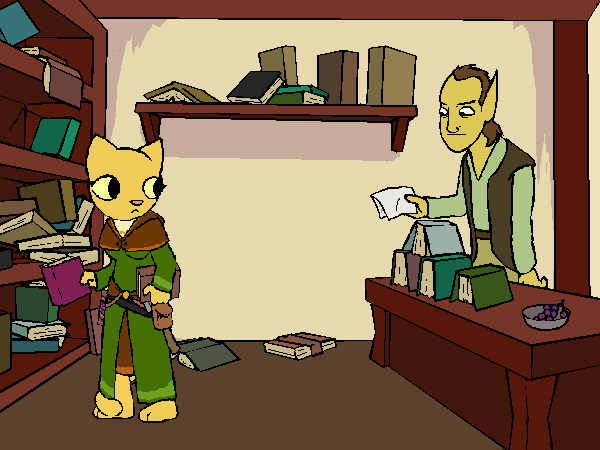 … I make the entire letter ironically uninsulting! Brilliant!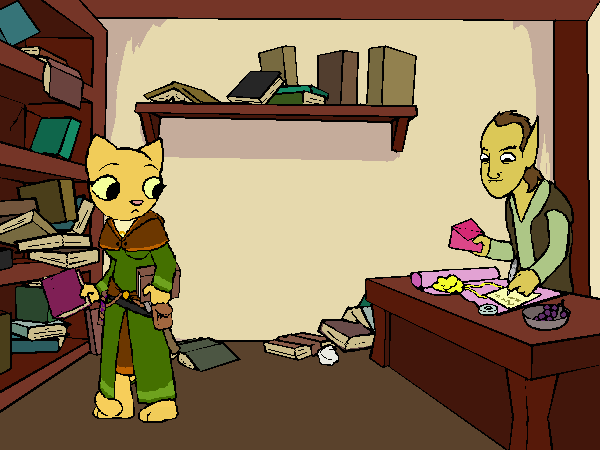 Hirtel quickly begins scribbling out a new letter on a fresh sheet of paper. He tells you to check the ground and see if you can find a leather-bound book on restoration magic; he has an idea how to make this ironically uninsulting letter even more ironically uninsulting.
You hand him the requested book, which he quickly wraps up and attaches to the letter. He presents you with the completed, gift-wrapped package. Hopefully you don't mind carrying a slightly heavier reply back to Quill-Weave?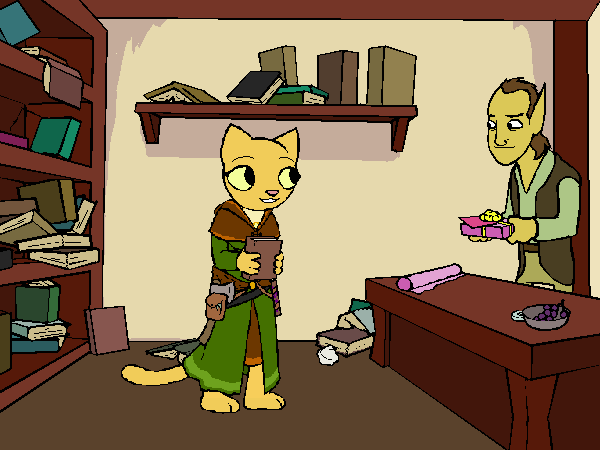 You tell him it's fine, you don't mind. Though you are, ah, a little curious why he's trying to write an insulting letter?
Hirtel says it's just an inside joke between him and Q.W., don't worry about it. You're the courier, all you have to do is… courry. Just make sure you don't open this or anything; he wants it to still look kind of nice when it reaches her. Ironically nice.
You say that shouldn't be a problem. You're turning out to be surprisingly good at following simple, straightforward directions without messing up.
Anyway, that book I was looking to purchase…
Hirtel sets the package aside. Oh, right. Throw it on the counter, let's figure out a price.
Curse-Brandish wrote:
Also, stand up straight, for gods sake. You're Katia Fucking Managan, fire-shooting badass, not some slouched over goblinoid hedge-mage hunchback, not that we're racist. Pro wizards have confident posture and look soon-to-be-barbecues in the eye.
Eh, sure, why not. You puff out your chest and straighten up your back a little, trying to strike a confident, businesswomanly posture. You can't tell if it's working or not.
Hirtel stares intently at the grammar book and eventually confesses he doesn't actually know the first thing about how much books are worth. He used to have a book on book pricing, but then someone bought it. So now he just kind of tries to puzzle this stuff out on his own, see what people are willing to pay.
This book has a lot of pages and words in it. How's, like… forty drakes sound?