As recognition for your efforts in the field, the Prequel Army of Minions Propaganda Office is offering each of its loyal servants the chance to display your loyalty with a free "Prequel Army of Minions" celebratory button.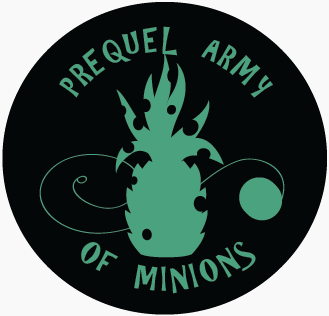 The button is totally free. However, Regulation 131(c)5 requires that freely-issued celebratory buttons may only be worn on approved apparel. In this case, the apparel is the "Change of Heart" t-shirt that is now available for purchase at WeLoveFine. Buttons can also be purchased for those that did not purchase the required apparel, but a negative mark will be recorded on your permanent record.
To request a free button, please email your proof of shirt purchase to [email protected]. Such proof can consist of a forwarded email receipt, or a scanned paper receipt. The receipt must contain your name, postal address, and the We Love Fine order number. Multiple shirt purchases will receive multiple buttons (as further appreciation for your participation).
To purchase (additional) buttons, two options: For the impatient, we have conspired with the "WackyButtons" Internet web-site and enlisted their horde of minions to produce and deliver buttons. Visit this link, enter design code "5045263", select the regulation stipulated "Standard Pin Back" and 2.25 inch button sizes, and quantity. For the spendthrift, the Prequel Army of Minions Quartermaster's Office, currently under construction, will also sell buttons. For comparison, our Intelligence Department reports that the difference is $4.46 vs. $2.90 for a single button shipped to a US address.
We expect to start sending buttons out by September 1. The "free button" offer will only available for a limited time, because the Prequel Army of Minions Propaganda Office has a short attenti…. OH LOOK, SQUIRREL.