Recap?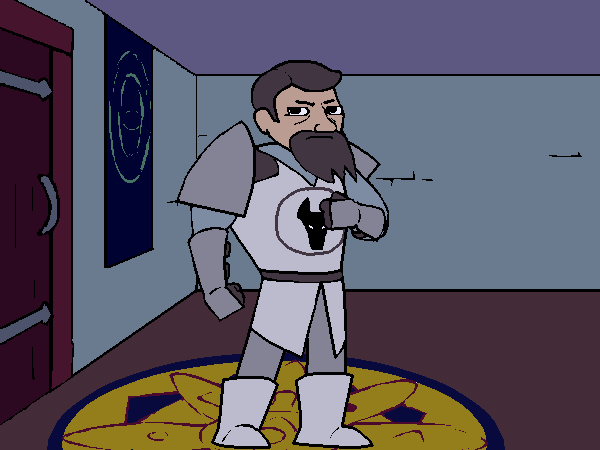 You are a man of ACTION and PROBLEM SOLVING. You approach life HEAD-ON, never flinching or stopping to look back. You don't have time to stand around idly thinking about past events.
But, since you've arrived a little ahead of schedule, a bit of recapitulation couldn't hurt.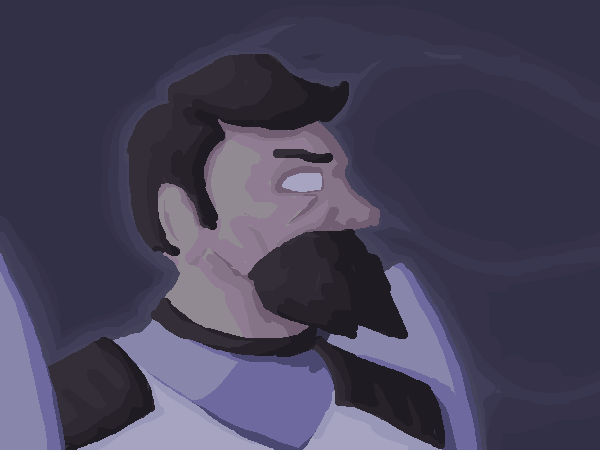 You currently stand in the KVATCH MAGES GUILD. A cold wind whistles outside, its ominous hum complementing the dark actions you are about to undertake. For today, after years of searching for answers as to what could be causing your constant, terrifying dreams of CULTIST TERRORS you have perhaps found the means to an answer. For today, you seek an audience with VAERMINA, the DAEDRIC PRINCE OF NIGHTMARES.
The only way for an ordinary, non-cultist mortal to speak face-to-face with a Daedric Prince is through the summoners of the CABAL, an elite group of mages who do not come cheap nor serve just anyone. But the mysterious and alluring alchemist SIGRID has agreed to help you on your plight, scheduling for the unholy Prince of Nightmares to be summoned, here in Kvatch, at the stroke of midnight.
And now, you have arrived in the guild to seek your answers. Midnight rapidly approaches, you have many questions to ask, and you do not intend to squander one moment of this opportunity.
VioletCLM wrote:
> Arm golden retrievers.
See, this is the sort of pointless nonsense that does absolutely nothing but waste time, unbefitting of a brave man of action such as yourself.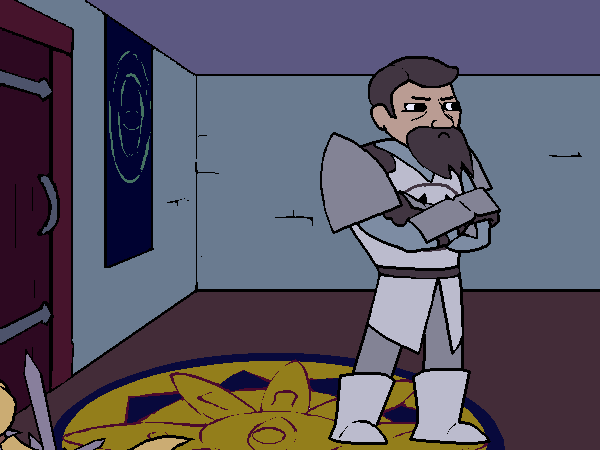 Sure, maybe your compatriots in the guard think your continual suspicions of CULTIST PLOTS are irrational, and maybe they don't believe your incredibly reasonable assertions that INVISIBLE CULTISTS could be standing around us right now, but that doesn't mean you should start strapping weapons to a bunch of dogs so they can watch your back while you sleep.
That would be ridiculous.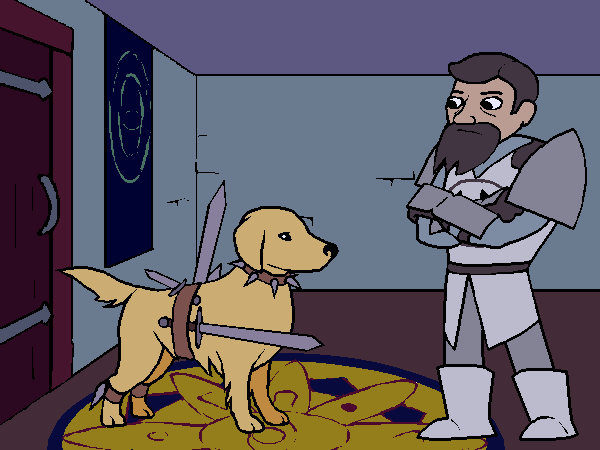 Anyway, you only have one golden retriever, SWORDDOG, and she is already armed to the hocks.
Good girl. Stay alert.
distainfulCatalyst wrote:
>No funny business. Just proceed to do whatever it was you were intending to do. Whatever that is.
Now that's the sort of headstrong ACTION action you can get behind.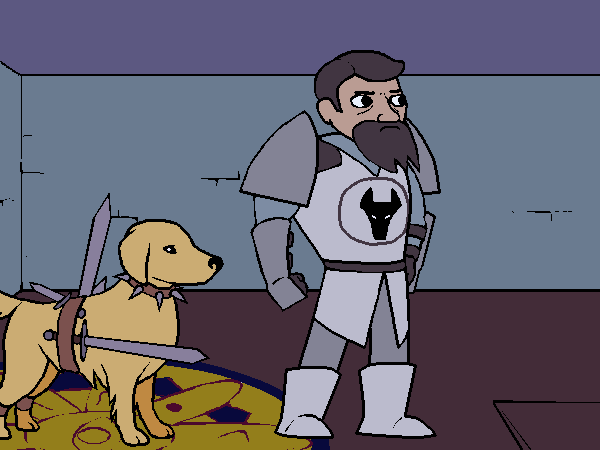 You and Sworddog boldly stroll into the Mages Guild to meet Sigrid for the-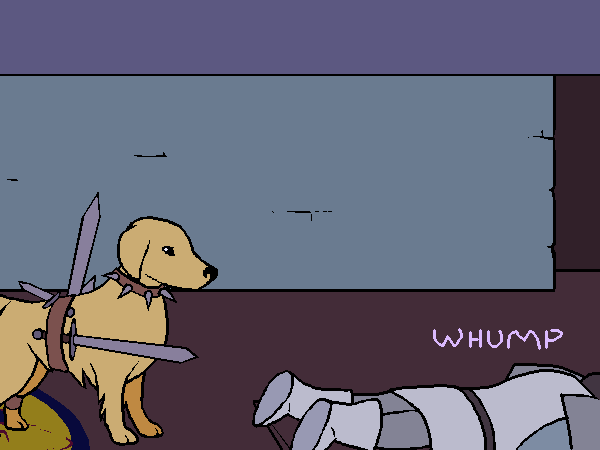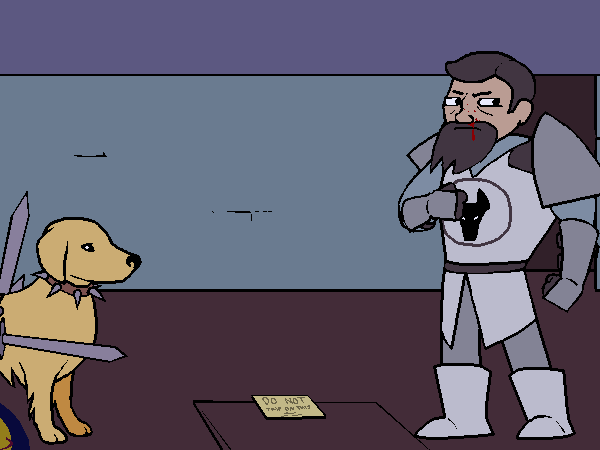 Bah, that's the third time this week you've tripped over the TRAPDOOR TO THE TUNNELS. Sigrid really ought to press it down better. You make a mental note to mention this to her.
You also make a physical note and put it on the trapdoor to prevent any further harm. The world is dangerous enough with all those SECRET CULTISTS in it, the last thing it needs is occupational safety hazards.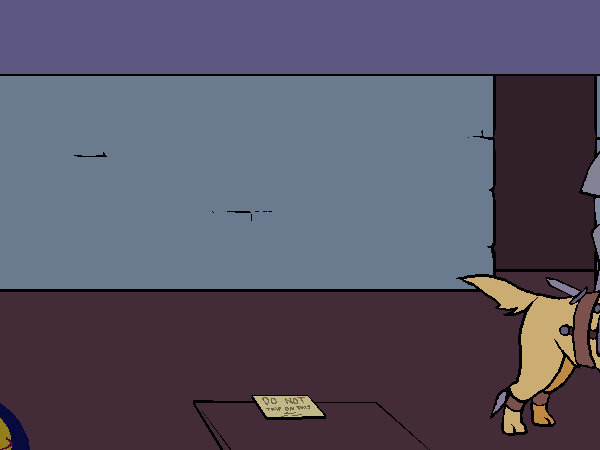 You continue down the hallway and up the stairs. Sigrid should be waiting for you in the-
Oh, great.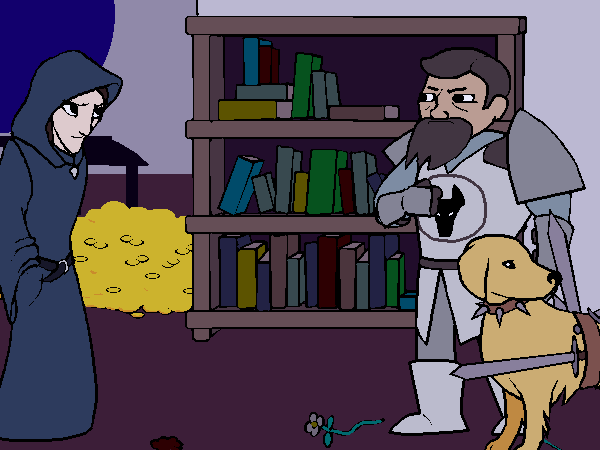 It's that guy.
"Evening, Captain Atrum. Sworddog. I was beginning to think you wouldn't show."
"I said I'd be here, and a Guard Captain does not abandon his obligations without reason," you say. "Now, where's Sigrid? We have a demon lord to consult."
"She's in the dining room, aiding in the preparations. I'm surprised you aren't more excited, Captain Atrum. It's not every day a Daedric Lord is summoned in Kvatch."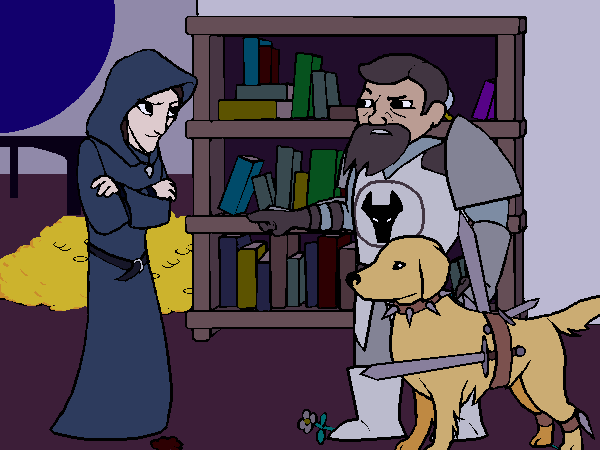 "'Excited' is not a word I distribute lightly, breton. And that smile? Creepy. Stop smiling, that's an order."
"This is a Mages Guild, Captain. I will take my orders from Sigrid, as will you. Now, you have questions prepared for the Daedric Lord, I assume? Sigrid will gladly ask them for you if you wish, as I doubt Vaermina will want her time on Mundus wasted while you… tremble in fear."