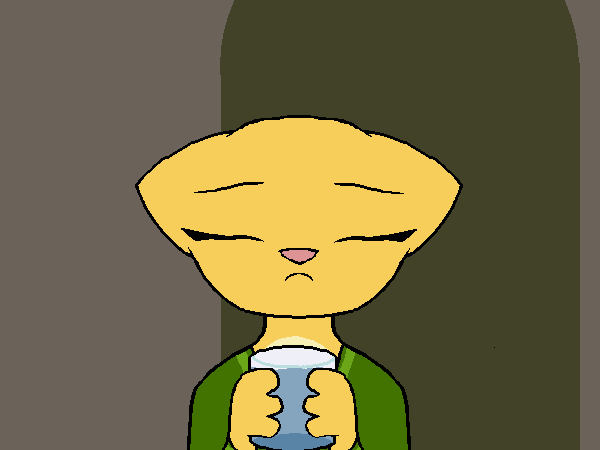 Better safe than sorry. You carefully sniff the clear liquid to make sure it is, in fact, regular water.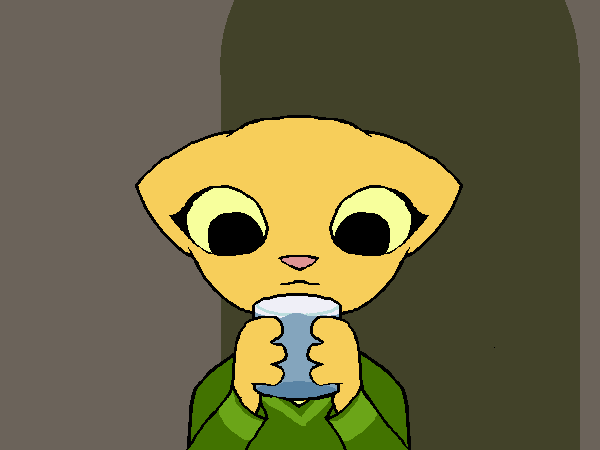 Yup! Clear, crisp, and refreshing. Especially after running all over town.
Whimbrel wrote:
Why I do believe I see a lady getting ready to sit down. You should take your cues from Quillweave on how to behave here.
Soadreqm wrote:
Is that the Countess in the green dress in the background?
You take note of the woman approaching. Is that the countess?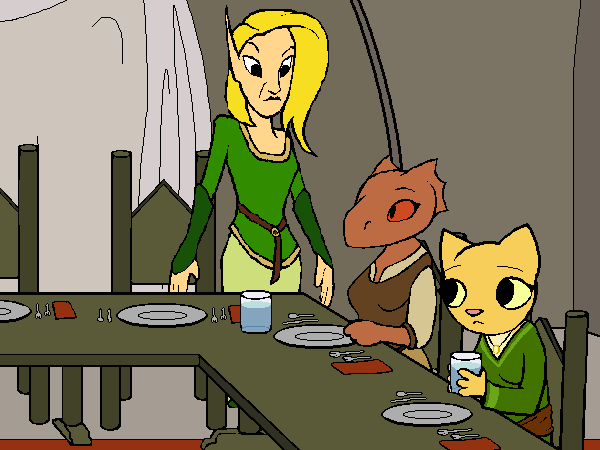 No, Quill-Weave says, this is Dairihill. She's the Countess' steward.
Dairihill takes her seat in front of the incredibly flammable looking curtain. You must be Quill-Weave's guest, she says, and welcomes you to the castle. You say thanks, and introduce yourself as Katia Managan. Dairihill is sure countess Umbranox will like to meet you. Once she warms up a bit, anyway.
Quill-Weave explains that Dairihill is pretty much in charge of everything here at the castle. She keeps the servants busy, the guards happy, the accounts balanced, technical stuff like that. Quill-Weave says Dairihill is the best steward there is, and Dairihill agrees that this is a completely true assessment.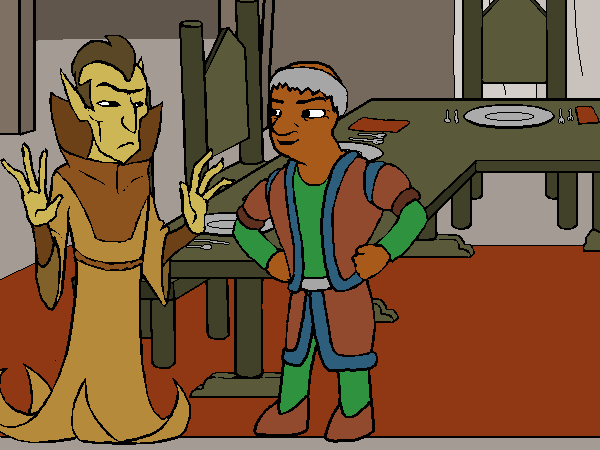 Over there is Baeralorn, the castle mage. He tortures animals or something, I don't know. The man talking to him is Orrin, the blacksmith. They're all pretty nice and welcoming; you shouldn't have much trouble being sociable here, Quill-Weave tells you.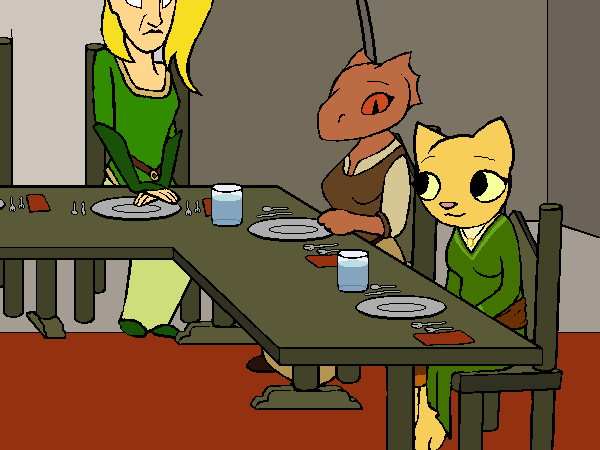 You admit you're a lot more comfortable with this than you thought you'd be. You were pretty nervous at first – not just because of the countess but because you've never really been to a formal dinner before. But this seems like it'll be a nice meal and a good way to make some new connections. Anyway, if you thought Dairihill was the countess, you're sure you won't find the real countess too scary or anything. Quill-Weave agrees that you should be fine, and she thinks you'll enjoy yourself. It's why she invited you.
You really don't want to embarrass your friend here, you think to yourself, so if you start to panic you'll just keep telling yourself "don't be crazy". You're sure that won't happen though. I mean it's not like countesses are any different than normal people.
That would be silly.
Or, if your device cannot play Flash, view a summary here!
(Music credit: "Eternitybox" from the 9 Hours, 9 Persons, 9 Doors soundtrack)