That is an awfully thin justification, but fine, what the hell.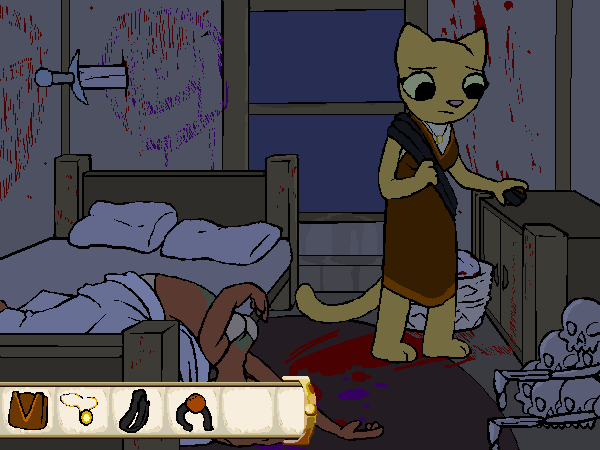 You reluctantly acquire the ball gag.
ViniVidiVici wrote:
> Katia, I know you have a weapon already, but try to take the sword out of the wall again (like a good King Arthur).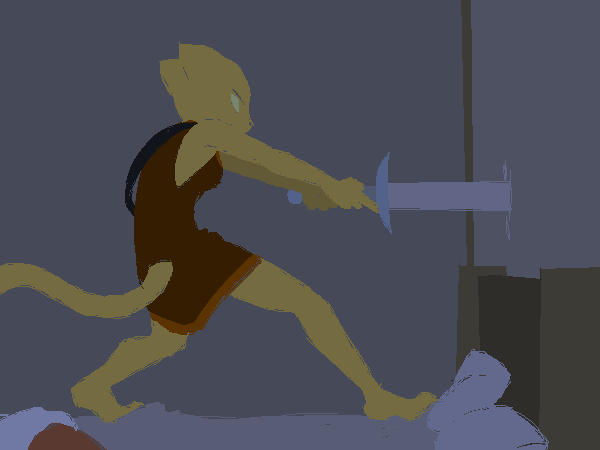 No dice. It's stuck in there pretty good, and your flimsy noodle arms are unable to dislodge it.
Armok wrote:
> make sure QW isn't suffocating over there… how does argonian breathing even work?
Don't worry, she's fine. She's just in a deep sleep.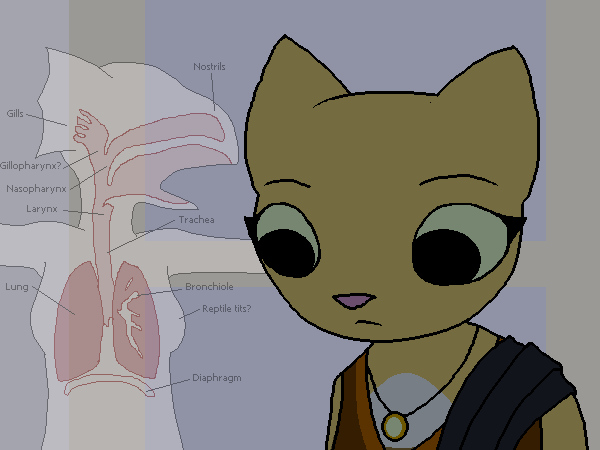 And to answer your question, you're pretty sure Argonian breathing works about like Khajiit breathing does, except with gills somewhere in there too. Quill-Weave's chest is still rising and falling, so you assume she's doing okay.
TA_ wrote:
"Anyway, you are not bisexual". You sure about that? Maybe this weird Khajiit in Hammerfell wasn't bisexual, but you're Katia Managan now. Take a close look at her spread out like she is and reconsider.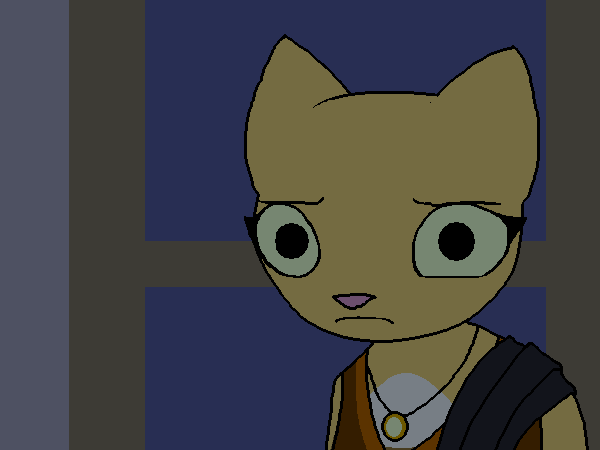 Doomkiwi wrote:
And for the love of Akatosh put Quill back in the damn bed, she's gonna be extremely sore in the morning if you leave her like that.
ChicagoTed wrote:
Put QW back on the bed! It doesn't have to be very good, but it'd be much better than leaving her half off the bed. That can't be good for her back!
Rarborman wrote:
Ja'khajiit you tuck the Bos-chi-jo in before you leave, it must be cold in there without that window.
Squiggles wrote:
I'm agreeing with the kobold on this one, tuck Quilly back in bed because she can not be comfy laying like that.
Mikhail wrote:
Get Quil back on the bed before you head down and pack, she looks mighty uncomfortable. :\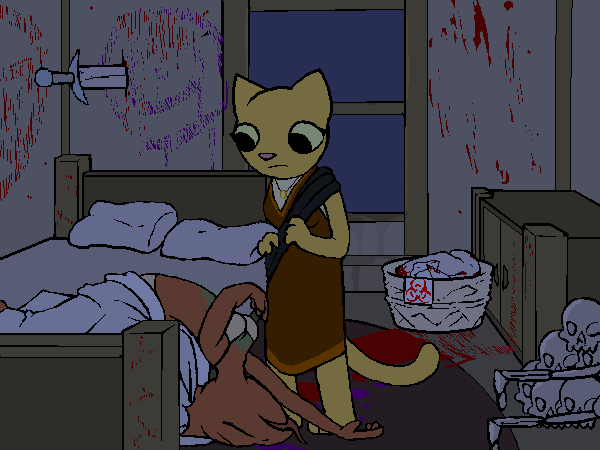 Okay yeah on second thought that's a very good idea you guess. You hoist her back onto the bed and cover her up. I mean, the window is open; she might have gotten cold.
This has nothing to do with TA_'s command moments prior.
FredMSloniker wrote:
> Check what time it is before engaging in any shenanigans. It may or may not be time to RUN LIKE MAD.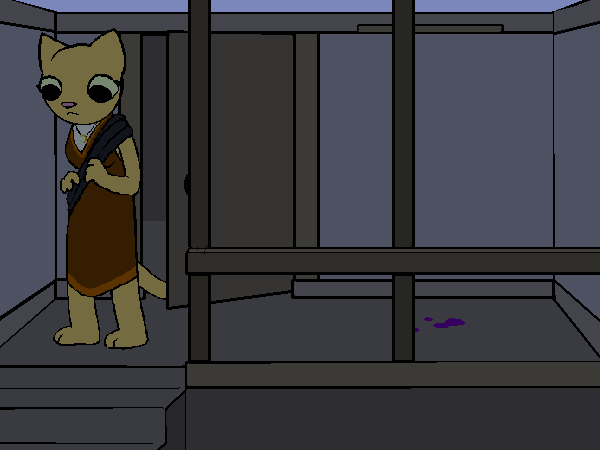 You don't really have any way to check the exact time. But according to your alarm clock (the ton of water you drank before going to bed), it is not yet time to RUN LIKE MAD. You have some time to kill before setting off.
Doomkiwi wrote:
> Katia, turn hood part of your robe into a temporary bundle or pack to carry things in (since it's detachable)
Good idea. You successfully fashion a makeshift backpack out of your hood and the leather strap.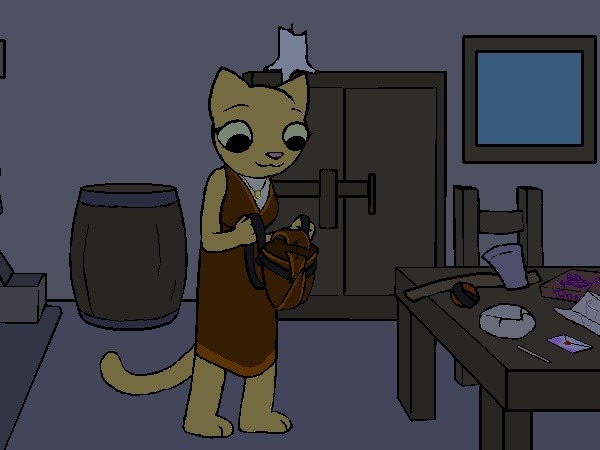 It took a few tries, but this is pretty much the coolest thing you've ever created. Ever. You even wrapped the shoulderpieces around it vertically so it has a little clasp on top. You can't wait to fill it up with stuff.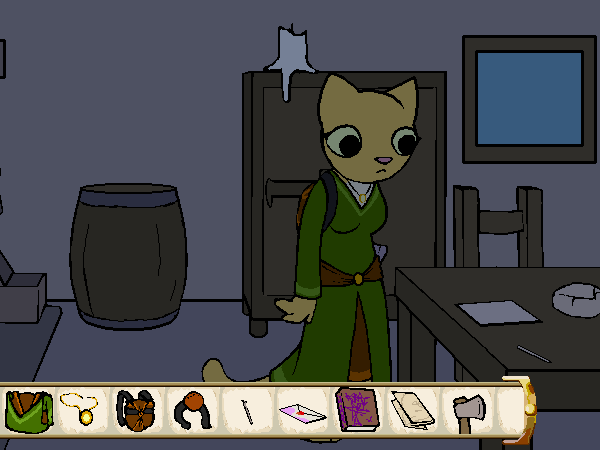 So you don't wait. You fill it up with stuff.
You double- and triple-check that Quill-Weave's letter is in there, since it would suck to leave without the letter.
Speaking of Quill-Weave, you guess you should write her a short note before leaving.
Bropocalypse wrote:
Katia: Write Quill-Weave a thank-you letter before you go.
Squiggles wrote:
Oh~! And Bro's got a good idea, writing a thank you note is a perfectly lovely thing to do. :3
Eismo wrote:
You may also want to leave a note saying you left early, or that you thank her for all she's done.
Take your pick Katia, just let her know where you're going and that you are thankful for what she's done.
Doomkiwi wrote:
leave a snazzy dress design for Quill on a piece of parchment/paper of your own design as payment or sign of friendship
You're not very good at letter writing. You quickly compose a rough draft in light pencil so you can read over it and make changes.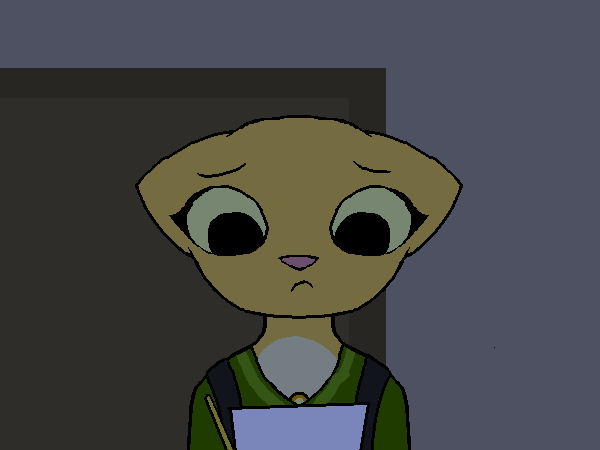 "Dear Quill-Weave (dear in the platonic sense),

Thank you for letting me spend the night here. It was really kind of you and was probably much better than sleeping on a pew at the chapel. I'm sorry if I made last night awkward for you but if it makes you feel better I'm not gay so any subtext was probably unintentional.

Also did I mention I used to have these really bad nightmares about kings? I had one again last night, but you were in it. I thought the king was going to hurt you so I tried to stop him, but then he turned into a big monster and tried to kill me. I know dreams don't actually mean anything but I just kind of wanted to tell someone about it. I am worried there might be some reason I am having this dream so much, so while I am in Kvatch I'm going to look for someone who knows stuff about dreams.

By the way I'm going to Kvatch in a little bit to deliver your letter, if that wasn't implicit. I don't know how long finding a dream expert will take so I'll try to be back within, say, four days if that's okay? It'll probably be less. I just don't want you getting worried if I don't show up for a little while. Not that you would get worried or anything, I don't know if our friendship has reached the point where worrying about people is a thing that happens, or if that's just something that characterizes friendships in general. I'm not very experienced in having people care about me.

But yeah thanks again for all the help you've given me, I really appreciate it and wish I had some way to repay you. Oh I did notice that you wrote yourself a note to buy more clothes but everything you wear is really bland and brown, so I thought maybe you'd like some suggestions on what to wear? I mean I know gay guys are supposed to have really good fashion sense so I am assuming like the opposite applies for gay women? Sorry if that is horribly offensive, I don't know these things. I drew a picture of an outfit I think would look really good on you, maybe you could try to find something like it? Or if you don't want to that's okay too, I understand, it seems really weird telling someone "hey you should go spend money on this". Sorry if it's weird like that.

See you soon,

Katia Managan"

You're not entirely sure what to draw on it. You want to come up with some classy attire suggestion that will really impress Quill-Weave.