You are pretty sure you can't reason with the mudcrabs. For one, you suck at reasoning with people in general. For two, according to the Encyclopedia of Deadly Creatures, mudcrabs can only feel hatred.
You read that book front-to-back like a dozen times on the way to Cyrodiil. You know most of it by heart.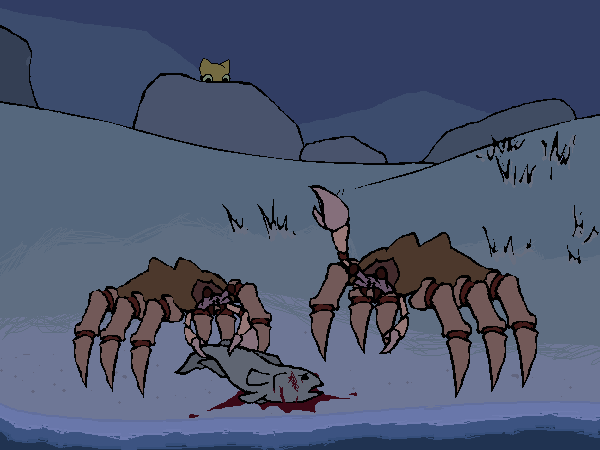 See? Mudcrabs are total jerks. If you absolutely have to engage them, you'd kinda like it to be from a safe distance. And if possible, without using up any more of your limited magicka.
ArcheKruz wrote:
tip the boulder you're hiding behind over and roll it towards the crabs.
JJA wrote:
Katia: Kill two birds with one stone. Feed the poisoned king apple to the mudcrabs.
Now that sounds doable.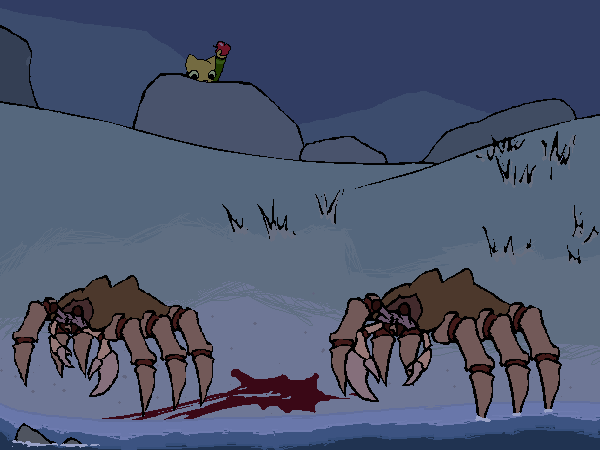 You lob the poisoned apple at the mudcrabs. Throwing actual objects turns out to be a lot different than throwing fire, but hopefully it got close enough for them to notice. Crabs love apples. At least you're pretty sure that's crabs.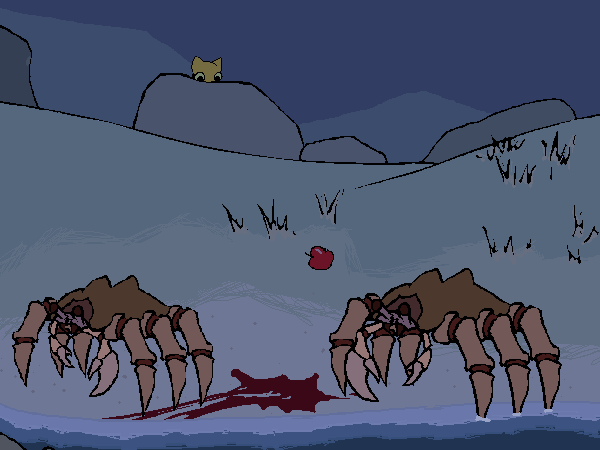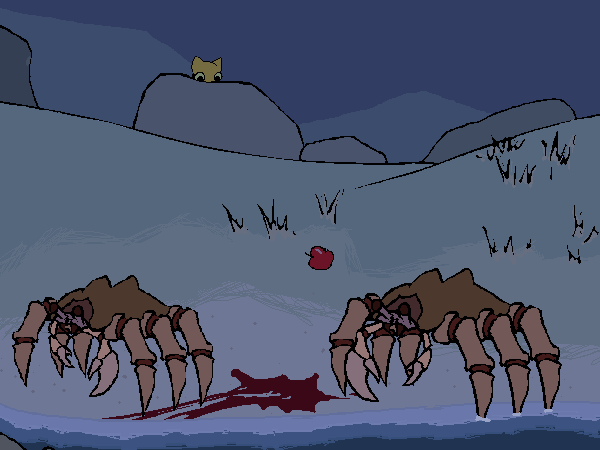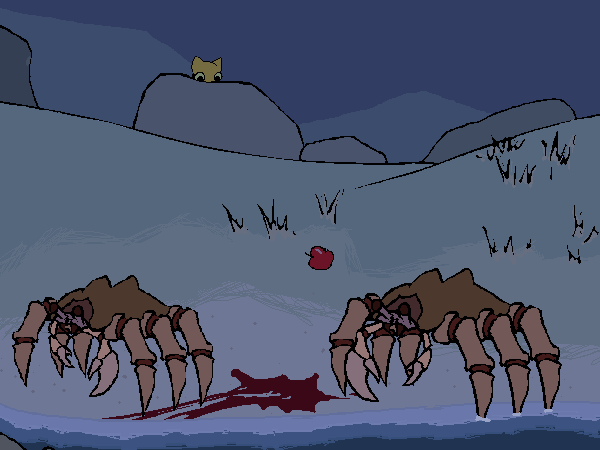 Okay, maybe that was some other animal that liked apples.
Kajet wrote:
Of course after that what are you waiting for? Can't cast magic spells cause a cat got your tongue? Or are you thinking of being a pussy and not killing a couple of worthless mudcrabs?
Time for fire. It's a weak cat burn, but you think you're getting a bit better at working them regardless.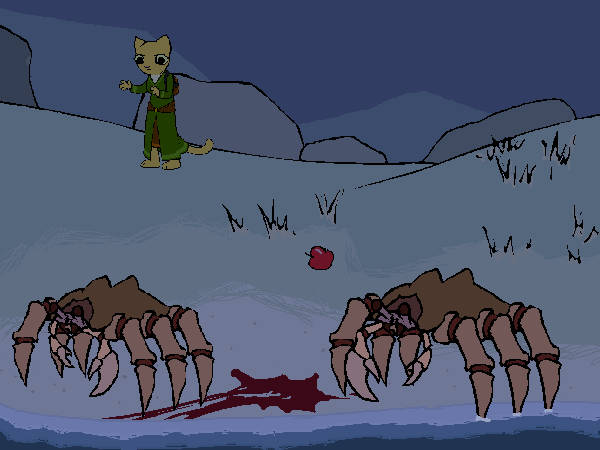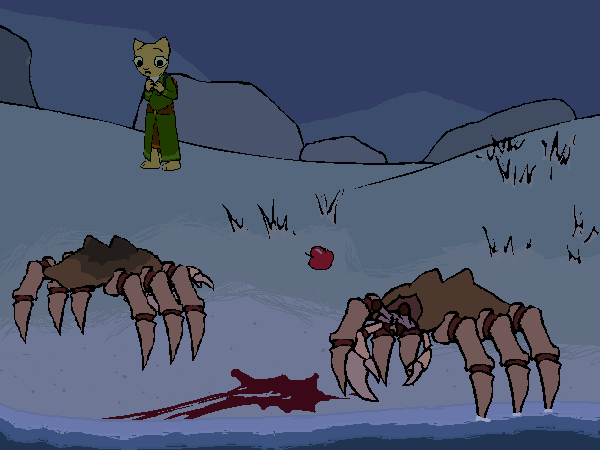 Oh fuck, you just made it angry. The crab slowly creeps toward you, beady eyestalks filled with rage. Why isn't it afraid of you? You just threw fire at it. WHAT DOES IT KNOW THAT YOU DON'T?
IronSaber48649 wrote:
MAKE FIRE, FUZZ FACE.
contemptibleComedian wrote:
murder the fuck out of them with a fire ball if you catch my drift…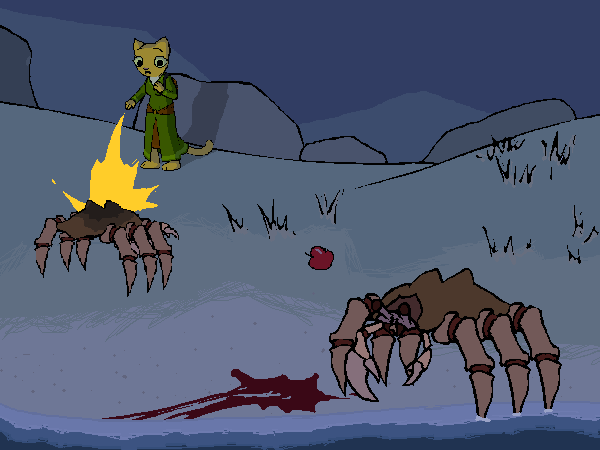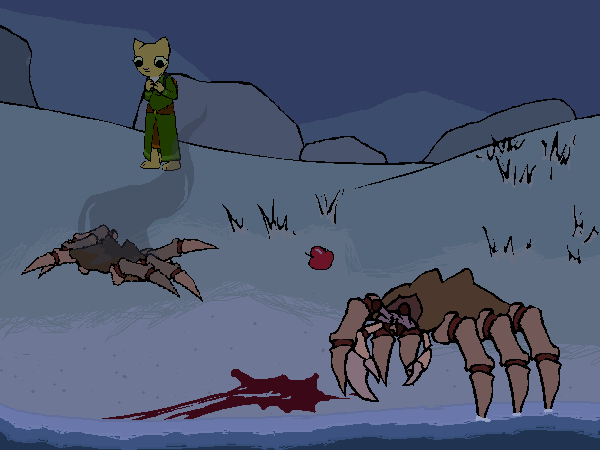 Huh. Nothing, apparently. It was just stupid. Hopefully nobody heard you panicking like that.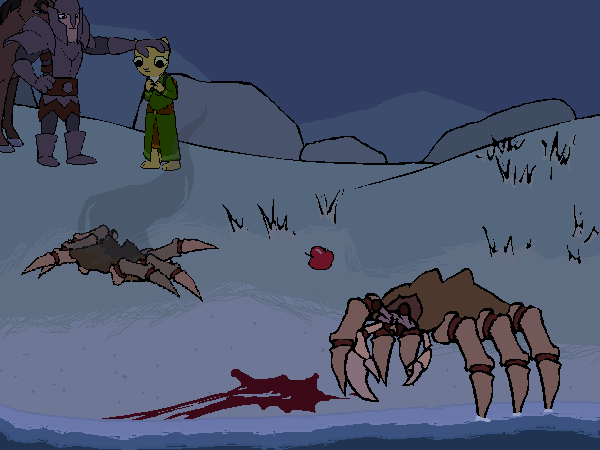 Asotil congratulates you on your Victory over the Forces of Injustice, but says that you probably shouldn't have panicked like that. It was just a crab.
Yeah, you say, that was pretty pathetic.
He tells you it doesn't matter anymore. Not only have you sent this ne'er-do-well back to the depths of Criminal Hell, but you have aided Your Empire and Its Citizens in the most important way imaginable: by preparing a Suitably Just breakfast for one of its Noble and Selfless Patrolmen.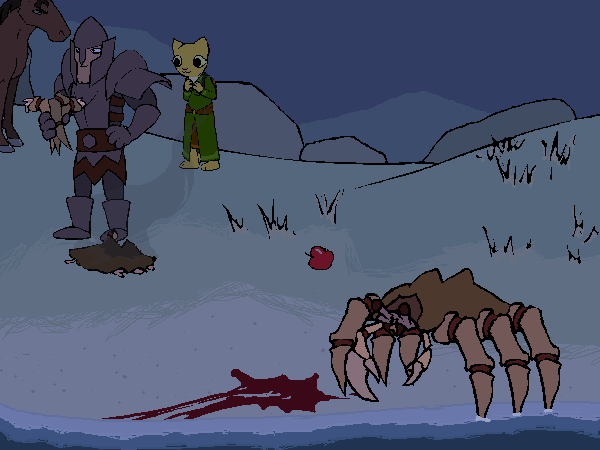 Asotil kneels down to check the dead mudcrab's temperature and, judging it satisfactory, harvests a bushel of crab legs. He commends you on your culinary skill. You say thanks. He also suggests you cook up the other Criminal for yourself. You say you'll get right on that.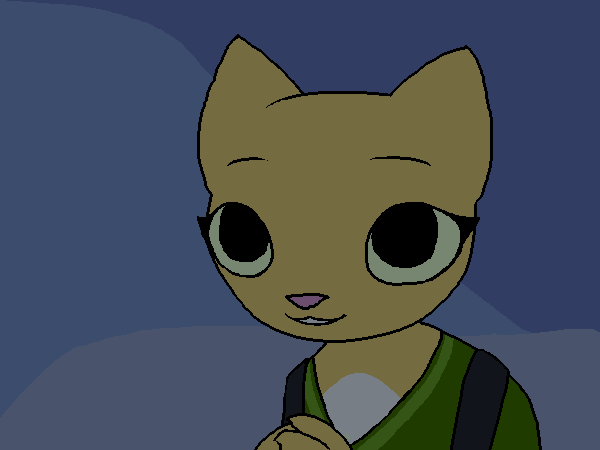 You know the "culinary skill" thing was probably just a joke, but it's still the nicest compliment anyone has ever given you and it makes you a little giddy. You decide you'll pretend it's legit praise, and that you just cooked the best crab legs ever.
Time to go do it again.
epoxy wrote:
You seem to be getting proficient with those fireballs; all that prior practice with yarn balls probably helps
You prepare a sick cat burn and approach your target. You're Katia Managan, fearless fire-wizard and skilled seafood chef. Now that you know you can succeed, there's nothing for you to be afraid of.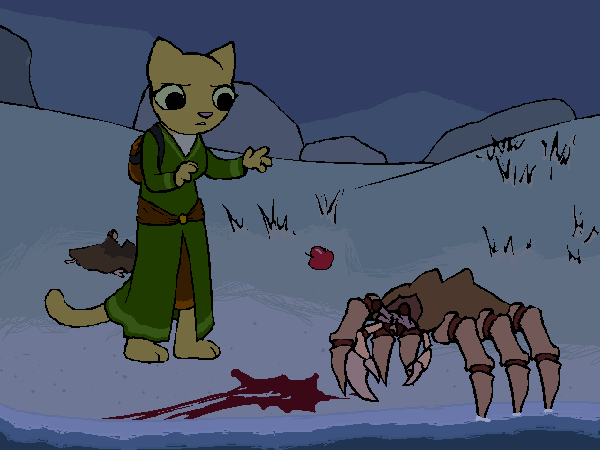 KoffieInBlik wrote:
Magicka: Run out when it's needed most.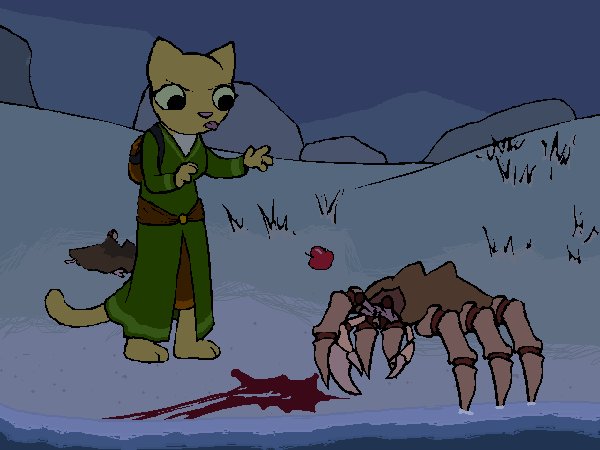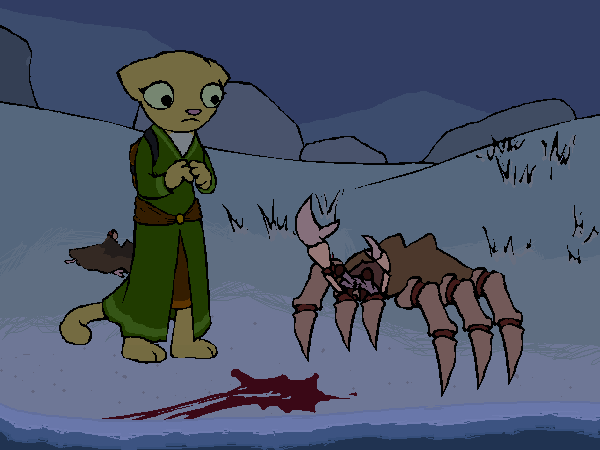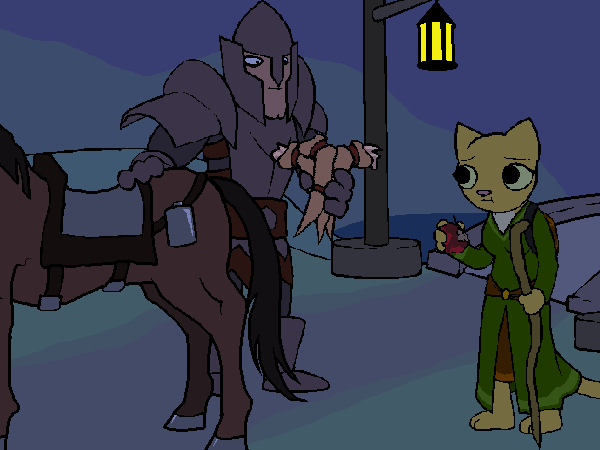 On second thought one of your toasted apples is perfectly fine breakfast.
You guess all things considered, this day's off to a pretty good start. You've started to make some headway in getting your powers under control, including learning roughly how many fireballs you can conjure before running dry. You've got your best friend counting on you to deliver her letter, and another good friend helping to watch your back along the way. But best of all, you can finally feel that tiny spark of confidence rekindling itself. That little belief you had when you first landed in Cyrodiil, that maybe, just maybe, everything is going to turn out okay this time. Maybe everything you try won't end in disaster after all. Truth be told, you have a really good feeling right now…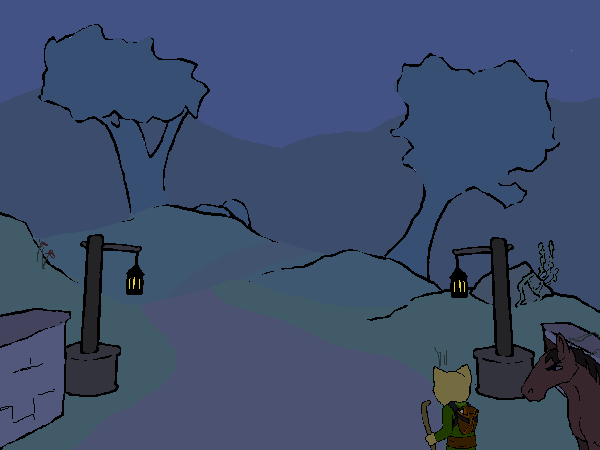 … that there's absolutely no way this is all going to backfire disastrously!