Abominor wrote:
DEMAND it for nothing. Failing that, call it the 'price' for your 'platinum courier service.'
bobthepen wrote:
Wait, "drakes" like the duck? What the hell is he going to do with forty ducks? Maybe just give him a poor drawing of a duck as some kind of ironic payment?
SpaceMoth wrote:
>Katia: Suggest that replacing her book for free would make for an even more uninsulting gesture that will surely catch her off guard when she then reads the letter. :3
Professorzobot wrote:
Katia, you can't just let him dictate the price. Especially once he's ADMITTED he doesn't know what a fair price would be! Haggle with him! See if you can drive the price down.
You quickly learn that haggling is much more complicated than you thought.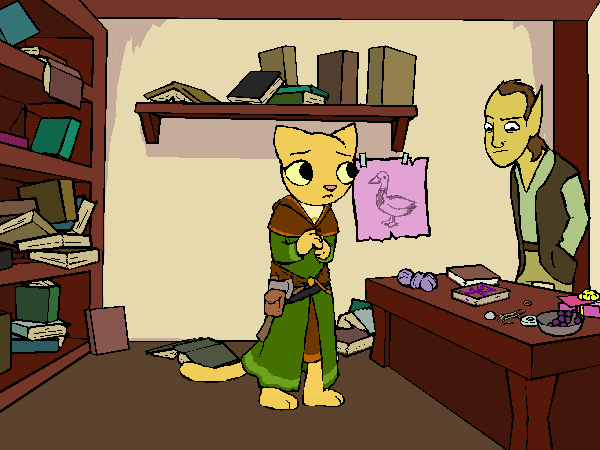 After about ten minutes of your best bargain-making, you only manage to talk the price down to thirty five septims. You play every card in your deck – explaining that the book isn't worth much, trying to organize a trade, even insisting you deserve a lower price as part of a courier fee – but none of it works out all that well. Hirtel claims the book's possible rarity makes it worth more. He refuses to accept any payment other than gold. He even says your courier services are worth five septims at most – after all, you're just delivering the letter one town away. That's not even dangerous.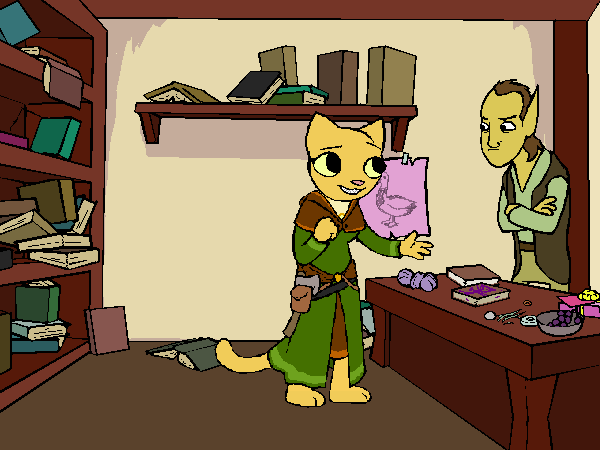 Running out of good alternatives, you decide to try a personal appeal. If he replaced the book for free, maybe that would be even more ironically uninsulting to Quill-Weave? She'd probably be… offended by how courteous it was! Eh? Right?
Hirtel turns down your offer. Books are expensive, he says, and he can't just hand them out for free. He only did that with the restoration book because books on magic are only worth one septim. At least that's what the lady from the Mages Guild told him.
Anyway, as a shopkeeper he likes to keep business courteous and fair. You ruined Quill-Weave's book, therefore he thinks that you should be the one to replace it. Free-riding on his charity to cover up your mistake would just be… unironically rude.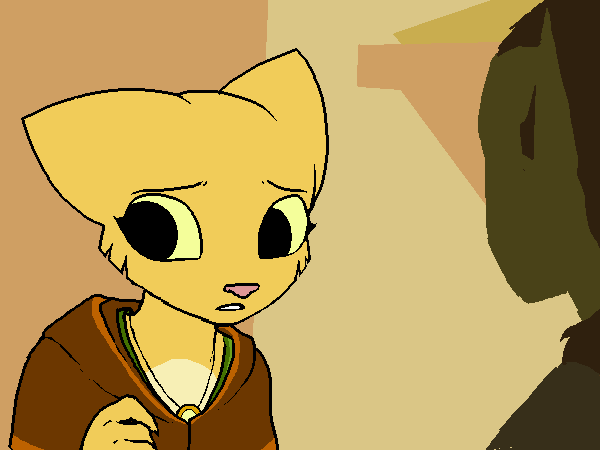 His remark about free-riding on charity hits a nerve. You uncomfortably explain that you didn't mean it like that. You just thought maybe… nevermind. Sorry.
Hirtel suggests that you just buckle down and pay the thirty five septims. Some shopkeepers are into this whole haggling thing, but he really just wants to get this over with so he can get back to building book pyramids. So are you going to buy the book or not?
Snow_Cat wrote:
>Katia: Admit that 40 drakes is for book is both more than it is worth to you, and more than you are carrying.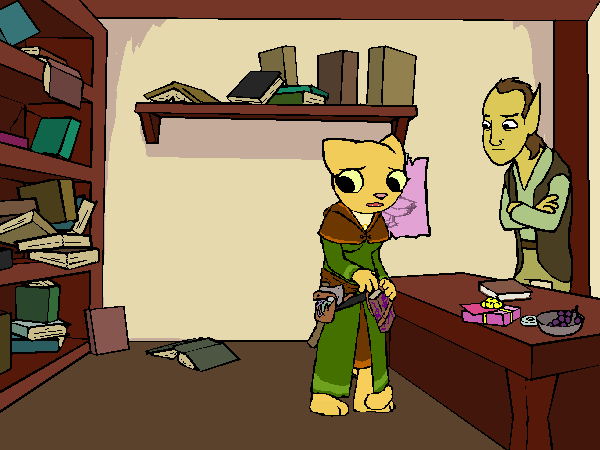 You reluctantly confess that you don't actually have that much money to your name right now. That's part of the reason you wanted to drive the price down: you're going through a kind of hard time money-wise.
But you really need that book. Quill-Weave is counting on you to get her a new copy, and you can't let her down. You'll totally be back in a day or two with the money, and you'll buy the book then. That's okay, right?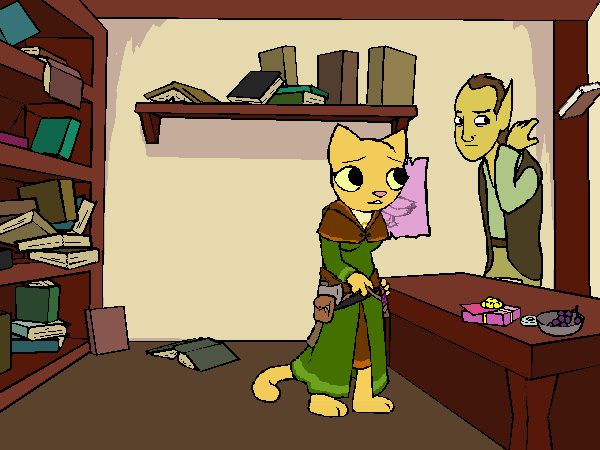 Hirtel sighs and tells you to stop looking all mopey. It's fine. You're not the first penniless courier Q.W. has sent here on some sort of pity mission. He'll even put the book in reserve to make sure nobody buys it before you. Just try to hurry up about it.
You thank him, and promise you'll be back as soon as you can with some actual money. Thanks.
VlRGlL wrote:
Katia: Ask if you can tidy up his shop a bit for a few extra coins or maybe for that replacement book for QW.
In fact, maybe the two of you could even strike up a deal or something, if he needs some work done? You suggest that maybe you could tidy his shop up a bit, earn a little extra-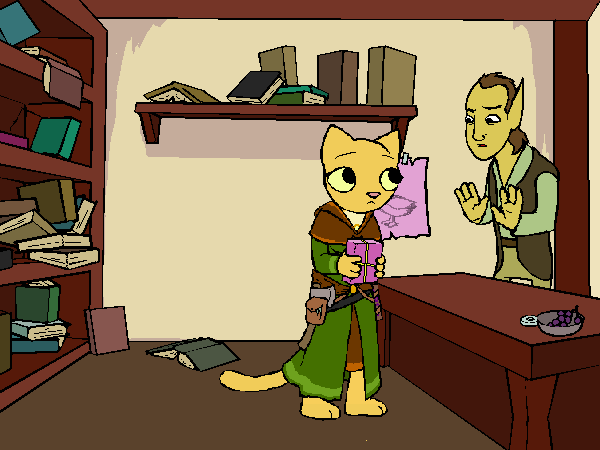 Woah woah woah, Hirtel interrupts.
First you come in here with no money, then you waste half an hour trying to pay me with artwork and grass clippings, and now you're insinuating something's wrong with my store?
He kindly informs you that he is the bookstore guy, not you. Do you own a bookstore? No? Then apparently you don't know the first thing about bookstoring.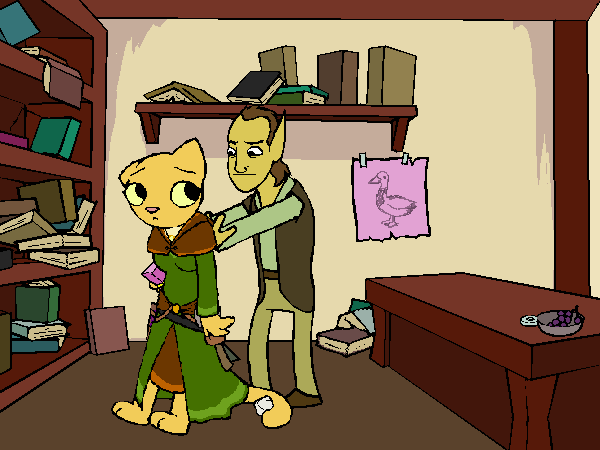 Now go on, shoo, run off now. We've said everything that's to be said; come back when you have some actual coin.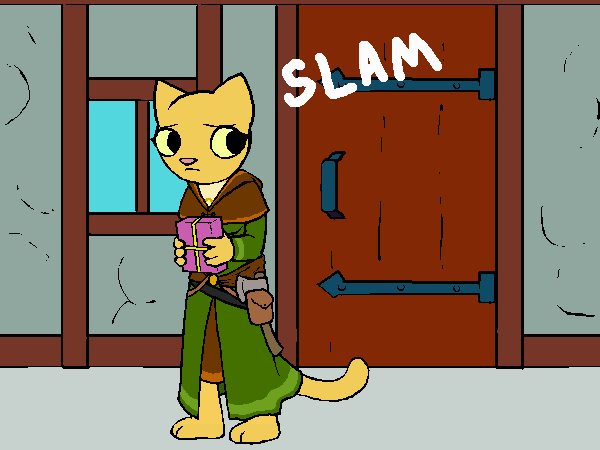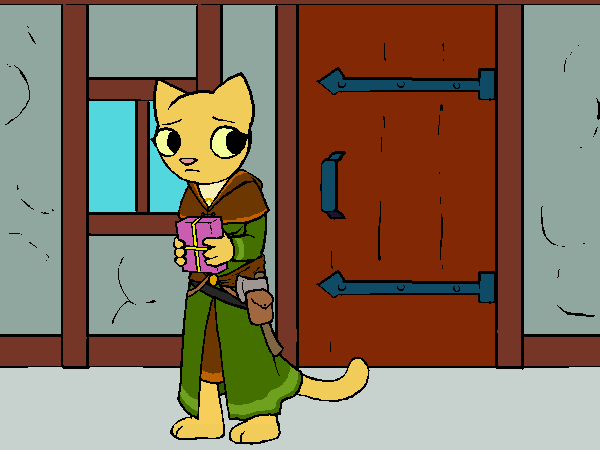 Well.
That didn't go so bad, you guess.
You delivered Quill-Weave's letter, met her friend, and now you've just got to scrounge up thirty five septims to buy her a new book. Well, thirty five septims plus however much it'll cost for you to eat and sleep while you're in Kvatch.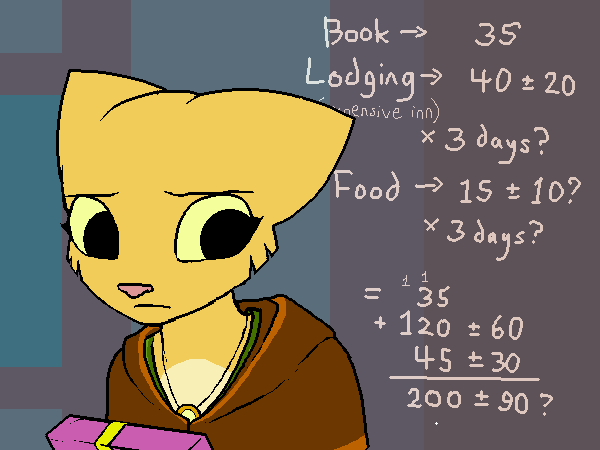 But you can… probably do that? Yeah. That works out to more than you expected, but you've still got plenty of loot to sell and a couple work opportunities scoped out. Before you know it, your empty pocket will have twenty septims in it. Then fifty. Then a hundred. Piece of cake.
DestinedFateX wrote:
Katia: After leaving Hirtel's shop, discover your hidden talent of high-level weapon projection magic at the Kvatch Mage's Guild.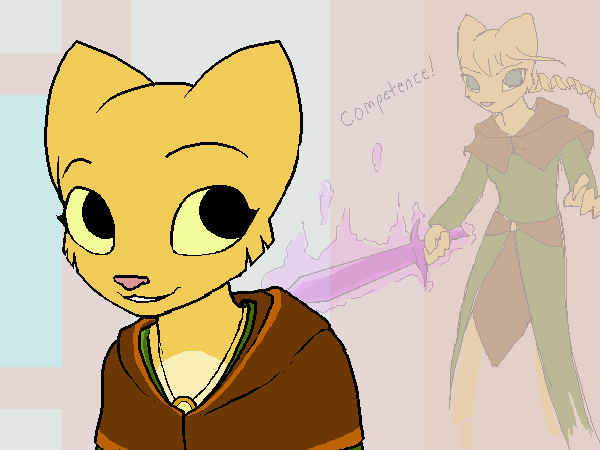 Oh gods, that would be the coolest thing ever! And for all you know you actually could have some hidden magical talent just waiting to be discovered and honed. Something about that potentially untapped potential makes you giddy. It'd certainly solve some problems, too: with two spells you'd actually be able to join the Mages Guild proper, meaning a free place to stay whenever you need it.
Of course, the Kvatch Mages Guild probably isn't open yet, so you can't confer with the wizards there. But tonight… tonight is going to be great.
In the meantime, you better get started on earning some money.
Lightning_Armour wrote:
And snag that crumpled up, spat upon letter while your at it and see what it says.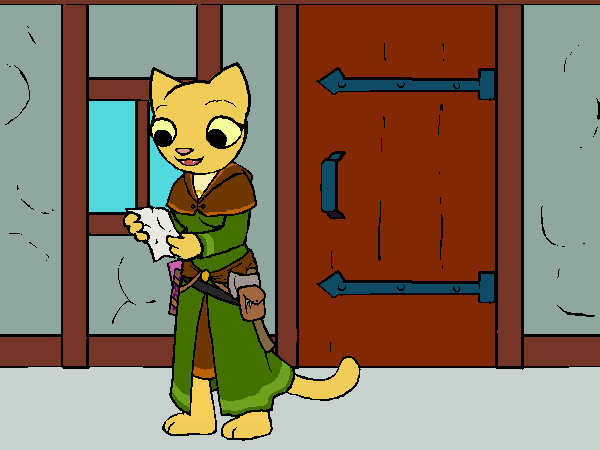 Ooh, right! You grabbed it on your way out, almost forgot about it. Let's see what kind of strange and exciting correspondence Quill-Weave and Hirtel have been exchanging.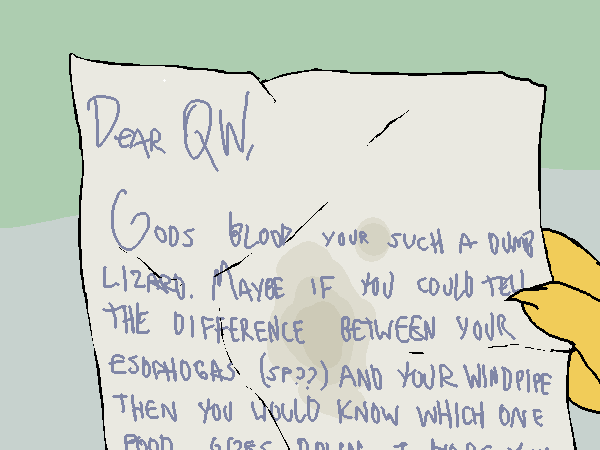 "Dear QW,

Gods blood your such a dumb lizard. Maybe if you could tell the difference between your esophogas (Sp??) and your windpipe then you would know which one food goes down. Next time you choke I hope you die because I hate you. I don't even need you, I could probably write better than you if I tried (I'm not trying right now). Also your fat.

Your best elf-friend,
HURTel

P.S. sure I'll preorder the usual 20 copies. Pay me next time I'm in Anvil"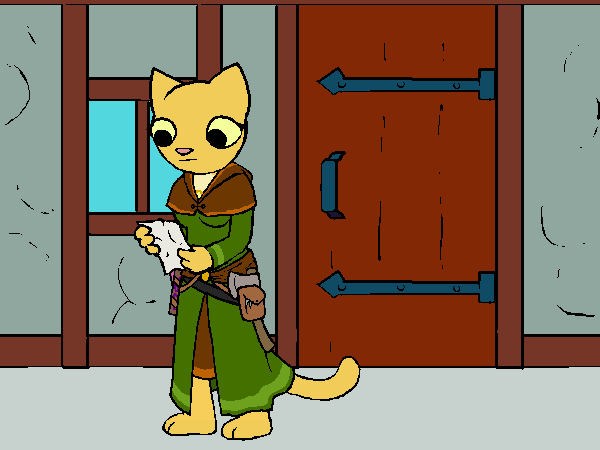 That was less exciting than you expected. You're not quite sure why, but you were kind of hoping to discover some piece of life-changing information in this letter. Or at least something useful.