Come on, this is the Mages Guild we're talking about.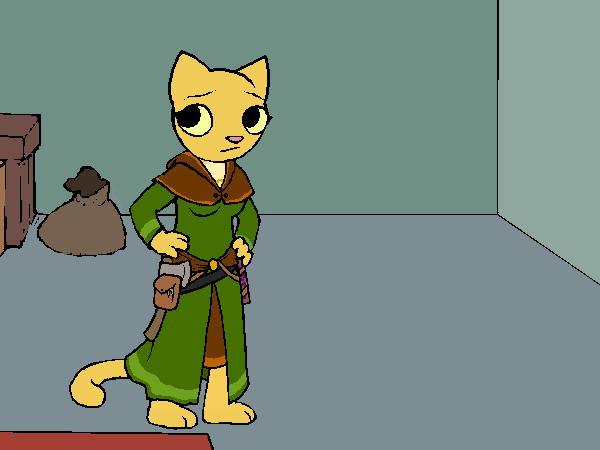 It's a professional, government-regulated organization of magic-users. It's not like they're going to lead you into a dark alley and mug you or anything. You'll be fine.
ndoto wrote:
>Katia: First of all, it'd be best if you apologized to Tavia for rudely breaking off your conversation with her in order to talk to Steve. After making sure that you guys are both still cool, politely inquire as to whether Tavia might be willing to pay some coin in order to take some of the loot you happen to have acquired off your paws. Remember, no haggling!
Anyway, all this magic stuff is super exciting, but you've got a bigger priority right now: earning some money! Wizard or not, you've got to show Quill-Weave – and yourself – that you are capable of being a responsible, self-sufficient individual.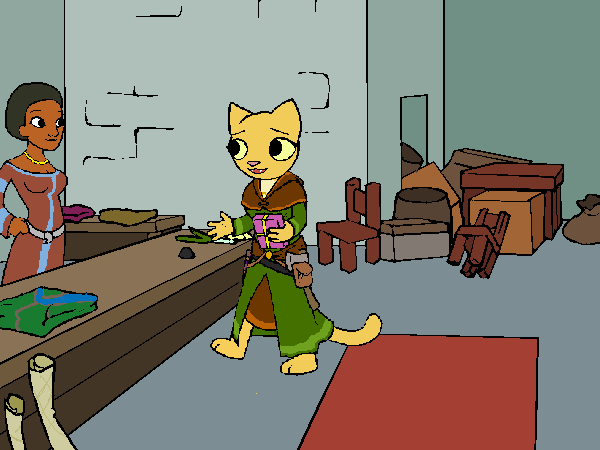 Or, if your device cannot play Flash, view a summary here!
Additional resource credits:
MyUsernamesMud – music
Dapperpixel – background tiles
Bropocalypse – characters
Squiggles – objects
Whimbrel – pointing out extremely obvious spelling errors
Ryavis – programming
Chevy Ray Johnston – Flashpunk
pgil – a really handy script
Shaktool – a single sound effect
Concept and visual style inspired by Andrew Hussie.
> ==>