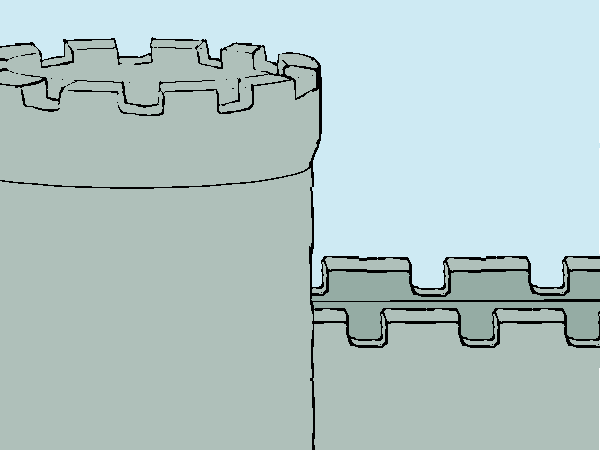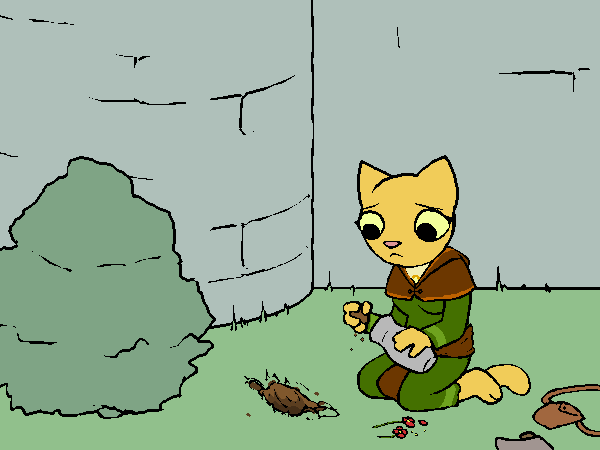 That turned out… alright, you guess.
You were kinda hoping to get at least enough for Quill-Weave's book, but you can work with this. You've just got to find some more jobs you can do, and you'll be back on budget in no time.
Before leaving the store you ask Tavia about her imp problem, and if she'd possibly be interested in hiring an intrepid young wizard to handle it. She thanks you for the offer, but reiterates that she still wants to give the imps another day to find their own way out. And if that doesn't work, she'd rather hire a professional. Someone she knows won't get killed on the job.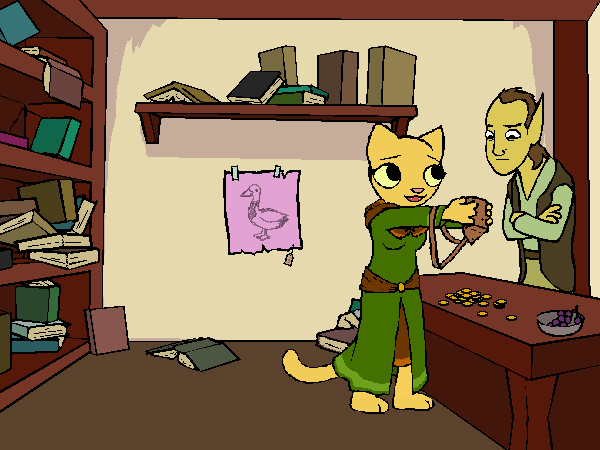 You also check in with Hirtel about those one-septim magic books, hoping maybe you can learn a new spell or two before tonight. He says that the restoration tome for Q.W. was his last one, though. The Mages Guild buys most of his magic books, so you'll have to go bother them. Not him. Shoo.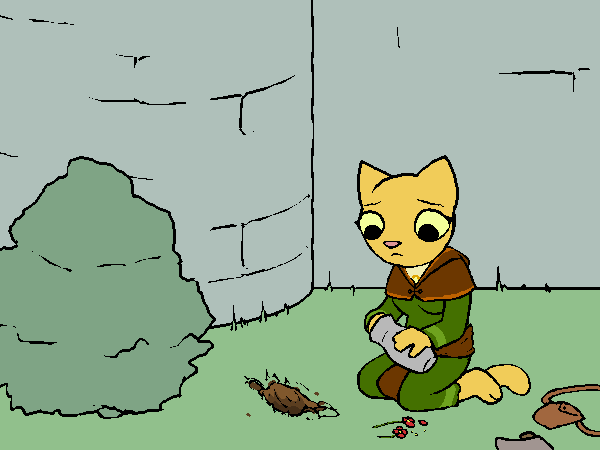 Ah well. Just more to look forward to about tonight, you guess. You're trying to keep a positive attitude, and it kind of helps if you keep your mind busy. You know, keep pondering new ways to make some coin.
For instance, you asked Tavia what alchemical ingredients people actually buy. You didn't recognize most of the things she named, but she did say primrose leaves might be worth a coin or two.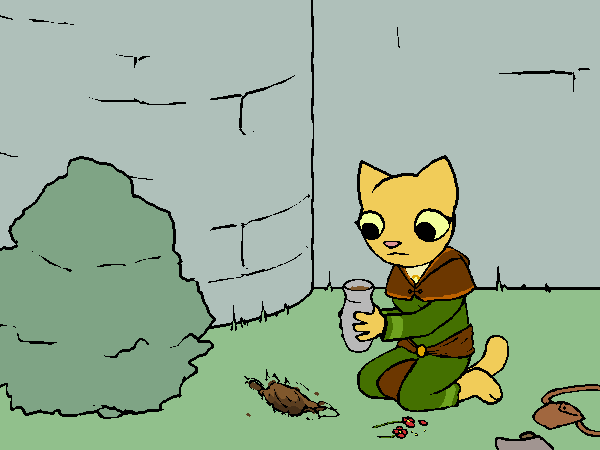 And even if nothing else works out, pretty soon you're going to have a regenerating supply of primrose leaves right at your fingertips.
Yup. You're still doing fine. Everything's going to be fine.
Fruckert wrote:
Wait, shouldn't Katia start detoxing pretty soon?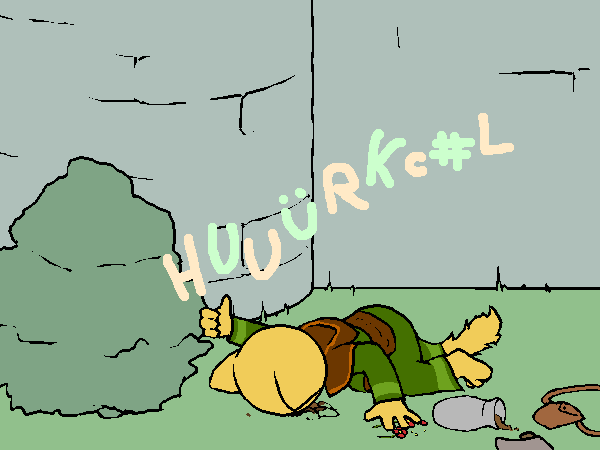 NOPE YOU'RE DOING FINE HAHA
ha
Let's just concentrate on the job hunting.
Pajaul wrote:
We show off some amazing dance moves that even rope climbers would envy, and we're seen as standing under street lamps. […] We should STOP cutting off opportunities because other people might think poorly of us. FUCK THEM. we don't need them. They never helped us before, and no matter how kind we are to them it doesn't look like they WILL help us.
So let's dance. Show off our moves. If they think it's perverted, then THEY are the ones who are perverted. WE are dancing. And if they won't let us win the competition because they think it's perverted, again… FUCK THEM. Just another thing to check off the list as having been tried. We will not go through life regretting what we could have done ANYMORE. We're going to the mages guild, we're going to better ourselves- if they let us- and by Katia Managen, we're going to make it this time. OUR WAY.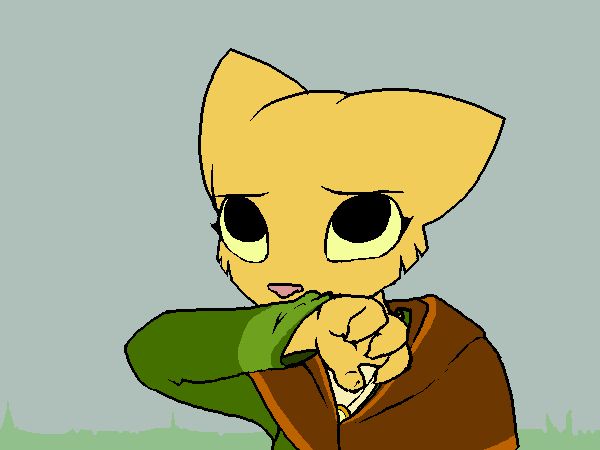 Haven't we been over this already?
Look, you're really trying to forget about that poorly-thought-out poledancing escapade earlier today. Maybe it's something you would've done for money back home, but you're a wizard now. That means you can make a living in a proper, respectable way you can be proud of. Sure, maybe you shouldn't care what people think of you, but you do. You want them to see Katia Managan, a person and a wizard. Not some… cheap, subhuman cat-thing doing half-naked flips to pay for its next round of sweet, cold, refreshing mead.
But… if you're strapped for cash later, and get some decent magic training tonight, maybe you can come up with an act using magical fire or something. Maybe. You've been thinking about it a little.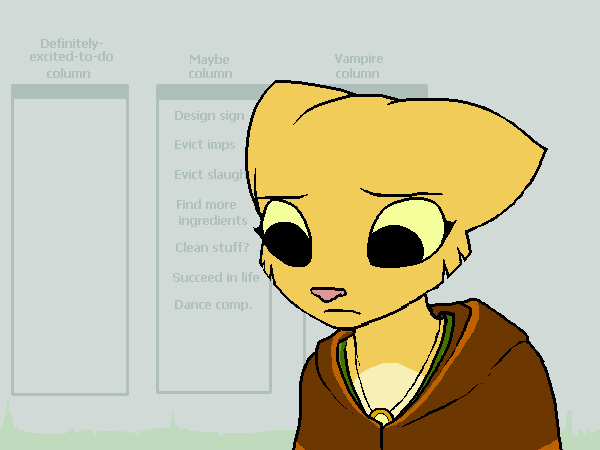 You move the dance competition into the "maybe" column, with the stipulation that whatever you do will look classy, respectable, and wizardly. And really cool, so you don't embarrass yourself. You've still got a few days to puzzle something out, if you actually do decide to enter.
Heck, maybe you'll get lucky and some major event will distract everyone while you're performing. Heh.
sabata2 wrote:
You know what a well is right? A big hole in the ground.
A big hole, filled with water, that contains fish you can catch/kill, sell, and/or eat.
It's literally fish in a barrel just waiting for you to go after them.
Of course, in the meantime you still have plenty of other options! Lots of opportunities to show everyone how responsible and useful Katia Managan can be.
In particular, you recall meeting a woman who was trying to solve a slaughterfish infestation in one of the wells. Perhaps she'd be willing to pay for some wizardly assistance? Or even if she's not willing to pay you, perhaps you'll be able to eat – or even sell – those fish, if you help get them out?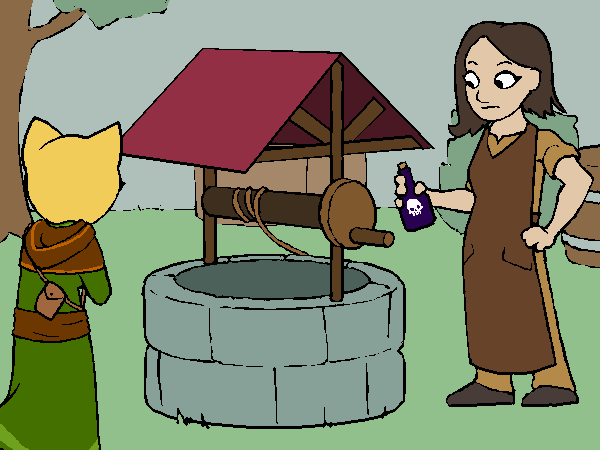 Sounds like a win-win to you. You head up to the well.
Whew, looks like you showed up just in time to inadvertently save Kvatch!