Don't worry, you've still got plenty of ideas. You can handle this. Katia Managan can handle this.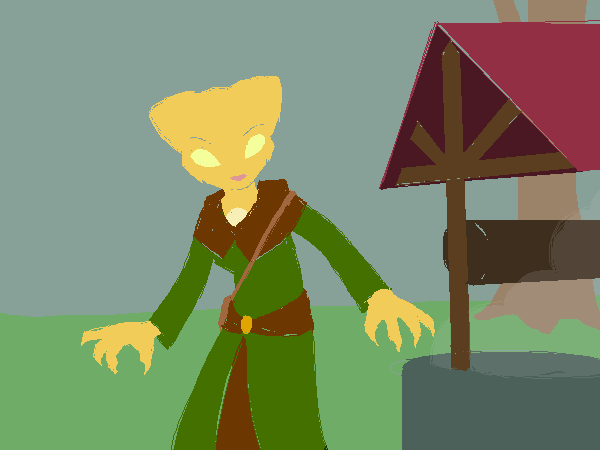 Besides getting some fish to eat and scales to sell, this is going to be your way of showing Kvatch that you are a competent and useful individual. Someone who can approach a problem and just straight-up solve it, rather than run crying to someone else.
Unclevertitle wrote:
Well, fire's out. But that's okay… you got this! You can freeze the little buggers… probably?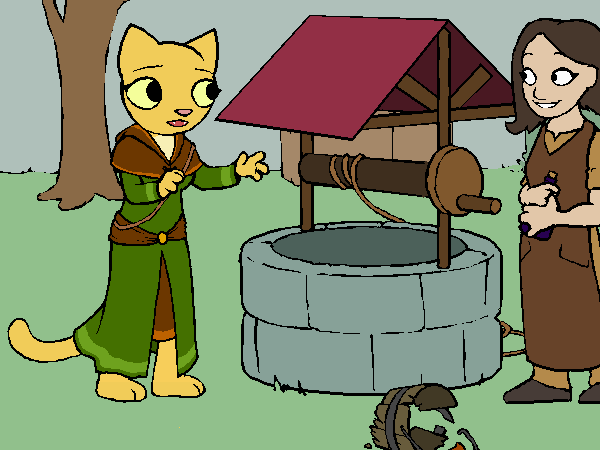 You tell the crazy poison lady that you're going to try some different magic. Like, maybe using another element, something that can get you a quick, clean kill even underwater. She says that sounds like a great idea; she really would prefer humane, peaceful kills. If that's… if that's something you can actually do. You tell her you'll try.
Unclevertitle wrote:
Maybe… instead of when you form your magicka into a ball and ignite it, you can try another shape. Like the spear you just made! Focus with your mind and whittle it down bit by bit if necessary. Give it a very sharp point and then imagine a blizzard a searing cold that chills to the bone! Then thrust it down as hard as you can! (Mentally! You're aim is better in your head!)
This kitten might need mittens if she's shooting icicles out of her paws!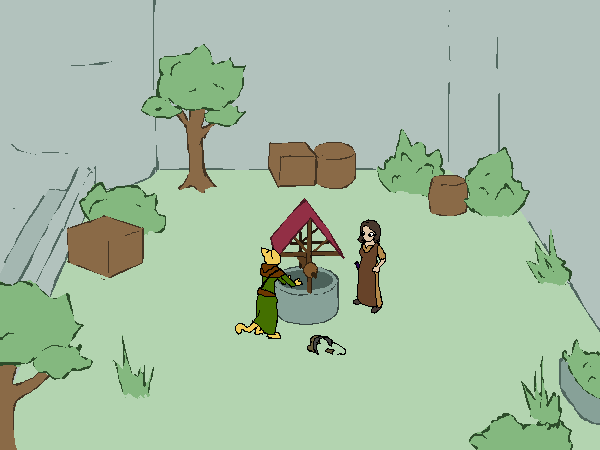 She uncomfortably points out that you are still making fire. And it's still not working.
Shiku wrote:
If cat burns make you shoot fire, maybe a different kind of burn or pun will make you cast a different element of magic.
Jakerose wrote:
You only know one spell your spellbook is thin as a sparrow.
Give it a nest already.
Walk away free as a bird and do something else.
Red.Grimgrin wrote:
Lightning is associated with air. Air is 90 degrees from fire on the classical element chart. So we need a statement that is not opposite off a sick cat burn, but rather is at right angles to one. How about a confusing dark elf double-entendre?
"Dunmer, I hardly know 'er!" "I used to know a girl from Morrowind, totally had the corpus disease if you know what I'm saying"
How's that?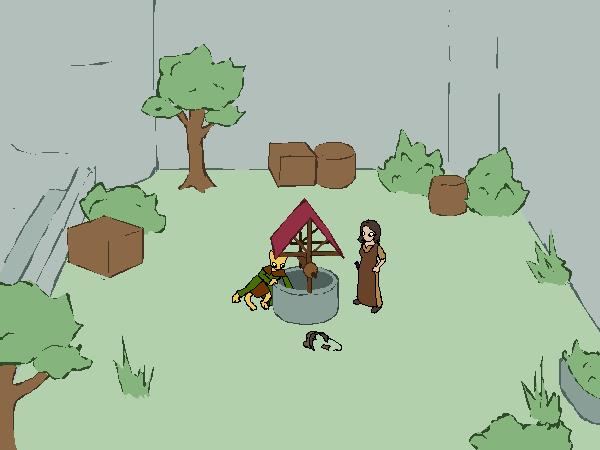 Bah. These, on the other hand, don't appear to be doing anything at all.
But you've got more ideas! You can do this!
ViniVidiVici wrote:
> You had quite the idea figured out with the bucket and the gag ball there, Katia, and I believe it was working! All you need now is a stronger bucket, since the other one sucked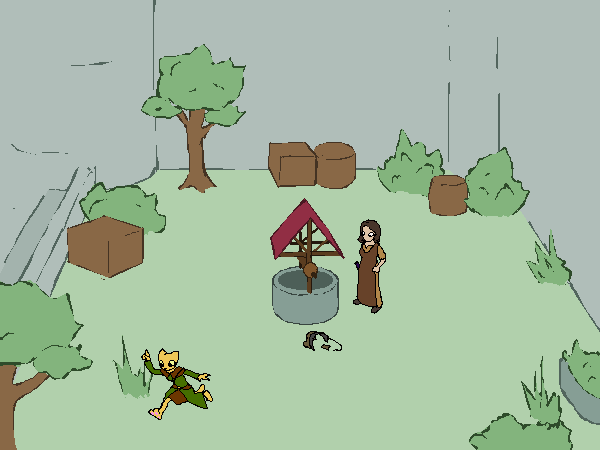 Wait here!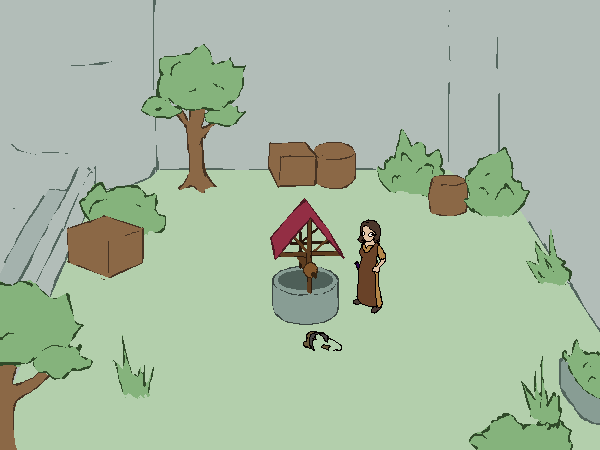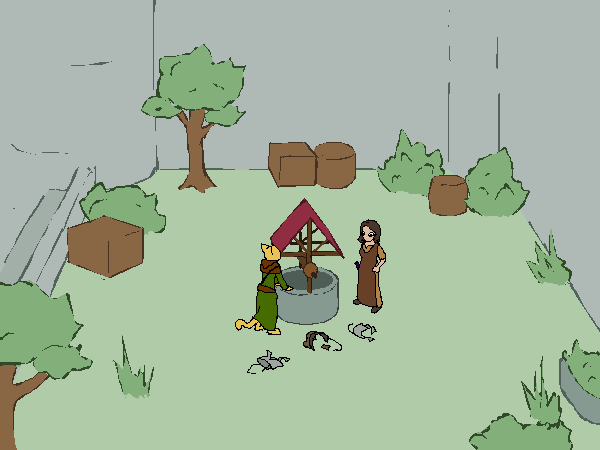 Okay, wow, these fish don't take shit from any bucket. You're pretty sure the blacksmith said she didn't need those pails back, though.
TheFinalWraith wrote:
You know what that broken bucket handle looks like? A hook.
Time for another round of fishing.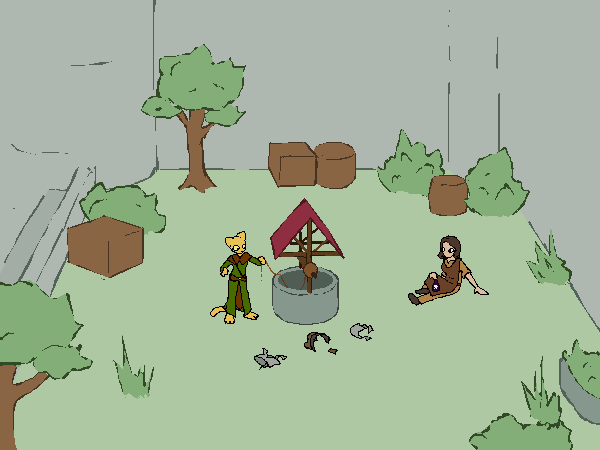 And apparently these fish can bite through rope, too. You didn't even bait the hook, they just bit it off.
But it's okay, you'll still figure this out!
HeartInRightPlace wrote:
Bow and arrow might be a good idea, I'm sure the guy you saved from that lock room would be happy to lend you one.
Now there's an idea!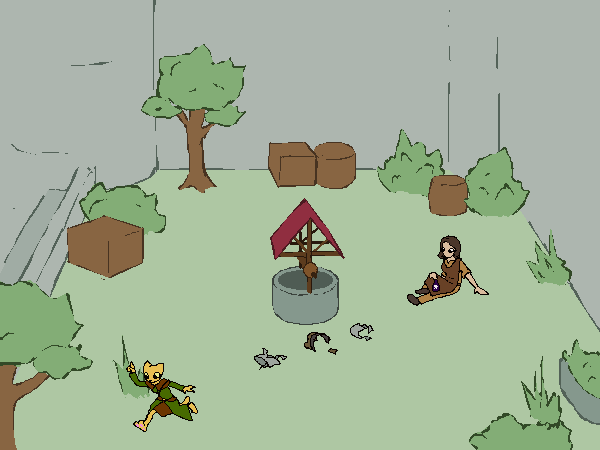 Wait here again! And don't poison the well!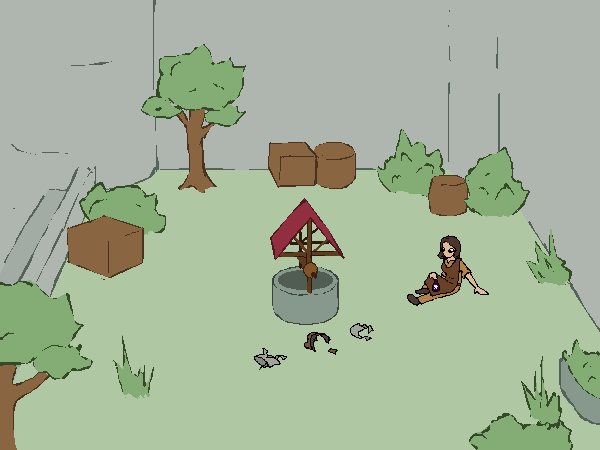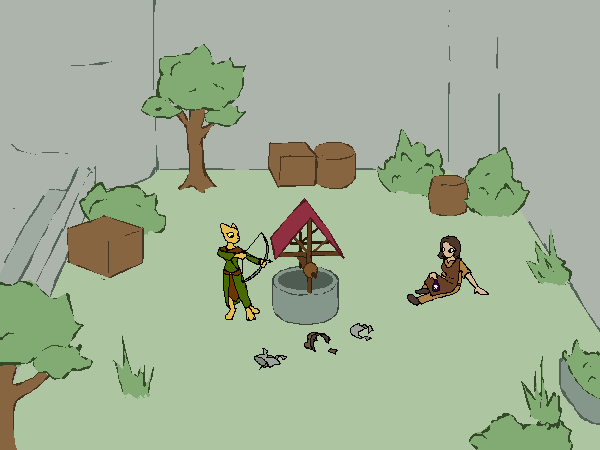 Behold!
Alright, that was a bad shot. You've, ah, never used one of these before, and thought it would arc downward more.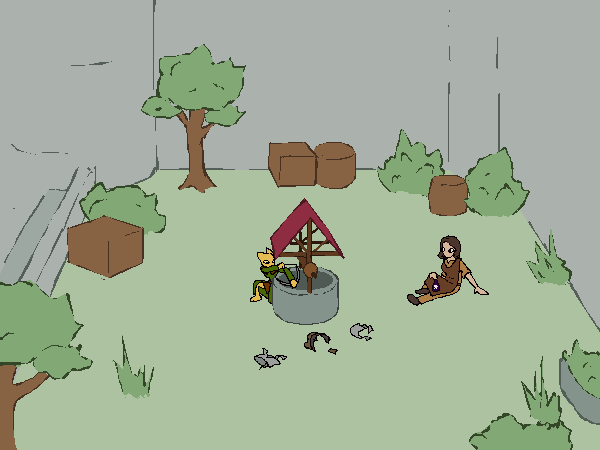 You've just got to get the right angle…
You apologize for taking so long with this. You explain that you really want to help out, but it's proving more complicated than you thought.
The crazy woman sighs and says it's fine, take your time. She adds something incoherent about how we can't all be nectarines, though you might've misheard that slightly.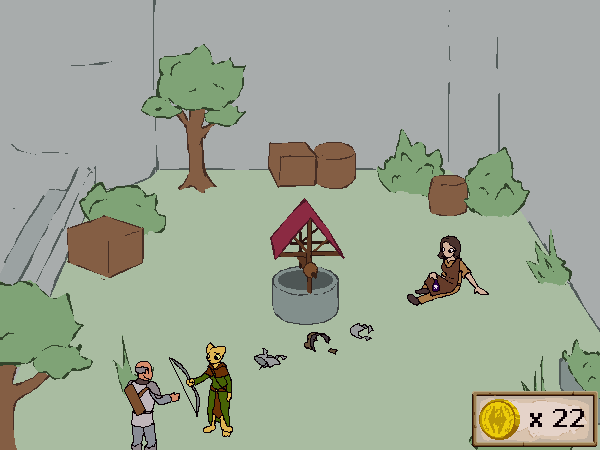 Almost hit the water with that last one.
You thank Menien for lending the bow. He says you don't have to worry about the arrows, but you insist he take at least two coins for them. You're trying to wean off using other people for charity.
TalonofTruth wrote:
BEST IDEA.
Grab a bunch of very large rocks and toss them down the well. Even acounting for water resistance and the slaughterfish's agility, they should be crushed if you use enough rock to fill well.
…ask the weird lady if she like to help khajiit with rock.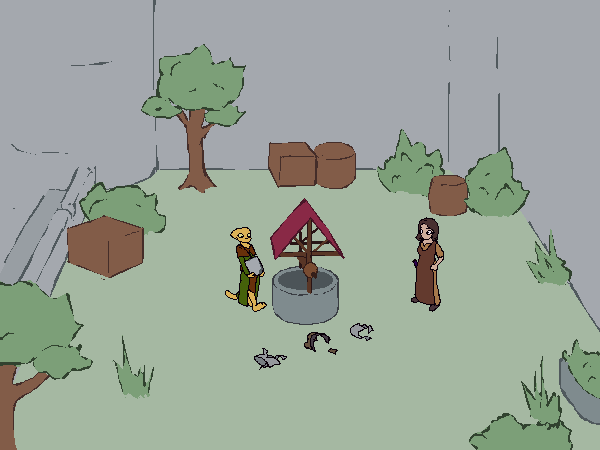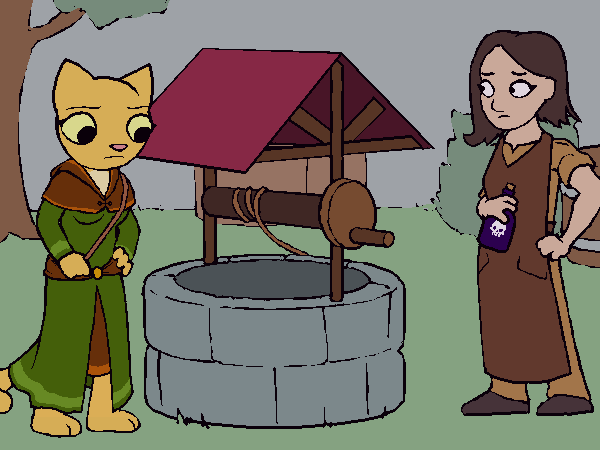 Okay, it doesn't look like that rock killed any fish. But we drop a couple more, one of them probably will. Probably. We can do this.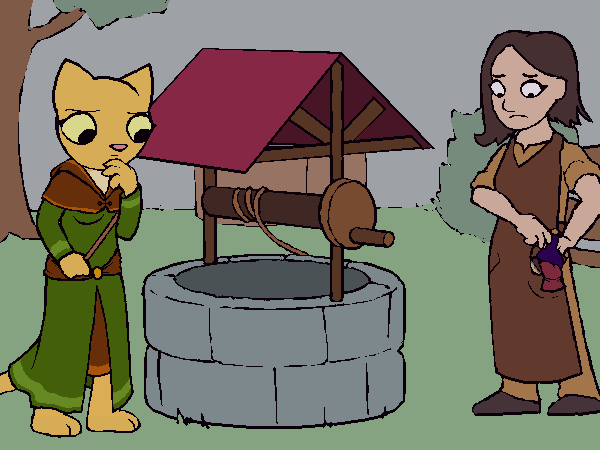 In fact, it might take a few more hours, but if we filled the whole well up with rocks it would either bury the fish or suffocate them. But… I guess that would cause an even bigger problem, what with the well being filled with rocks.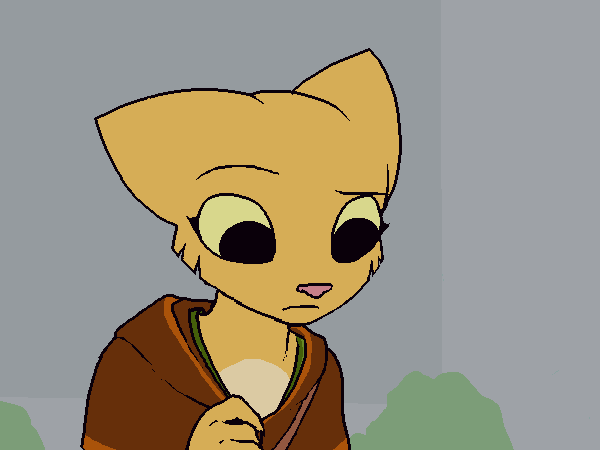 You admit you're starting to think maybe the poison isn't such a bad idea. Like, maybe you could pour it down the well, and then get an antidote to pour in after it? You ask your new friend if that would work, or if antidotes don't-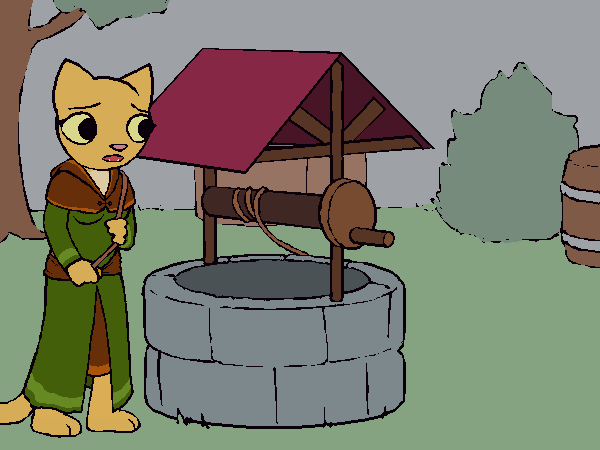 Oh.
Crazy lady? Hello?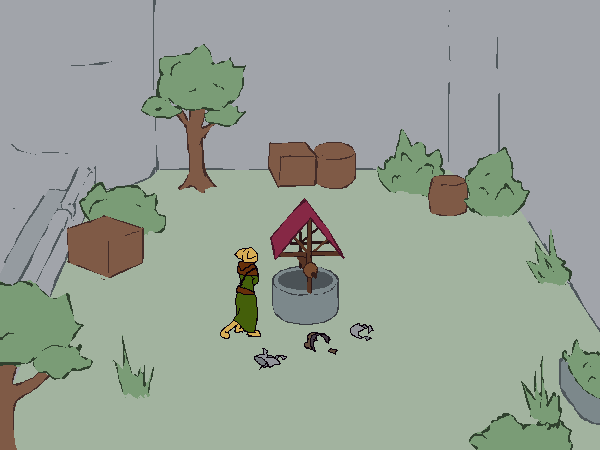 You… guess she left.