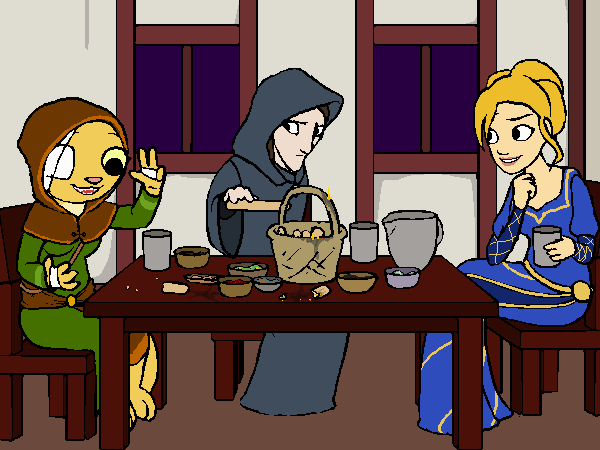 … buuuuut overall I'd say it was one of my more enjoyable experiences, if only because I walked away from it relatively fluent in Dragonish. I mean, mostly kind of dirty Dragonish, but I can still do some basic sentences and stuff.
For a moment you are worried you might have gone into too much detail, but Sigrid merely laughs and says it's a fascinating story. Though, she was trying to ask if you experimented with magic at all before you moved to Cyrodiil.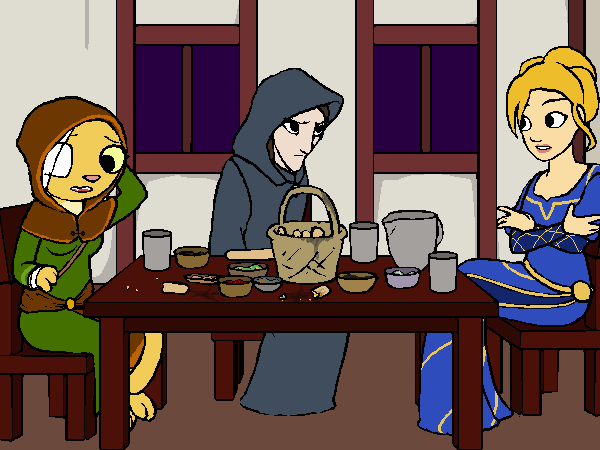 Oh! Whoops. Ah, not really, you explain. I mean, when I was younger I always wanted to learn spellcasting, but the local mages mistook my birthsign as some kind of incurable disease and I spent most of my life thinking I could never use magic. But even then, I guess I was still kind of interested in it. I would read a lot of books, stuff like the Feyfolken series, and just sort of try to figure out how the magic worked, or imagine what it would be like to actually use it. Fantasize about a world where everyone saw me as some kind of great wizard, rather than as Hammerfell's easiest talking animal.
Sigrid nods. Most folks out west never even learn about birthsigns, and it's a terrible shame that you went so long without understanding your abilities. But she has to say, it's also incredibly admirable how you kept studying magic even when you thought it was impossible for you to ever learn it. You don't find many mages with that kind of dedication.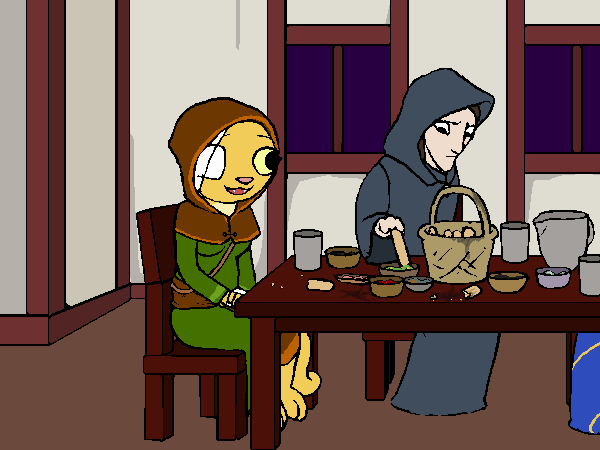 You thank her, and tell her that means a lot coming from a fellow magic-user. I mean, you're not sure if you'd call it "studying", reading fiction books about wizards, but… well, it kept you happy, you guess. Right now you're just really excited that your old dreams are finally coming true.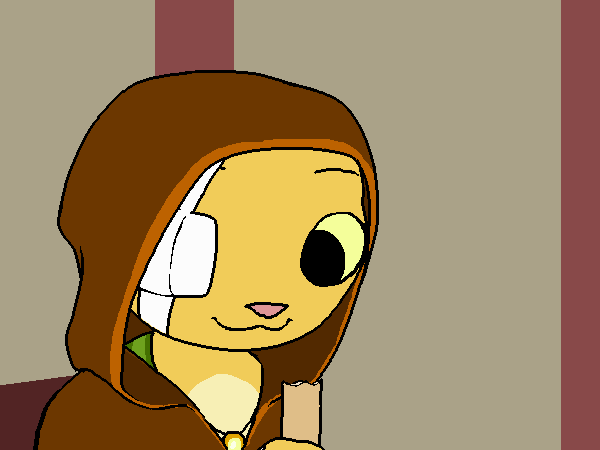 You smile and take another bite of bread. Tonight is turning out pretty great. A part of you is starting to feel like maybe, just maybe, you've finally found where you belong.
And that feels better than all the booze in the world.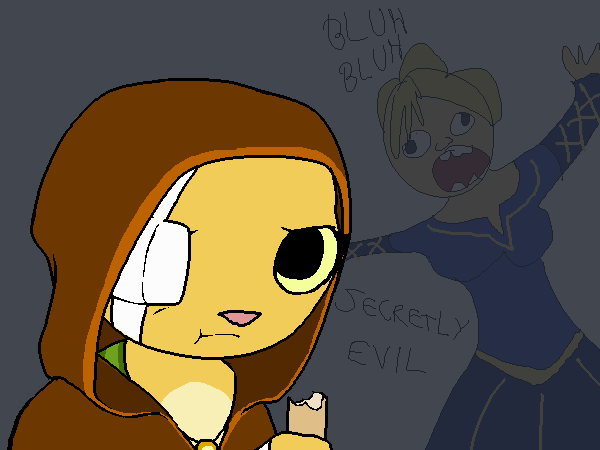 Yeah, sure, because it's that hard to believe someone is actually being nice to you.
Uthkara wrote:
Katia: Ask Sigrid how she knew that your sign was the Atronarch. You never told her.
Anyway…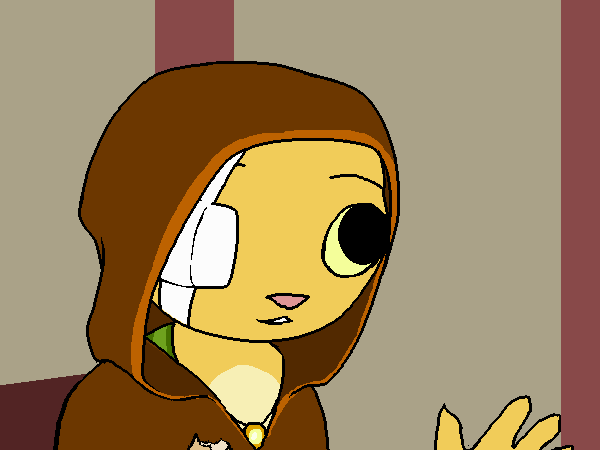 So Sigrid! I was meaning to ask: how did you know about my birthsign? Did I do something to tip you off, or…?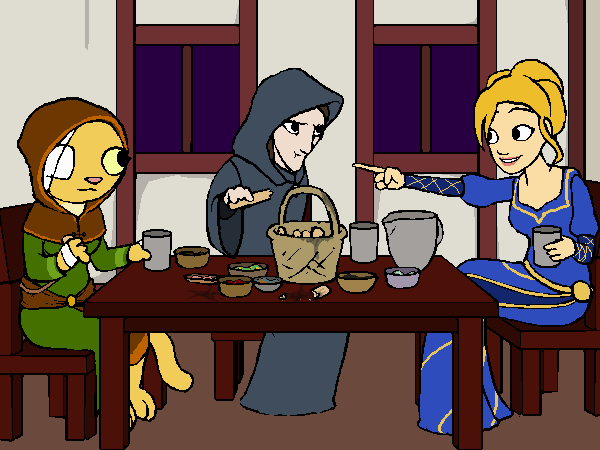 This guy, she says. Thank this guy right here. He stopped by earlier today and said we'd be getting an out-of-town visitor – an atronach short on magicka – and to prepare something accordingly.
Oh! Thank you, Stephane. And, ah, did you? Prepare something, that is?
Right in front of you, Sigrid replies. That dark blue dipping sauce is a mushroom paste with ground flax; it should charge your magicka up sufficiently. Oh, and if you want to help that eye heal faster, consider trying some of the aloe-spiced venison spread. There's not much there since I was running out of cured venison, but it should still speed your recovery up a smidgen.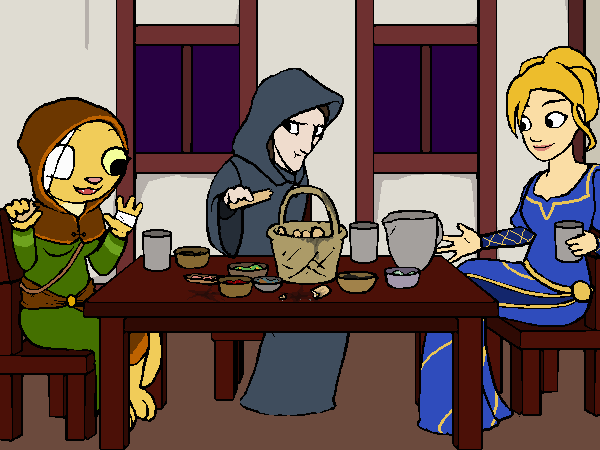 Ah! Thank you, you tell Sigrid. You had no idea any of these sauces were magic.
She says it's one of the many perks of being a master alchemist. Our meals become very interesting.
And, ah, not to sound greedy, but do you maybe have anything for curing diseases? I had a run-in with a vampire on the way here and, you know, would rather play it safe than the undead-equivalent-of-sorry.
Hmm. Sigrid says she doesn't have anything prepared, but curing diseases is simple enough…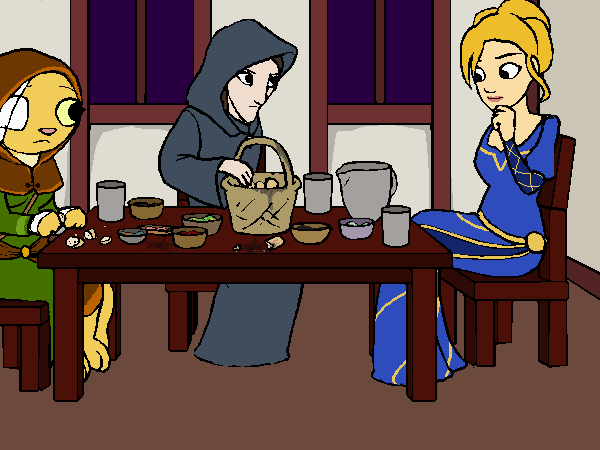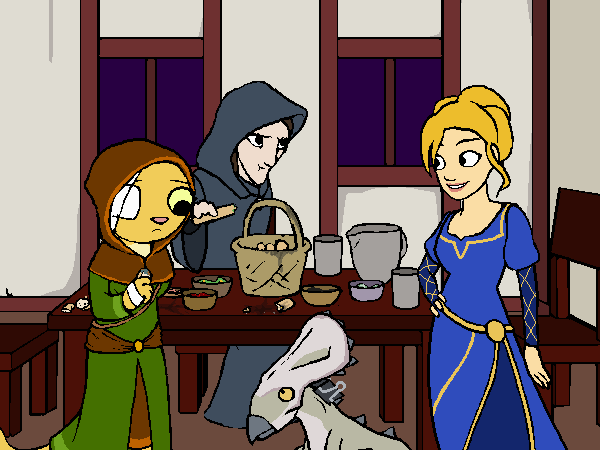 There. Just lick this thing's foot.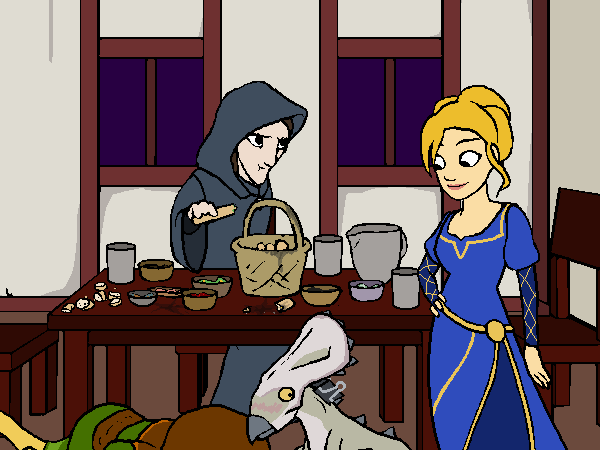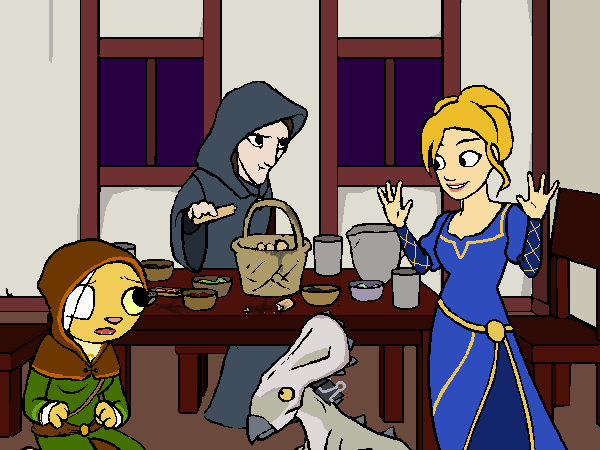 Like that?
Yup! You no longer have any diseases, Sigrid says. That's the power of ALCHEMY!
You thank her, and say that's certainly a… creative way to cure a disease. You guess she doesn't have a normal curing spell?
Sigrid says she does, but this way is much funnier. Assuming you can get someone to actually go along with it.
woundedkneecap wrote:
Don't forget why you came there, ask for a test to join.
Dousiq wrote:
In any case, it's high time you ask to join, get a couple of jobs to do, and do them.
Yeah, you think you might be falling in love with this place. It's lighthearted, it's educational, and it's seeming a lot less creepy now that you understand what's going on here. Sigrid seems really nice, and she's already seen your two spells – if only in the form of you heating some chocolate sauce and trying to flop a breadstick into it. You think it may be time to pop the question.
The joining question.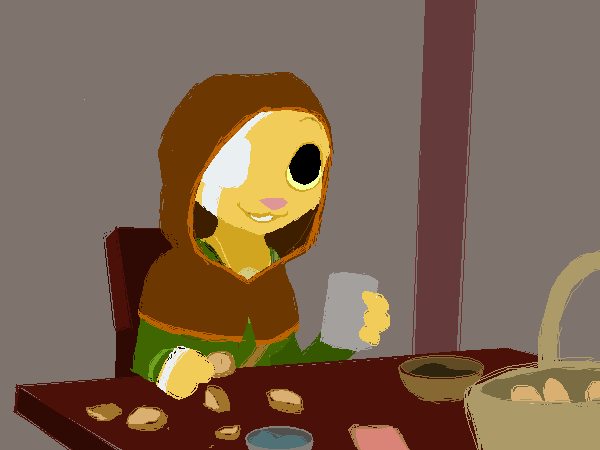 Miss Sigrid, you've done an amazing job restoring this guildhall and also you are a wizard and therefore awesome. Would you perhaps be willing to maybe accept a new member? Into the Mages Guild?
Sigrid freezes, seemingly taken off-guard by your question. You… want to join the Mages Guild? Here?
Assuming that's alright? You tell Sigrid that you really like it here and you're looking for a place to stay the next couple days. And you're willing to help out however is needed, with whatever is needed. If she's okay with getting a new member, that is.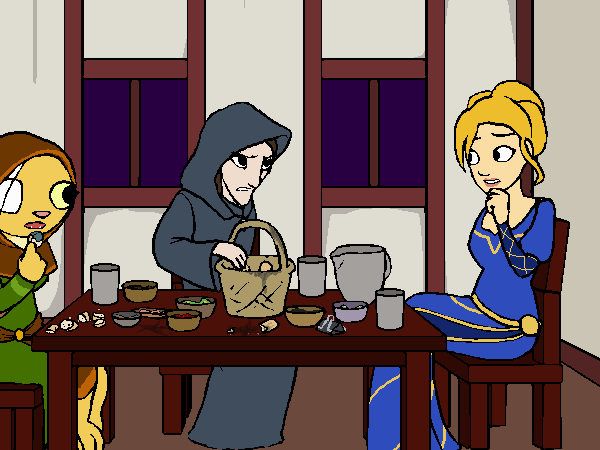 Sigrid's demeanor suddenly seems more concerned than before.
I… I don't know! This is so… unexpected! The last time we even had another mage visit here was when the Cabal guy came for the mural. And now we may be getting a member? Steph, do we even have the stuff for a new member?
Yes, he replies.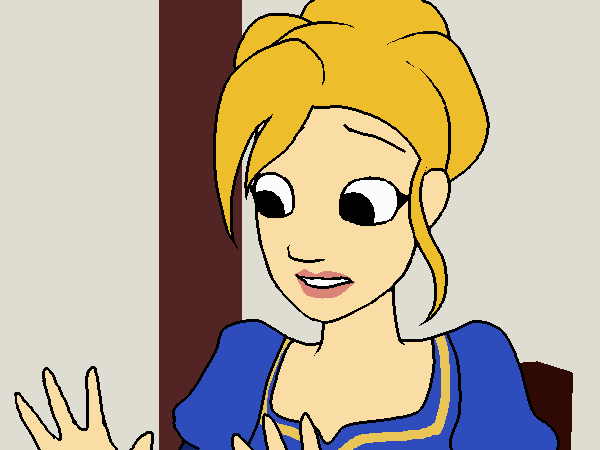 Are you sure? I mean, getting our first member is a big deal, we want to make sure it goes perfect! We'll need to get you a copy of the charter, a beginner's alembic, maybe a complementary silver dagger… and that's not even counting whether or not we have any beginner-level books on disciplines you're interested in!
> ==>