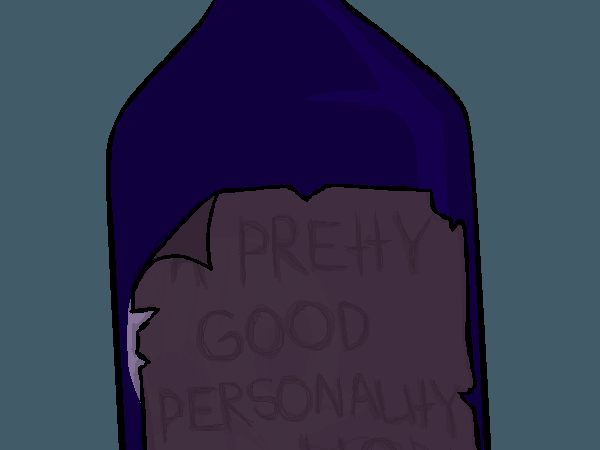 Just gotta give it a little tug and…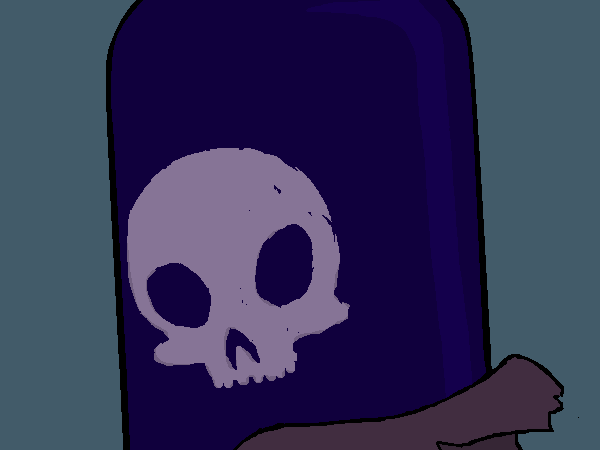 Oh. Huh!
A more introspective spectre might ruminate on the possible motivations someone would have to leave a mislabeled bottle of poison out in the wild. But you… you don't really care. Sometimes things like this just happen!
Mikhos wrote:
Aggy: Don women's clothing and become Agatha the Dark Mage
l4tul4 wrote:
Aggy: Put on the old women's clothing. Be the prettiest woman around.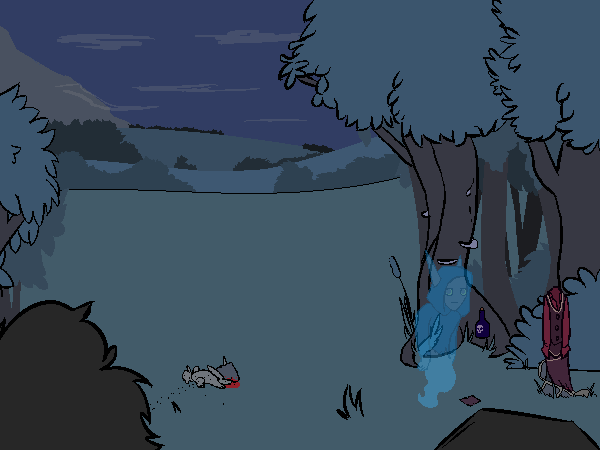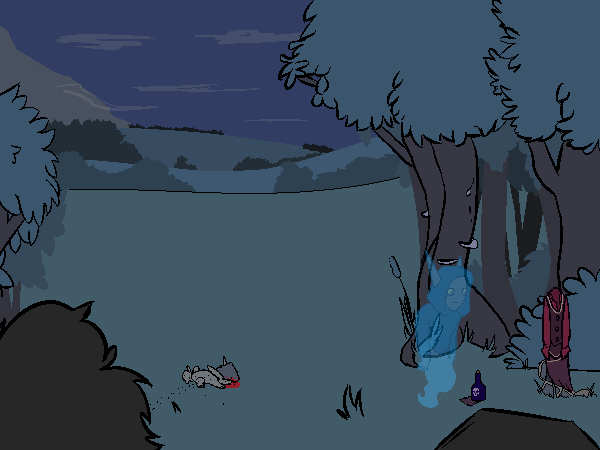 You put the ornate dress back into the chest.
Perhaps a more suitable, more effeminate owner will come along and claim it.
Ransom wrote:
Those supplies aren't very useful to you, but could be helpful to someone. Oh I don't know, like that other adventurer?
Stormfeather wrote:
Aggie, you've already said you've seen a "much better" adventurer, so why not help her out for a while, since she's obviously more worth your time and guardianship?
For one, you are a Dark Elf ancestral guardian. Your concern with the lesser races should be kept brief and passing at best!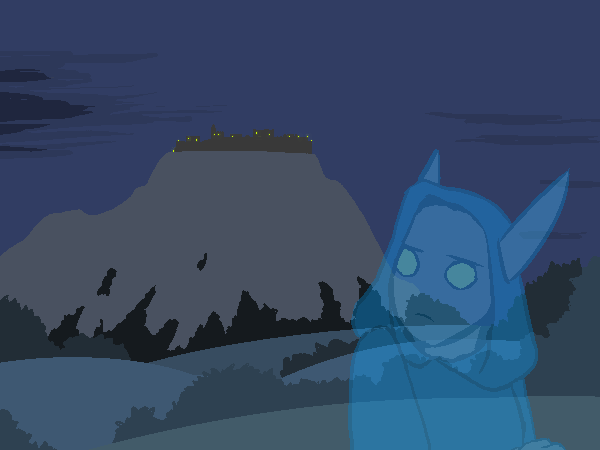 For two… you don't actually have any idea where she went. While it might be refreshing to compare your descendants to a truly competent explorer – especially one who shares your gift – she could be anywhere by now. Without any information on her whereabouts, or even confirmation she is alive, searching for her would be nothing more than a long, boring fool's errand.
And for three, you probably wouldn't even recognize her if you saw her.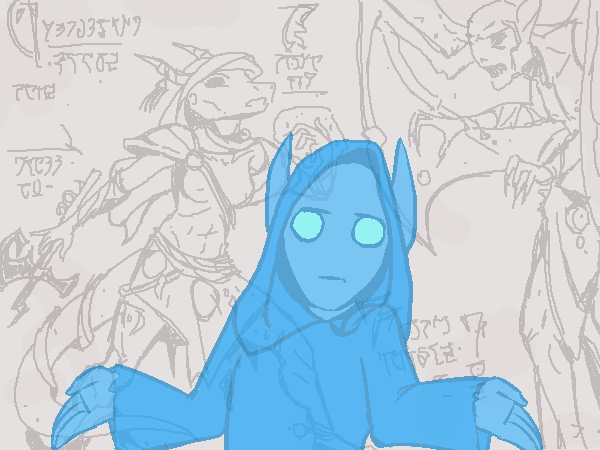 Your entire memory of that meeting is kind of fuzzy!
Suomynona wrote:
Guardian Spirit: Backtrack the rabbit's bloodtrail. You literally have nothing better to do.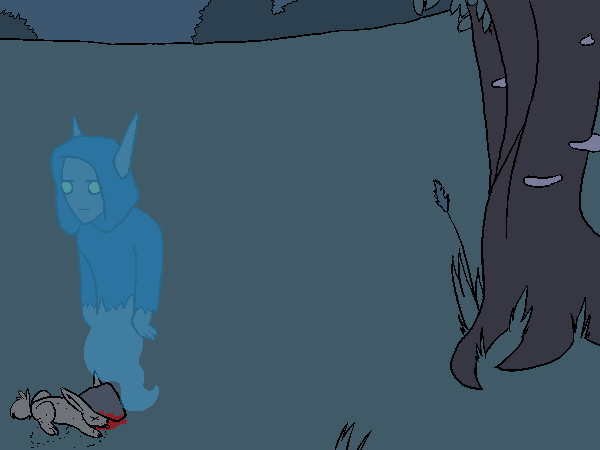 That was the shortest adventure ever.
Once again, you have nothing to do.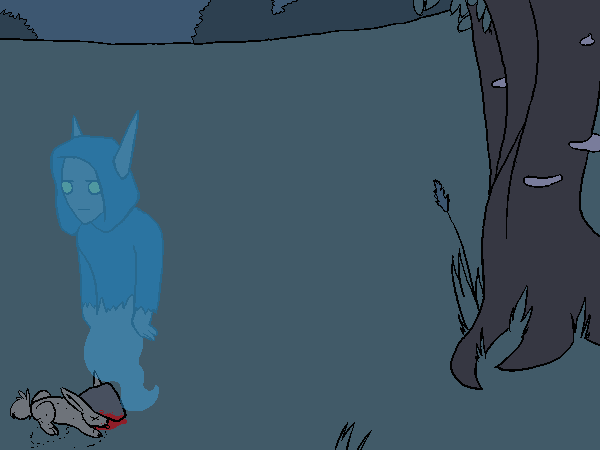 "KABOOM!"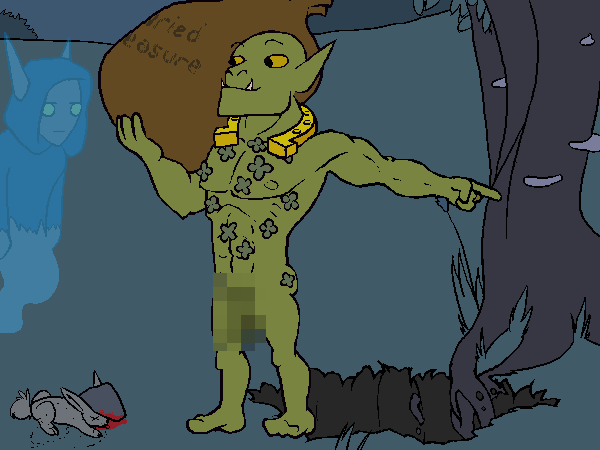 "Hey, Booberry, are you guarding that box? I chugged one of the Detection potions I keep clenched between my thick, rigid lats, and I couldn't help but notice that fine piece of faille enchested above me."
"Knock yourself out, Fruitcake."
"Thanks. I've been meaning to get my don on for a while now, if you know what I'm saying."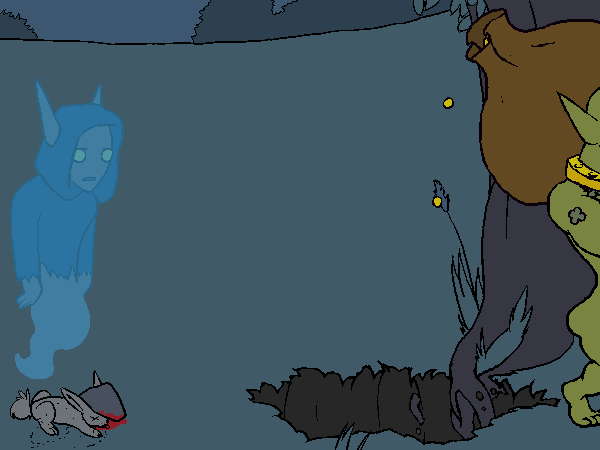 "I can imagine. Given that you were naked in a… cave?"
"Naw, a crypt. Crypt-robbing is usually a bit dangerous for my tastes, but today has just been one lucky find after another! I haven't seen a single skeleton, and I've already made over a hundred times my expenses! That is, assuming I can find somewhere nearby that will give me a decent price on all these enchanted family heirlooms."
"Sounds boring and book-keepy. And getting a decent price in an Imperial city? Good luck with that one, Orsimer."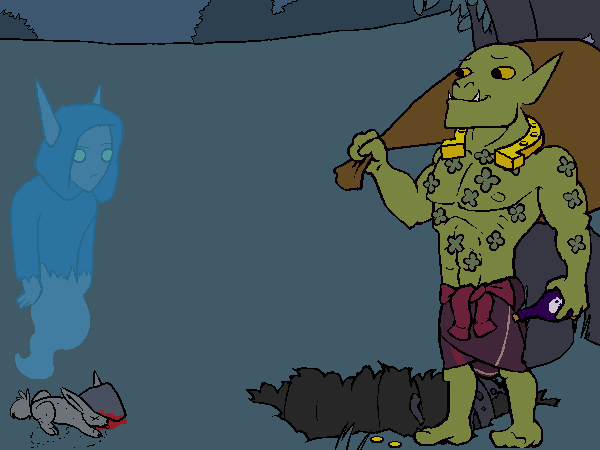 "Heh, you're alright, Windowpane. If you were tangible, I'd reward you with a hearty, jovial slap on the back."
"I'm touched, or not. So what's with the clover field?"
"Oh, these? I just keep finding more and more. It must be my lucky day! Even more than it was yesterday."
Whimbrel wrote:
Why don't you just use your obviously superior elven brilliance to solve everything?
Hm…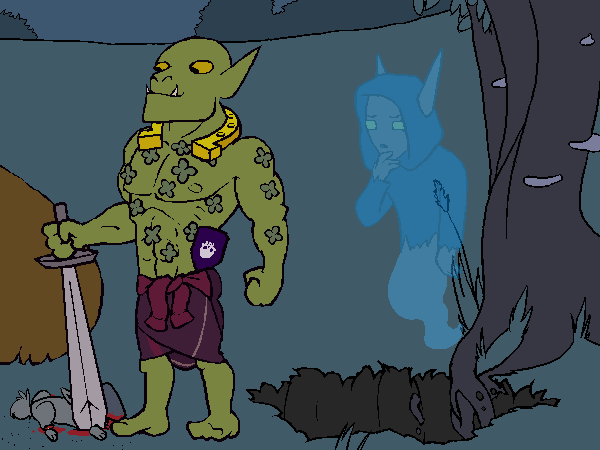 "Mr. Orc, my fine inferior, you seem like a lucky fellow. Would you perhaps be willing to spin that bottle for me?"
"There aren't enough ladies here for that, Seabreeze."
"I don't mean it as part of your vulgar mating rituals. I mean it as a method of randomization."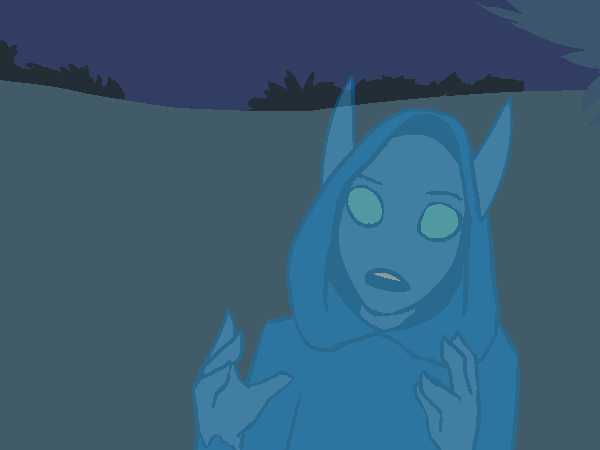 "Your luck appears to manifest by making events that are random from your point of view – such as finding treasure – inexplicably more likely to result in an outcome that is favorable to you. Assumedly, this extends beyond monetary pursuits: any event that is seemingly random will occur exactly the way you want. Ergo, it seems reasonable to assume you could help me locate someone in particular by simply wanting me to find them, and then initiating a random event that will point me in their direction. Now, I may be dead, and slowly losing my mind, but I'm still a Dark Elf and therefore the logic here works out perfectly in every way."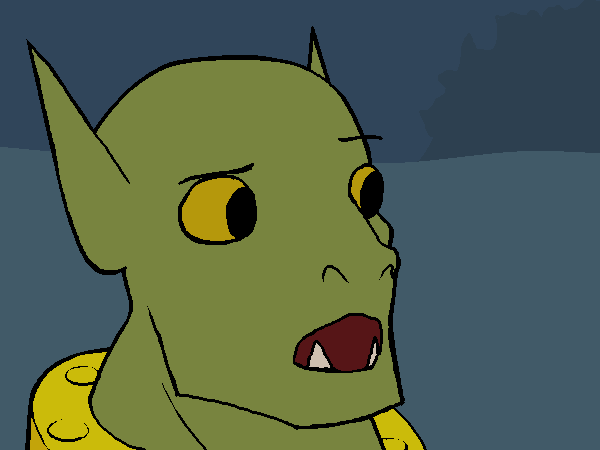 "I'm not sure I buy it, Seabreeze. Luck is a nice superstition and maybe has some tiny effect on the amazing things I constantly do all the time, but a mer can't just rely on it like that. If I spun that bottle and it pointed you in even the slightest wrong direction, you would waste months of valuable time and resources searching for someone you'd never, ever find. It's not a good investment."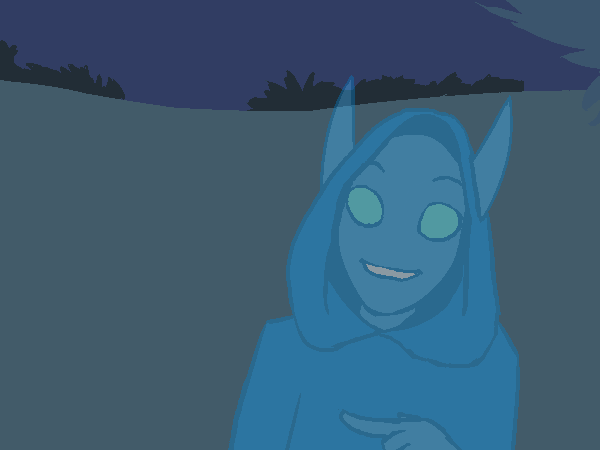 "But if it pointed me in exactly the right direction, then I'd save months of valuable time searching for someone I'd never, ever find otherwise. So they even out perfectly!"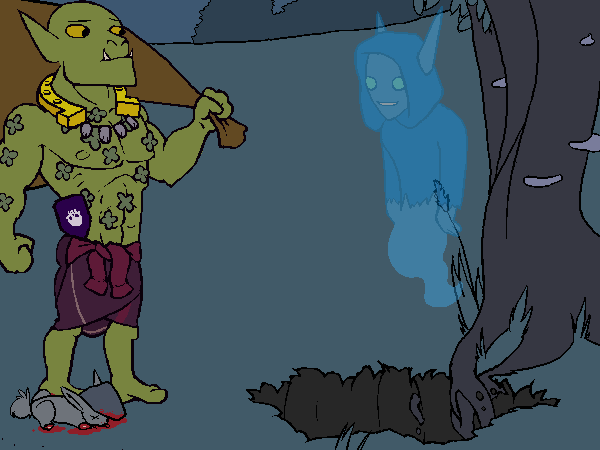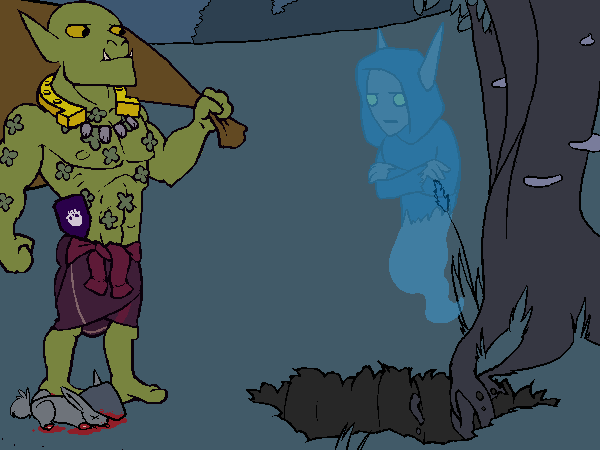 "Just spin the bottle already."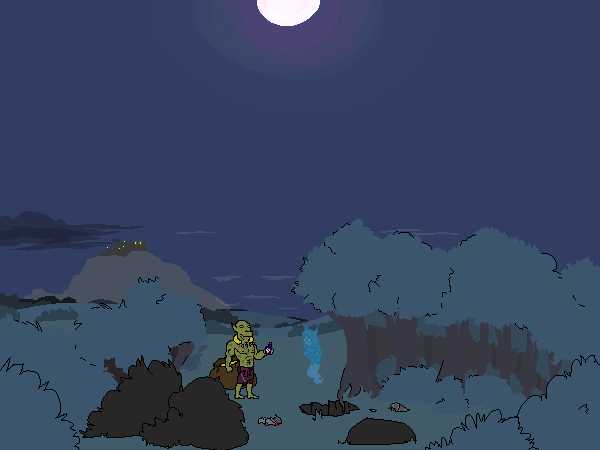 "Excellent! You are dismissed, lesser-minded creature."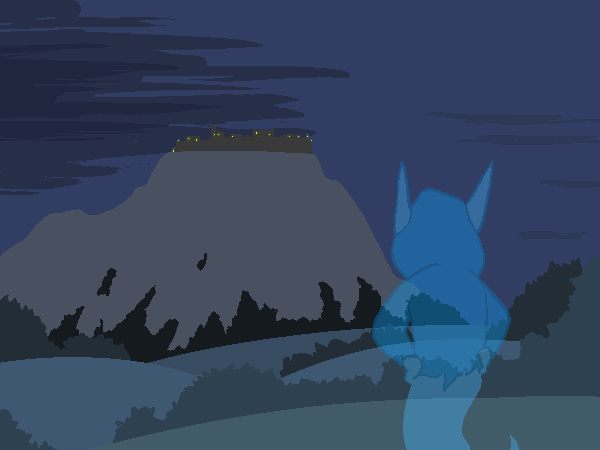 The dumb orc mutters something stupid about having business meetings and needing "to get his leave on" before taking his poison bottle and tromping away. He doesn't even thank you for the awesome trick you just showed him. What an asshole!
Just wait. Someday, he's going to be hunting someone down, probably for a respectable purpose like revenge, and he'll remember your ingenious methods and be forced to use them! Just wait.
But for now, you have a competent explorer to find!
Additional resource credits:
Cider – Some of the art. He is not yet ready
to touch Gharug's luscious, steely pecs.
> ==>