LimeBreaker wrote:
You solved the puzzle! That means you can flip the table!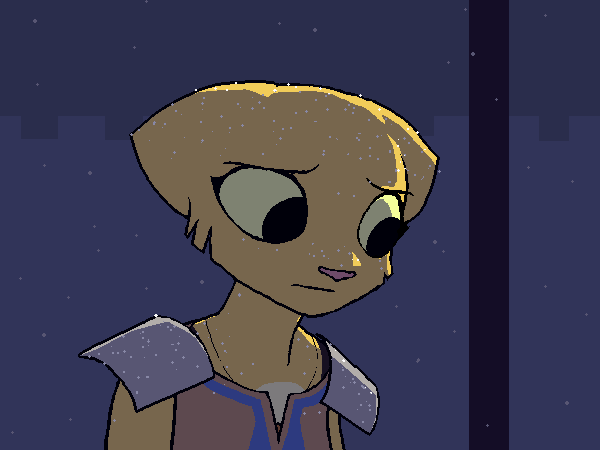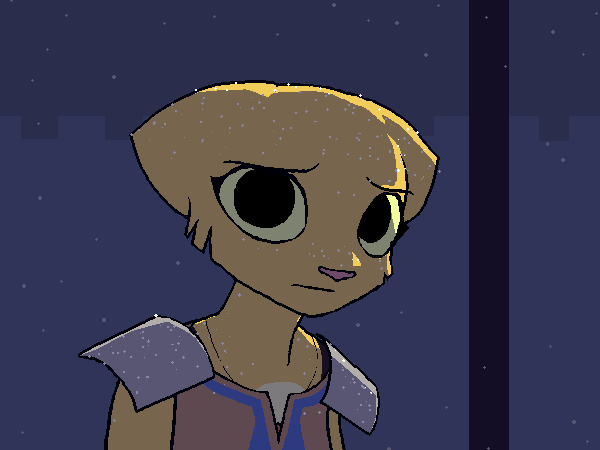 While you can appreciate the table flipping thing on a symbolic level, this table still weighs like two hundred pounds. It's not going anywhere.
Contrast wrote:
Raise an eyebrow, then ask if the weird ghost is referring to your flaky Telekinesis, which is barely capable of flipping a breadstick even under the best of circumstances.
You turn your attention back to the ghost and ask if he means, like… telekinesis?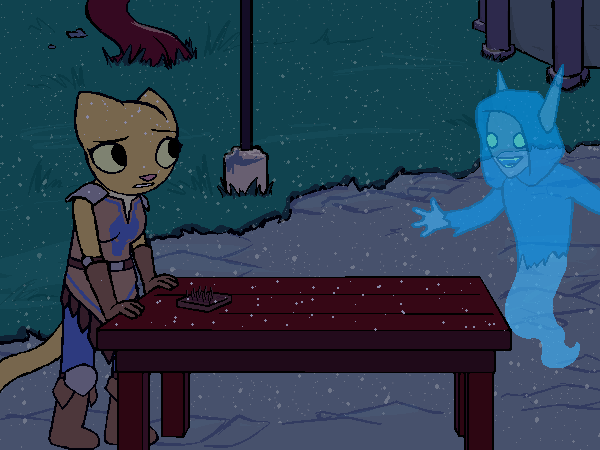 Exactly, he says! The baguettes and butter of any witchhunter's arsenal! It's the most basic, most elegant, and most useful form of mysticism: the art of taking something that shouldn't move, and respectfully disagreeing with its questionable life choices. The simple act of making something happen just because it's possible, not because it's likely. Surely, you have experience with it?
You've, ah, knocked some things over, you explain. One time you flipped some pews in a burning chapel, but you were in kind of a bad place and don't think you could do it again. It's not something you can really control.
No, the ghost says, it's something you don't know how to control. You should've learned by now that what you know and what is real don't necessarily overlap.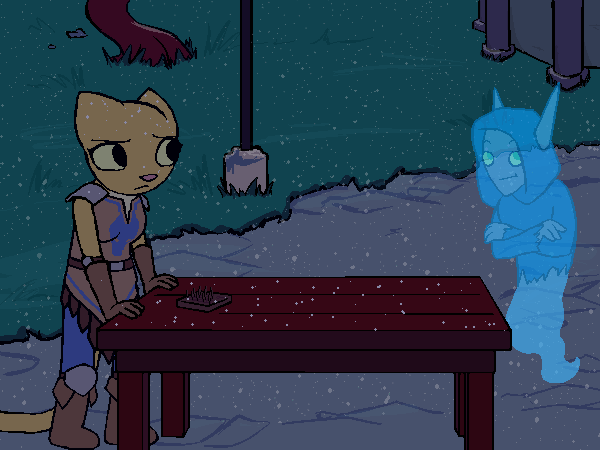 InnerLioness wrote:
FLIP THE FUCKING TABLE!
Slajmo wrote:
You solved the puzzle Katia, now flip the table!
FLIP IT WITH ALL YOUR MIGHT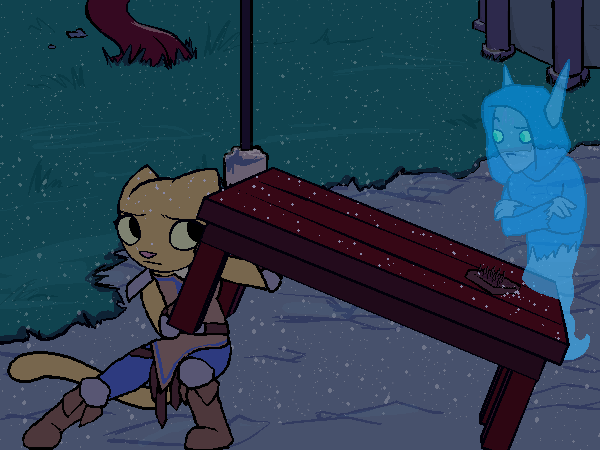 Alright, so the telekinesis is something you don't know how to control. That doesn't make it any better. You don't exactly have access to any kind of training, and you don't really know where to begin figuring this stuff out on your own.
The guardian spirit raises a ghostly eyebrow. Surely, if you've used telekinesis before, you found something that worked.
You, er, confess that when you used telekinesis in the past, it was by coming up with obscure derogatory puns comparing yourself to any animal besides a cat. Usually a bird.
Bird puns, he asks. Yeah, you say. That's the kind of shit people do for destruction magic, not mysticism, he says. Well you're sorry, you say. It's almost like you're a homeless immigrant with no formal magic education who has no way of knowing this stuff. Honestly, he says, it'd be impressive if you could even knock over a domino using your telekinesis in such a brutish way.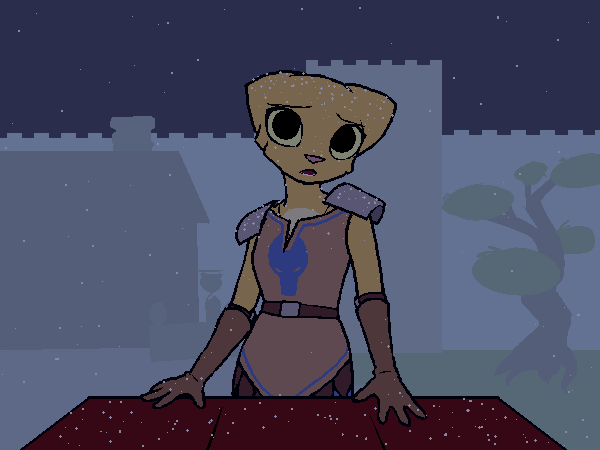 So how am I supposed to do it, you ask?
Like a witchhunter, he replies. Rather than pushing with sheer force of will, push with your mind! Give something a reason to move, rather than supplying the force yourself. Your old angle may have been brutish, but you found something that works. You just have to refine it into something that works well.
So… you want me to reverse-engineer nonsensical bird puns into a cohesive reason that inanimate objects should be able to move by their own free will?
Exactly! And look, there is even an unsolved puzzle on this table! You should solve it telekinetically, he says. I just solved that puzzle literally two minutes ago, you say. The ghost says he doesn't remember that and he thinks you're making it up.
Contrast wrote:
If he is indeed referring to your flaky Telekinesis, remember to take off your amulet before you attempt to cast it. Wouldn't want to look stupid.
Radar wrote:
Take off that amulet. You got some magic to do!
As soon as you reach for your amulet, the ghost holds up a hand to stop you.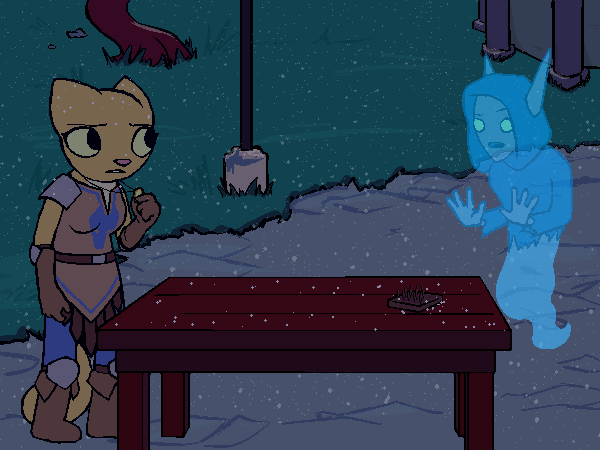 Woah woah woah, he says. Is that an amulet of silence?
Yeah, you say. Is that a… problem?
No, he says. In fact, that's a good thing. Why don't you keep that on?
Be…cause you need to take it off to cast spells, you say.
The ghost says he's not asking you to cast a spell. He's asking you to use magic. An amulet's not going to stop that.
Pradd wrote:
tell about incident with uncontrolled fire.
Wait, hold on a second. You're saying that an amulet of silence, even when it's working fine, doesn't stop all magic?
Well, yeah, he says. If a silencing spell stopped all magic, then it would instantly kill ghosts, daedra, imps, vampires, wisps, or any other kind of magical creature – maybe even Khajiit. All a silencing spell does is keep you from guiding your magic into complex spells.
So if I was, say, wearing an amulet of silence, and then everything around me started uncontrollably catching on fire, even things that shouldn't burn, that's… normal?
No, he says, that's fucking weird. But it's possible.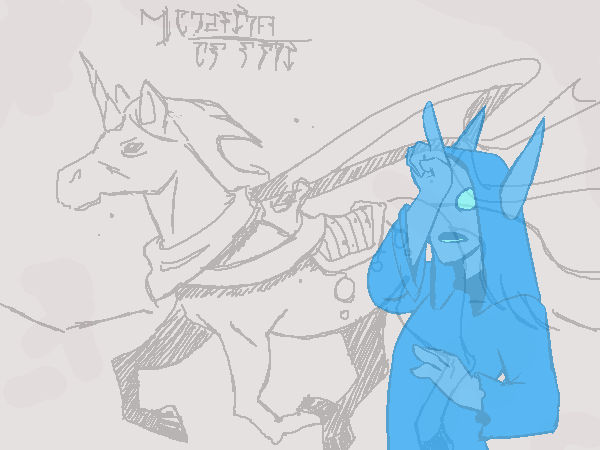 It's like… imagine your magic is a horse. No, a unicorn! This entire analogy just works better with a unicorn.
Maybe you trained it a little, and maybe you keep it in a stable when you're not using it, but this unicorn is still out there doing its own thing. And if there is a bridge or something over a road, it can just run right under it. Its horn might scrape along the bottom and make some sparks if its head is too high, but that's not going to stop a fucking unicorn.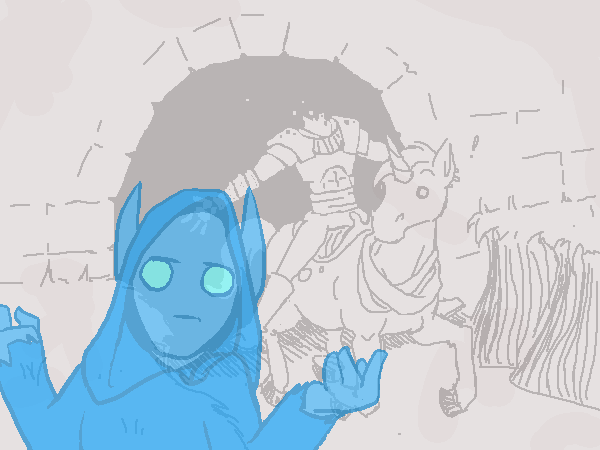 But when you stick a rider on that unicorn, all of a sudden those bridges become a problem. You have more control over what the unicorn does, but you're gonna waste a ton of energy trying to not fall off of it and also if you try to go under a low bridge it is probably going to take your head off. That's not a mistake I'm making a second time.
Anyway, I think the bridge stood for something you were talking about, but I don't remember what. I remember my analogy was amazingly apt, though. That's basically how you have to look at things if you want to use telekinesis proper.
woundedkneecap wrote:
Use magic! Yeah, magic! Wait! The only magic you know is the kind that burns things down. Katia, ask Aggy how you are supposed to move the pieces with magic.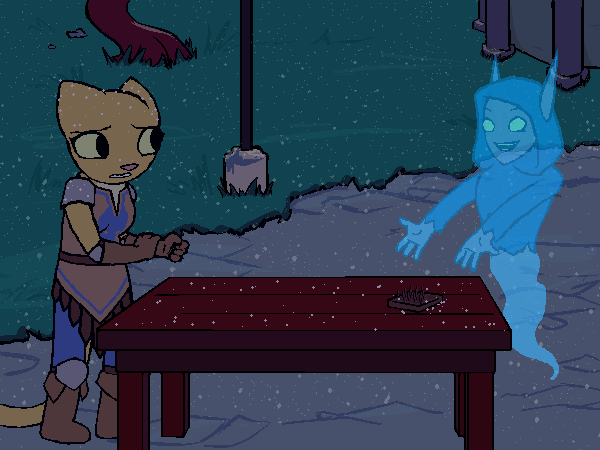 So… what you're saying is that to use telekinesis, the most basic piece of mysticism, I need to reverse engineer bird puns into a logical argument for why inanimate objects should move by their own accord, which I then use to tame a metaphorical unicorn into affecting the world around me?
Exactly, the ghost says. Told you mysticism was a piece of cake!
Additional resource credits:
Cider – the usual