MoldovainEurovision2011 wrote:
I would totally swoon. For IRONIES sake.
bhomer2 wrote:
yeah, gonna have to swoon.
Yeah, you're not really the "swooning" type.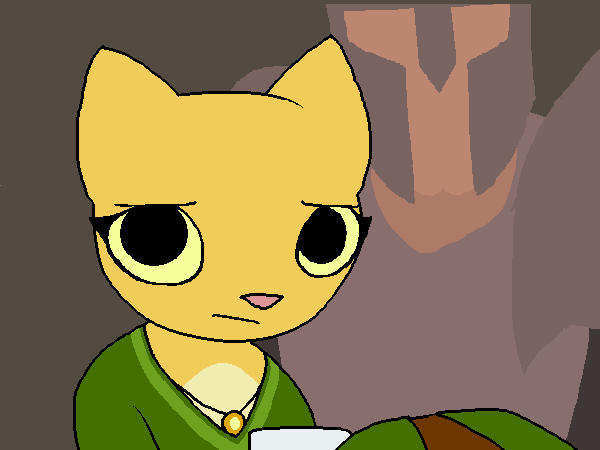 You will admit that being literally swept off your feet was kind of fun, though.
MysteryJack wrote:
>Find out his name, that seems important.
MoldovainEurovision2011 wrote:
Katia: find out this guy's name.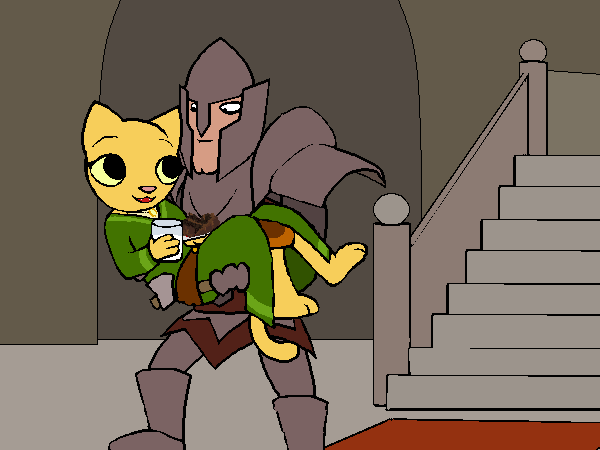 Hi, you say, I couldn't help but notice your extremely interesting display at the Countess' dinner! My name's Katia Managan, I'm new to Cyrodiil. I'm a wizard! Or will be, once I can afford training.
The soldier nods at your greeting. Well met, fair Khajiit maiden. I am A Soldier Of the Imperial Legion, proud and selfless Upholders of Justice and Defenders of this Great Nation and all those who live within its Glorious Borders. I trust your stay has been adequately safe, pleasant and just?
Dolash wrote:
Keep it professional, tell him about the highwayman exploiting a gap in the patrol.
BudgerigarCommissar wrote:
Katia: if the Legionnaire is going to go after Gro-Upp, warn the Legionnaire that Gro-Upp definitely has a scroll of Detect Life and probably has a Potion of Invisibility.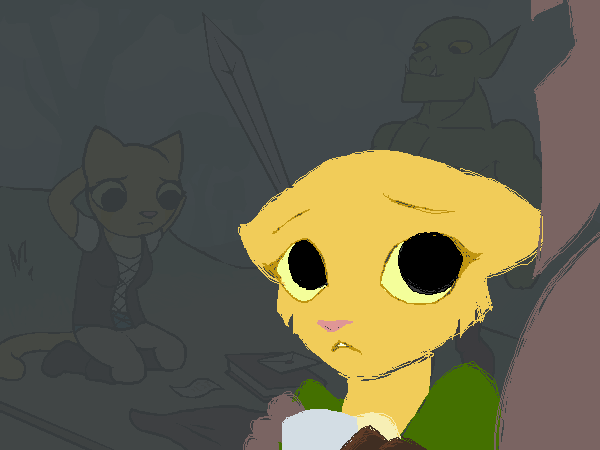 Not entirely, you say. Yesterday you were traveling to Kvatch for moderately urgent business when you were approached by a large Orcish highwayman named Gharug Gro-Upp who demanded all your belongings and threatened to kill you if you did not comply. You wanted to escape using an invisibility potion, but he had this magic detection thing packed between his angular, rock-hard abs. He said he knew the patrol schedule, and was timing his robberies so you wouldn't see them.
He also has a four leaf clover, so he presumably has found more four leaf clovers and is now incredibly lucky.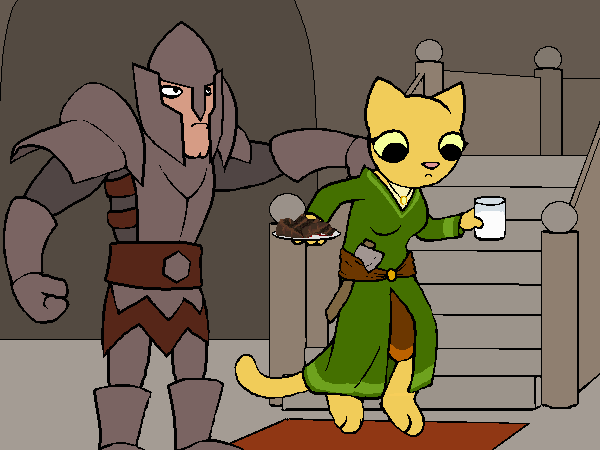 The soldier says this mockery of justice fuels his heart and rends his anger. The Legion will not tolerate an individual who endangers the lives of innocents for personal gain – let alone one who uses the Legion's very patrol schedule against them. First chance he gets, the soldier will send word to his commanding officer requesting a temporary six-hour adjustment in the patrol schedule in order to catch this vile bandit off-guard. And, if possible, additional units will be sent to patrol the road until they have apprehended this Green Scourge of the Gold Road. Which is a name he just made up now.
Justice will be upheld. The beacon of light cannot be silenced. The soldier apologizes for his failure to protect you and says he hopes your future travels are much safer.
lexavian wrote:
Anyways, try to spit out that you would like him to protect you on your way to Kvatch as fast as you can because boy is this awkward! Make sure to designate a time and place to meet at that you can easily make.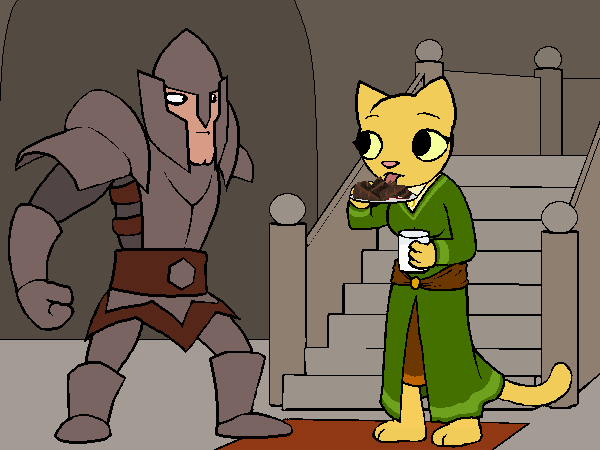 You explain that you never did make it all the way to Kvatch yesterday. You came back here after you were robbed and have been a bit scared to travel again, given your bad experience last time. You were wonde…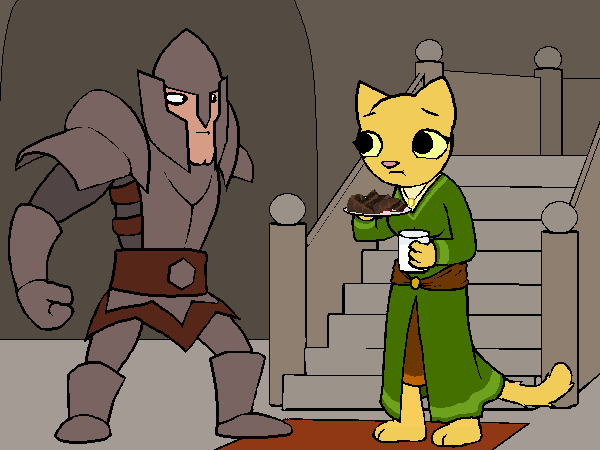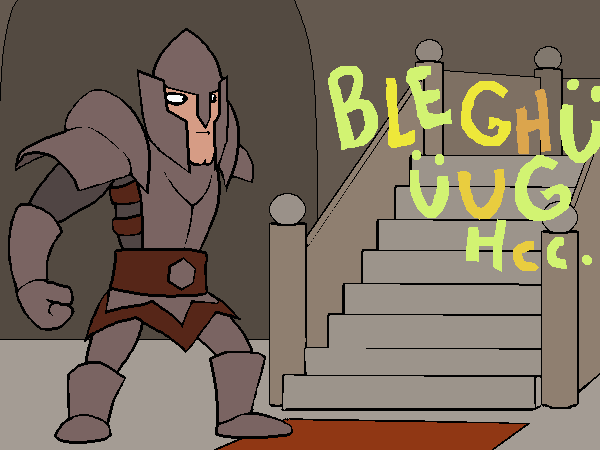 Sorry about that, you say, you've eaten like three pieces of chocolate cake in the last ten minutes. There's no law against throwing up on someone's plants, right?
The soldier says it's usually not appreciated, but is perfectly legal under Imperial Law and therefore fine to do. He peed in that same flowerpot on his way in.
Anyway, you were planning to head toward Kvatch again tomorrow. You're pretty helpless and worthless, though, so you were wondering if maybe he would be willing to be an escort? I mean, not in a sexual way, you just want someone to protect you while you walk to Kvatch. If that's a thing he is willing to do.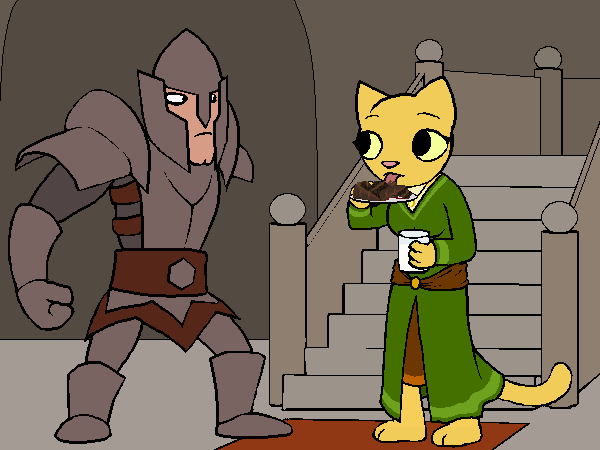 The soldier considers your request. While he surely wishes to defend Every Citizen as bravely and excessively as possible, he takes his job as a Patrolman very seriously and cannot deviate from his strict schedule simply to guide citizens to cities. That job is for other people, such as hired guides and bodyguards.
However, the soldier says, if you want protection on your journey you are welcome to join him on his normal route to Kvatch. The two of you would depart from the castle at 4:30 AM sharp tomorrow morning and follow the Gold Road to Kvatch at a brisk trot, stopping only to defend yourselves, defend an innocent citizen, or preemptively slaughter potentially dangerous forest animals.
If you're willing to keep up, he will gladly travel with you and offer the Unparalleled Protection of the Imperial Legion.