Avris wrote:
>See through walls? Perfect! Use it to check if the coast is clear and sneak back into the mages guild and get your stuff back.
Unclevertitle wrote:
look in on the shopkeeper's second floor and count the imps.
eggbrother wrote:
spy on gaius to find out what he is thinking
FreshFish wrote:
Find someone to look at, perhaps you could use this possible new ability to earn some money!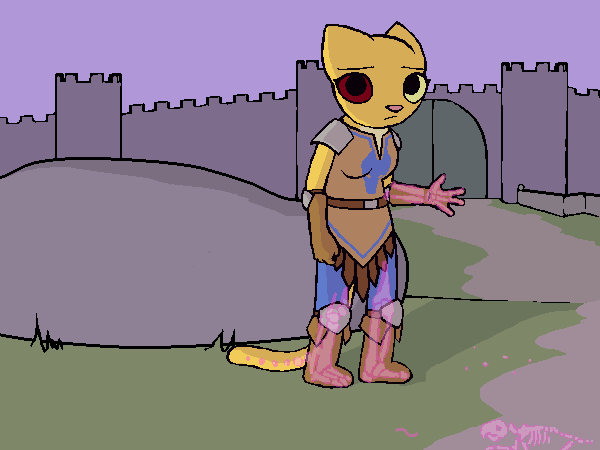 As nice as that would be, you are fairly sure seeing through walls does not entail the ability to walk through locked doors, see into people's thoughts, or… see money out of people. However that works. Scouting the imps in Tavia's attic could be kind of useful – if it's just one, you could maybe eye-of-fear it – but that's pretty far away and it looks like your, ah, "EAGLE VISION" is already wearing off.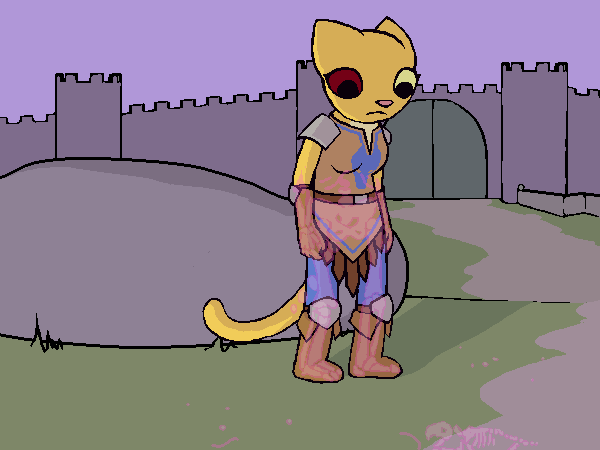 Aaaaaand it's gone.
Kofiman wrote:
Welp, now you've got the next step. Ask Lenka about alchemy.
You guess that's probably a good idea, yeah. I mean, it's getting late. You still need a place to stay tonight, and if Lenka knows alchemy maybe she could tell you which local plants around Kvatch are valuable. Or make you another weird eye-healing, wall-permeating sandwich so you can count those imps proper.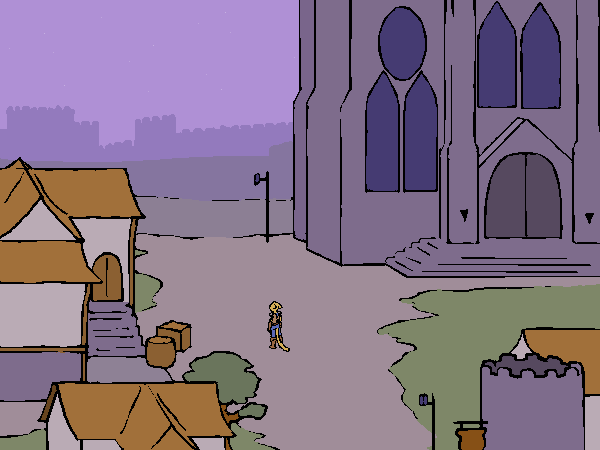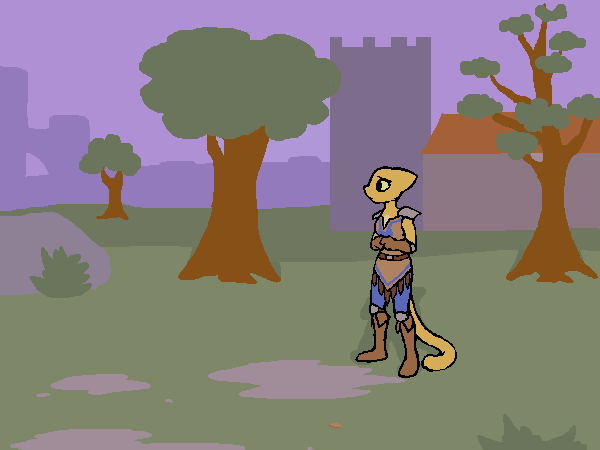 You head back to the field where you and Gaius stopped by the barbecue during his long flashback, but the grill is already packed up and Lenka is nowhere to be found.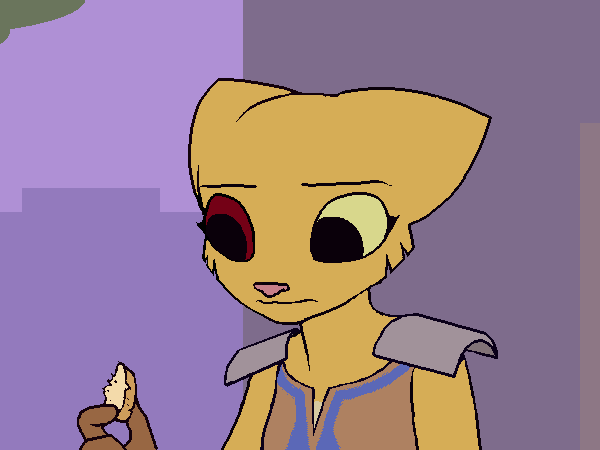 You do manage to find a scrap of bread, though.
You put it in your inventory, since you're apparently the sort of person who scavenges scraps of bread off the ground now.
Whoop-de-doo.
Coldmute wrote:
Katia, if someone or multiple someone's are involved in your nightmares, that means you are important! Think of it this way, if some powerful being is going to go through the trouble of intruding on the domain of a Daedra, why would they target a seemingly unimportant, impoverished Khajiit? Seems like it would be a lot of wasted energy when they could target someone like a Lord or a military commander or someone wealthy, people with obvious influence. But they're targeting you. So that means that, even if you may not seem to have control at this time, you're still pretty damned important. You may even get your name mentioned in a book in the future or brought up during a class for training mages in the future. So you've got something to take pride in.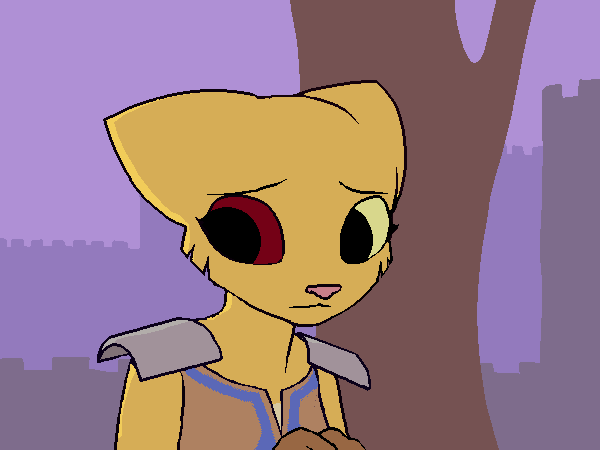 You know you said this before, but… you really don't want to talk about this. Or think about it.
It doesn't feel like you're "important". If anything, it's just a reminder that nearly everything is out of your control. You used to at least be able to blame yourself; to keep telling yourself that this was all your fault, and if you lived life differently and changed who you were, things could change. If you couldn't be happy, Katia Managan could. You used to be able to believe that the old life you drove into the ground was just a prequel to something good.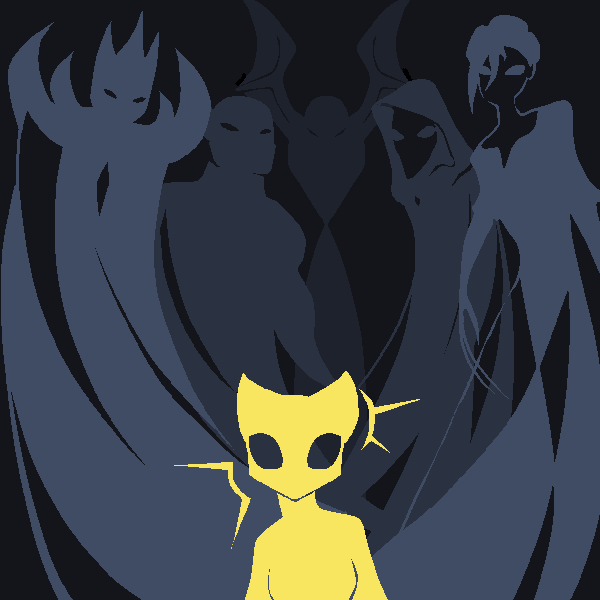 But now… you know that something is out to get you. Something big, that you can't shed with a change of name, or run from in another country. You don't know why, you don't know what it wants, but you just know it's one more in a world of things and people working against you, and you're powerless to stop a single one of them.
The world wants you to fail, and there's nothing you can do to control it.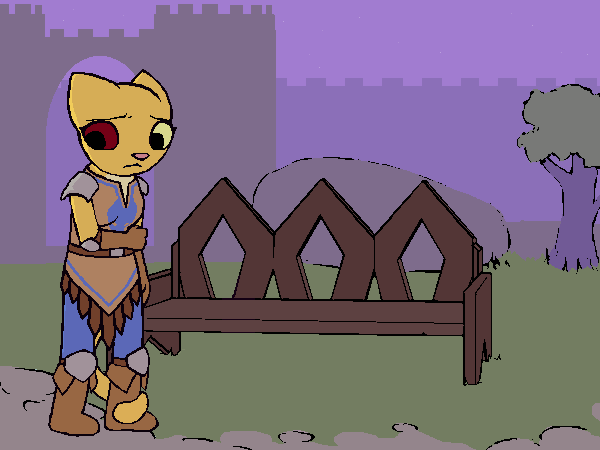 And that feels…
Well, you don't want to think about what it feels like. You guess you're just going to keep going. You'll eat food off the ground, try to find some way to make money, and hope that whoever's out to get you that day of the week takes pity.
You guess the word for it is "scared". Not a sharp, sudden fear, but a low, dull, hopeless hum. If you smile, joke, and ignore it, maybe you won't have to feel it.
Of course, that's kind of ruined now.
Mastaaa wrote:
Get someone to help you get your stuff back from Sigrid. That was a major dick-move on her part, and any decent person would understand that and be willing to help.
sabata2 wrote:
Gonna try to be a voice of reason here…
Do NOT attempt to "steal back" what you "lawfully gave" to Sigrid.
You're facing a power you can't think to combat, in both magical and social capability.
Sigrid runs the town. How would you get Quill-Weave's package back if she catches you and pays the guards to never let you in?
Octane wrote:
Make figuring out a plan to break into the mages' guild your biggest priority. What are your goals? To deliver Quill-Weave's package, to figure out your magic biz, and to make money. What's in the mages' guild? Quill-Weave's package, books on magic stuff, and HUGE PILES OF FUCKING TREASURE. It would only be appropriate to redistribute some of that ill-gotten loot to the poor folks Sigrin has downtrodden and oppressed. Like you, for instance.
You have been thinking about this, on the other hand, and…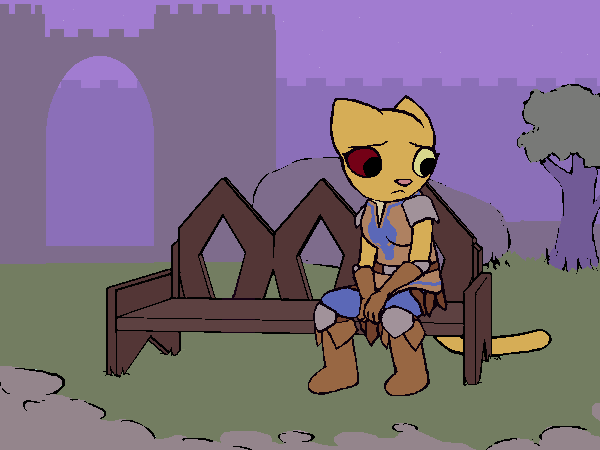 Well, you're with Sabata2 here: you think it might be time to throw in the towel on getting your stuff back from the Kvatch Mages guild.
You know it would fix things. You really do. Getting Quill-Weave's package back would prove to her you can be trusted, and even a handful of coins from that goddamn heap would solve your food and housing problem for weeks to come.
However, it's also a huge, dangerous gamble. And unlike delving into an ancient ruin in hopes of finding treasure or jumping down a well to kill some fish, you don't even have a place to start. It's just false hope; the warm feeling that if you could get in there, it would certainly be nice. Idealistic false hope like that is the sort of thing that lured you in there to begin with.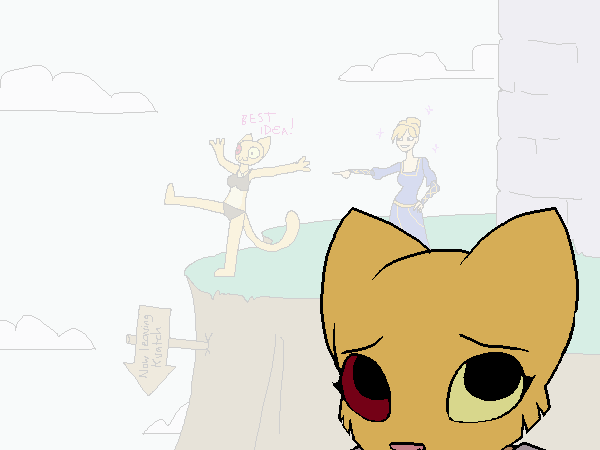 Not to mention… well, you're safe now. They took your stuff, they probably think you're still under the spell of Sigrid's weird pheromone stuff or whatever, and they have no reason to come after you further. If you start trying to cause them problems, who knows what will happen. Whatever it is, you suspect it won't end pretty for you. You want everything to be better, but you guess you're starting to realize that you can't be careless about it.
There's still that low, quiet feeling of anger telling you that you should do something, that you should get some kind of revenge. But you just have to keep reminding yourself that this isn't a storybook, and you're not some sort of hero. And even if you wanted to be, the entire situation is still out of your control.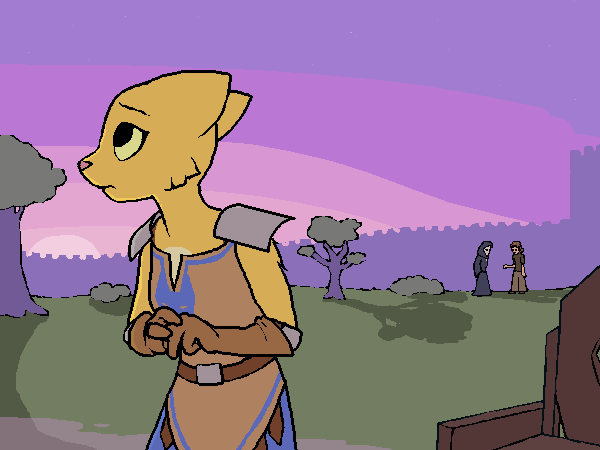 You notice your thoughts heading back down that path and push them away. You're wasting the meager remaining daylight, and you still have plenty to do if you don't want to sleep hungry on the streets.
So yeah. You are making an executive decision right now, in spite of all argument: no more fantasies about taking down the Kvatch Mages Guild. Quill-Weave is still counting on you not to screw up. Between this and your nightmares, you have to focus on what is in your reach, not waste time chasing after unseen malefactors.
> ==>