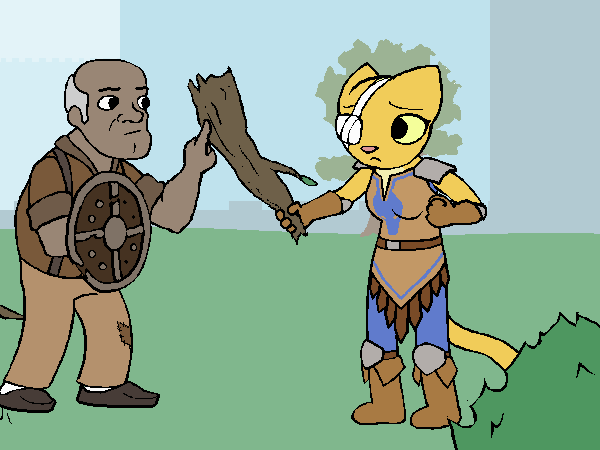 Wow, alright, Ilden says, stop before you hurt yourself. You're swinging that thing around like a monkey with a switchblade.
You tell him you're sorry, you're kind of new to this.
He says it's alright. We all had to start somewhere.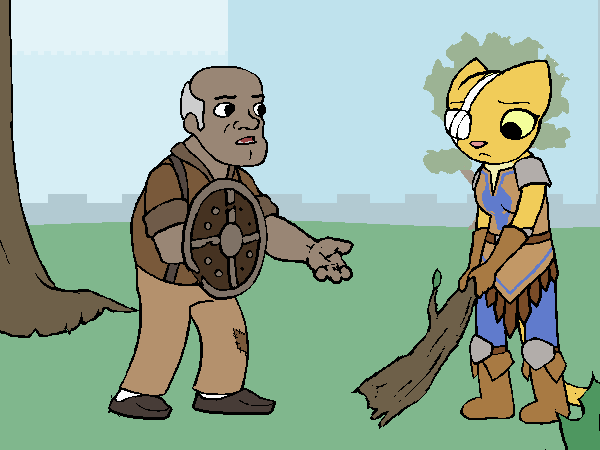 He explains that a club is a heavy weapon. It's going to be slow to start, hard to steer, and – once it gets up to speed – hard to stop. You can't just whip it around like a fencing foil; you have to get a feel for the weapon's weight and guide it, not force it. Let it swing, follow through, and get it back to somewhere it can swing again.
Like, just let it go in circles, you ask?
Sure, he says, if it helps. Get a feel for the weapon and start working with its weight rather than against it.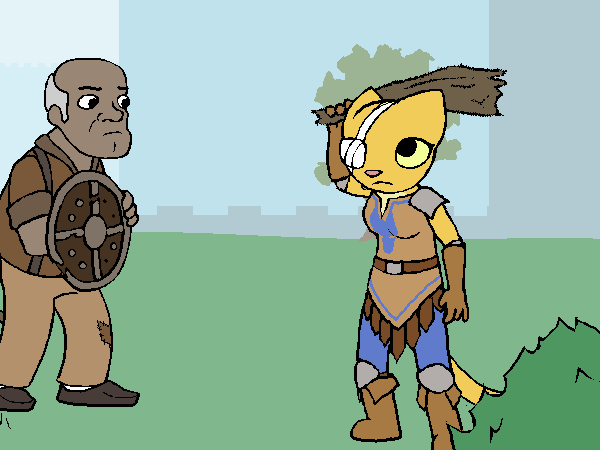 Vins wrote:
I don't think you'll get to know much more about Sigrid. What about Stephane? Perhaps there's something useful about him you should know?
While you swing around your tree branch you ask Ilden about that "skeevy priest-boy" he mentioned earlier.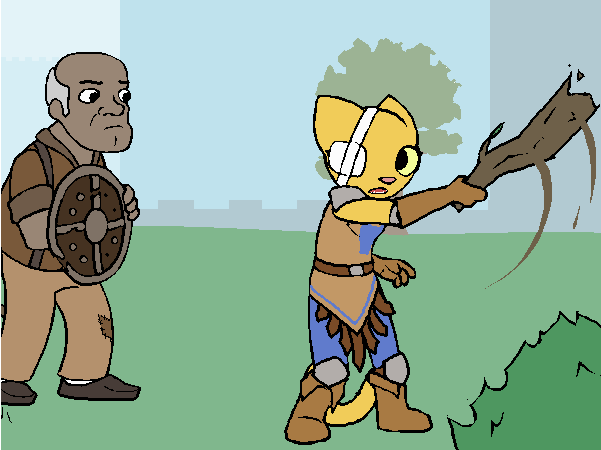 What's the deal with him, anyway? Like, as far as you can tell he and Sigrid are the only people in town associated with the Mages Guild. Did he move into Kvatch the same time as her?
Naw, Ilden says, that boy has been around town for ages. Real ornery fellow, mostly spends his time away from other folks. At least folks who ain't Sigrid. Ilden says that he doesn't know much about him beyond that.
What about his relationship with Sigrid? Are they friends, or is he just some kind of second-in-command, or what?
Ilden admits he doesn't know much about it. As far as he knows the boy's just another admirer, 'cept he has a Mages Guild membership of course.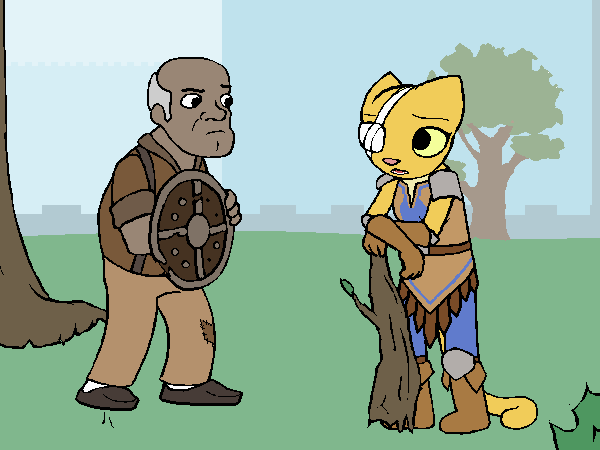 A guild membership… which would mean he has a key to the Kvatch Mages Guild, right?
Probably, Ilden shrugs. Can't imagine why he wouldn't.
Do you know where I might be able to find him during the day? Anywhere that I could, like, possibly catch him when he's alone?
Ilden says that he quite frankly doesn't keep track of these things. Though he has to say, you're starting to ask some mighty strange questions about this guy. Is there anywhere you're goin' with this?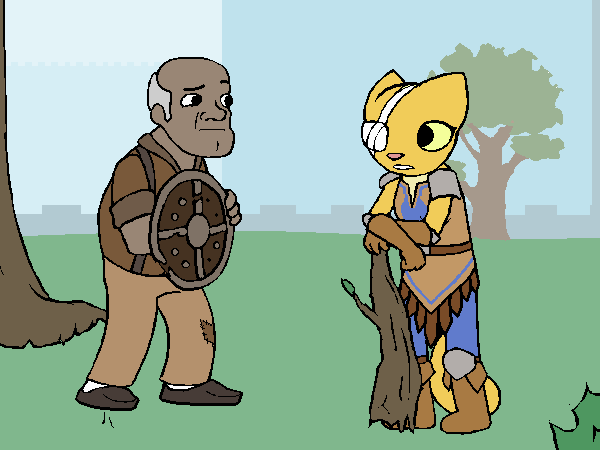 You tell him you are just incredibly attracted to skeevy priests. Like, the skeevier they are the more irresistible you find them. You assure him this entire line of inquiry is purely sexual in nature.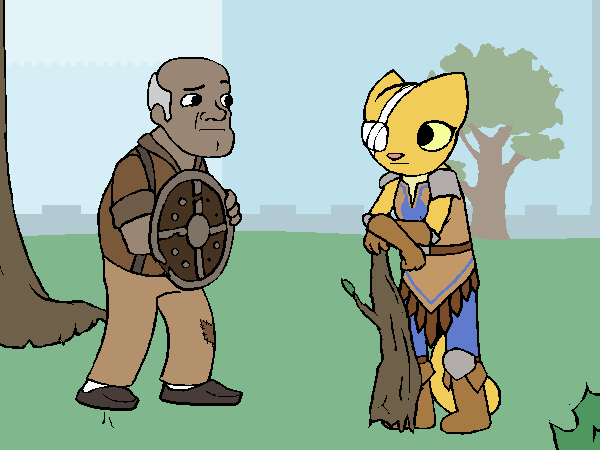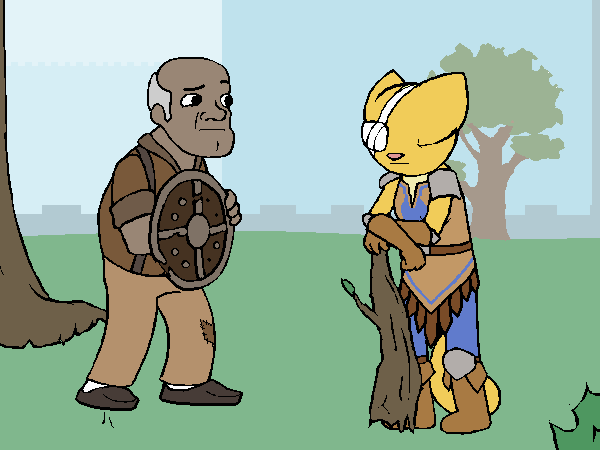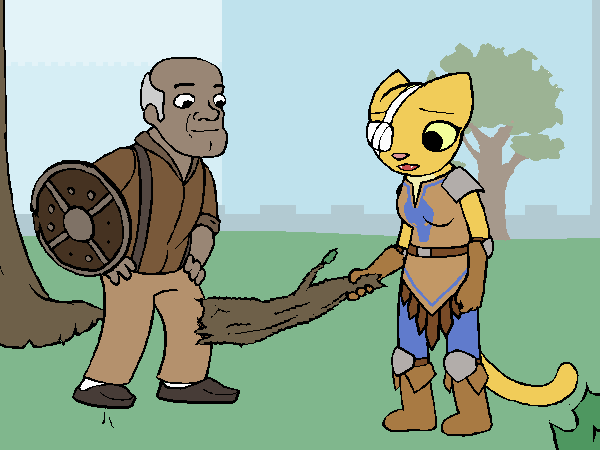 So how do I kill people?
Ilden tells you that's a question he can answer. You look to be getting a handle on the weapon, but if you want to do any serious damage you have to put your body into it more than you were. Your arm is just going to guide the club; the force is coming from the ground up.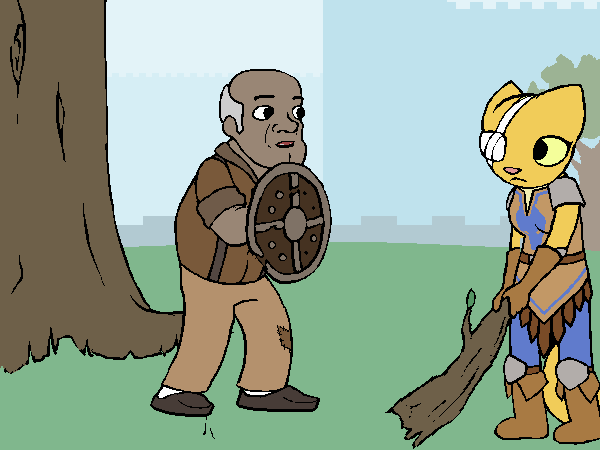 He suggests that you loosen up your grip a little and try a swing at him. Those noodle arms aren't going to do much on their own, so make up for it by shifting your weight forward on the swing – less arm, more torso.
You nod, and tell him you… think you can do that, yeah.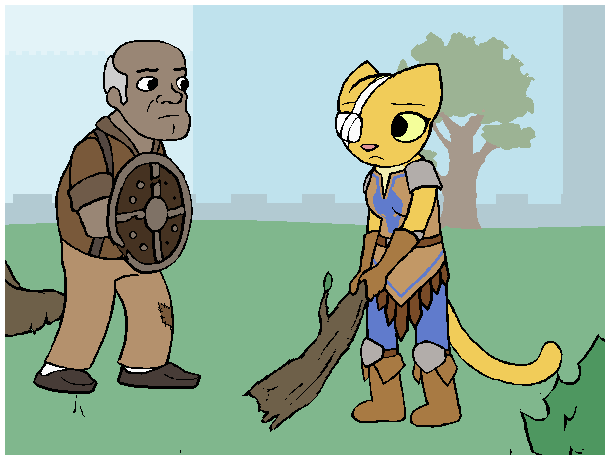 > ==>