Ghnaggi wrote:
What's this? The well is broken? It appears some scoundrel is trying to tear down Kvatch! This will never do! You should inform Sigrid immediately, she'll make sure the ruffian responsible is made to pay for their blatant vandalism.
TalonofTruth wrote:
›detective mode! Look for clues. We need to find out who, what, when why and how. Also at what point should we call the guards?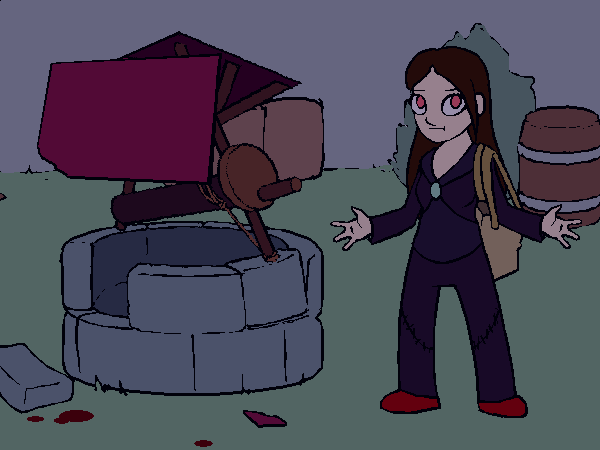 That sure is a lot of shit you don't care about!
Look, you're just trying to find where that blood smell is coming from. You'll leave the serious investigatin' to the guards, who get paid to do boring stuff like that.
Flaise wrote:
Nah: Jump down the well to find out what happened.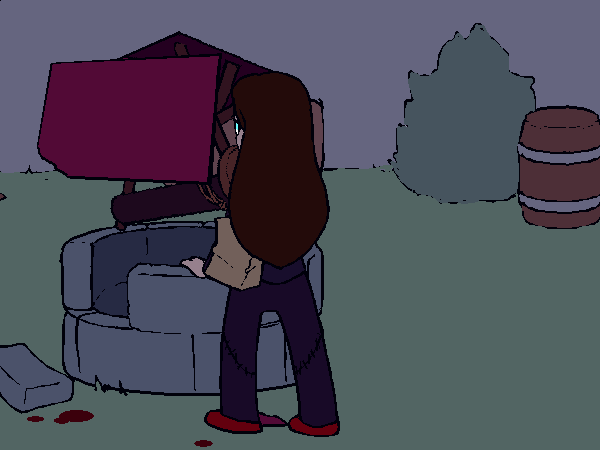 You'd have to be a particularly rare breed of dumbass to actually jump down into a 20-foot-deep well. Being a genius, you settle for the much more reasonable option of just looking down intoHEY! Looks like some dumbass actually did jump down there!
Noticing you, she begins babbling out a desperate plea for help.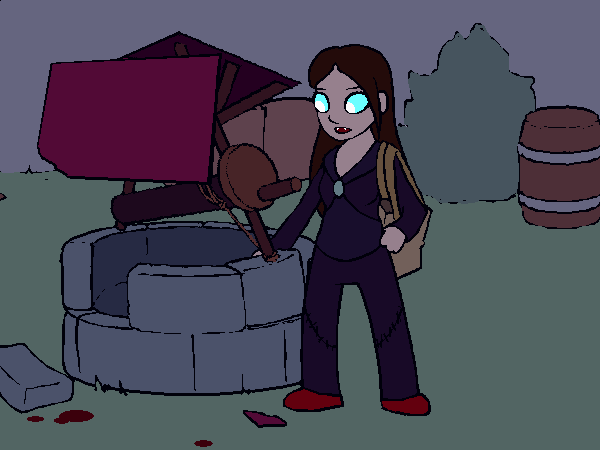 You usually try not to get involved in people's personal problems, but vast quantities of fresh blood inform you that this girl is not only the source of the smell, but most definitely in need of medical attention. Specifically your unique brand of ulterior-motive-free medical attention.
You ask what kind of help she needs. She specifies that she is looking for the pull-me-out-of-a-well kind. You ask if she's got a good grip.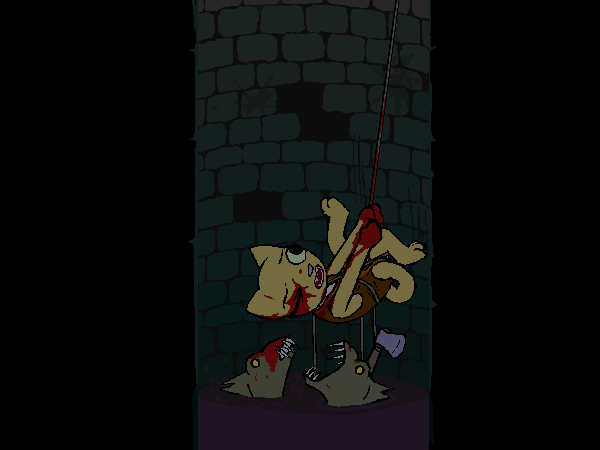 She calls back that most of the rope is slippy with blood, but she thinks she can hold on. "I've got a dry spot I'm holding onto now. Just… pull me up slowl-"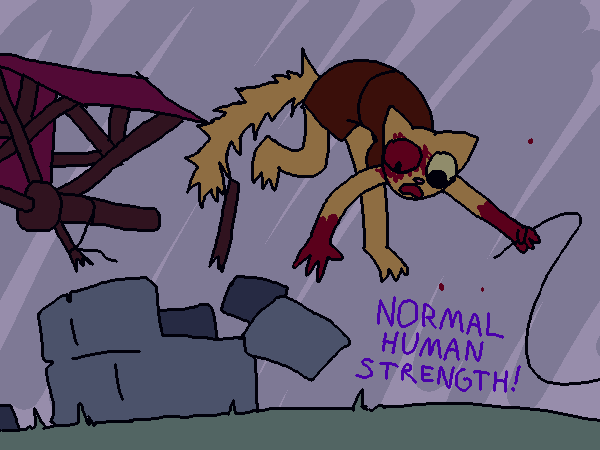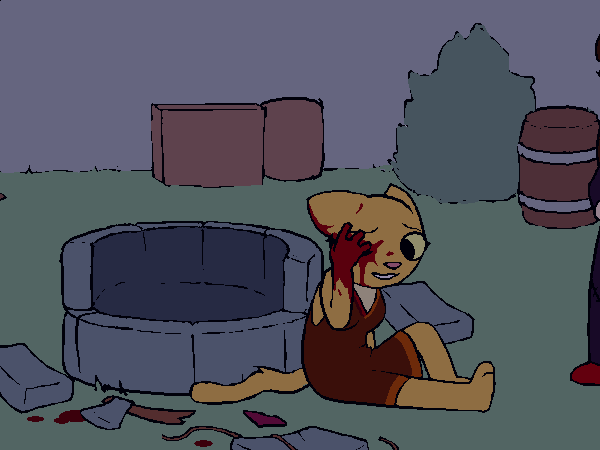 "Or that… works too."
You ask Dumbass McWelldiver if she's alright.
"I'm fine," she replies, "just kinda dizzy. I… really have to get to the Mages Guild, though. Something big happened while I was down there, and-"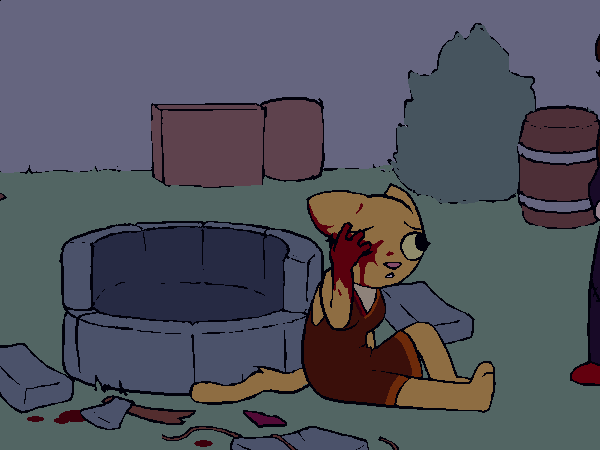 "Oh. It's… you. Please don't drink my blood."
You laugh heartily at the notion. "Drink your blood? Don't be ridiculous; humans don't drink blood! The very suggestion renders me sick to my feeble human stomach. Continuing along this line of inquiry may cause me to vomit up my lunch, which presumably consists of corn and water."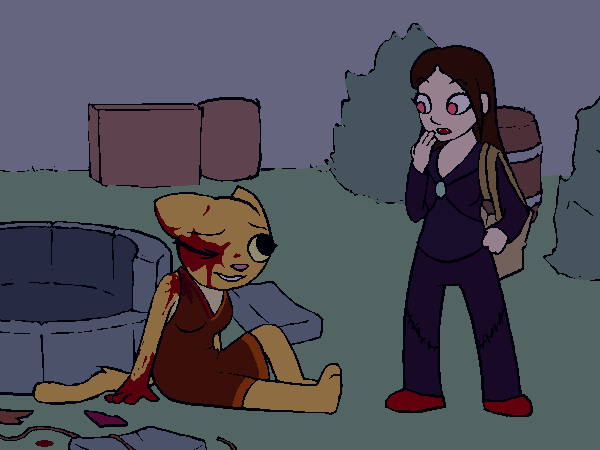 "Ah, sorry. I mean, I guess I just figured you-"
"Now look at you, you poor baby. Let's get that wound cleaned up."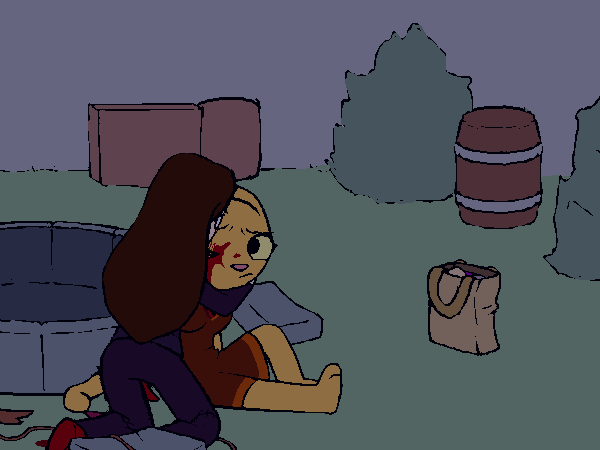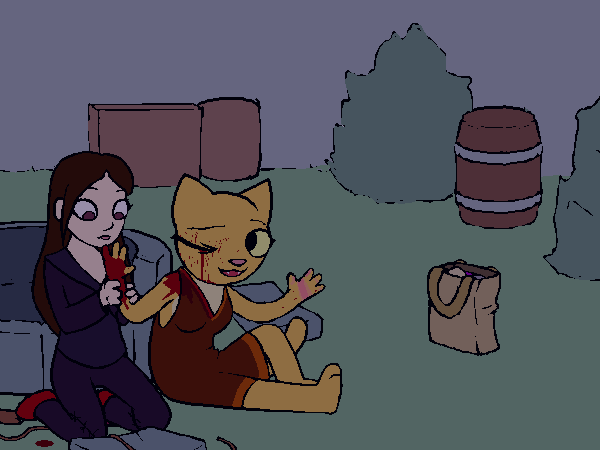 Like any decent professional, you proceed to inquire about the patient's status. That is to say, you ask her what the hell happened.
"Oh man, I was hoping you'd ask! I gotta tell someone all about this," Dumbass McWelldiver twitters excitedly. "Okay so at first I was all about getting these fish out of the well, right? Like, I guess sometimes I do this dumb thing where I fail a whole bunch, start monologuing to myself, and then go off on some stupid plan to try to make everything better, and this time I apparently decided I was going to climb down the well which in retrospect wasn't a very good idea I think, but I left my amulet and stuff up here so I wouldn't drop it, right? Anyway the dictionary had this picture of something called 'abseiling' which I tried to-"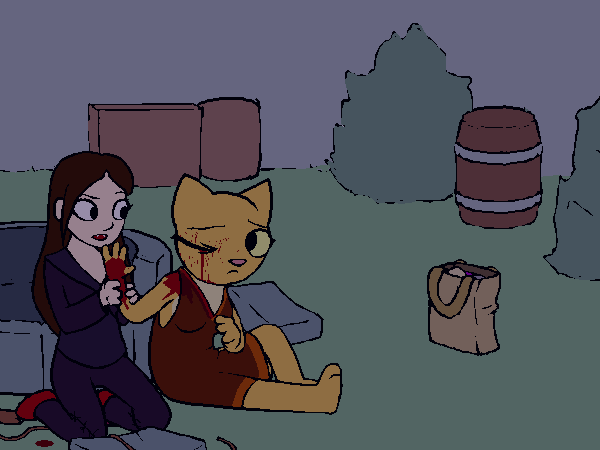 "Woah, woah, there's an elf down the street who will gladly listen to your life's story for 30 drakes an hour. I just want to know how a fish got your eye."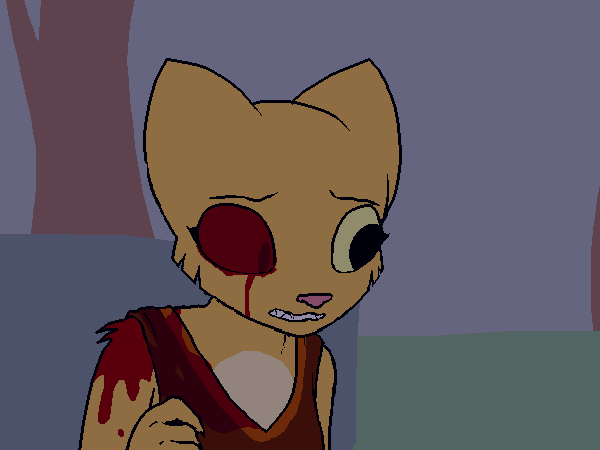 "Oh, this, ah… actually had nothing to do with the fish. I kinda… forgot I already did my Eye of Fear thing once today, and when I tried to use it on the fish… yeah. It'll get better, it's not important."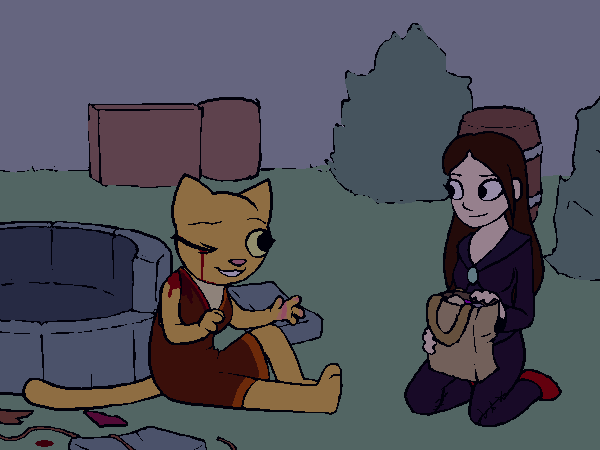 "No, what's important is what happened after. The eye, hanging upside down bleeding for an hour, failing to get some stupid fish out of a well… none of it even matters. Because… because the best thing happened while I was down there!"